"Race 3 is 3 times better than the first 2. There's 3 times of everything in it"
Following on from the incredible success of its predecessor, Salman Khan presents the third instalment in the Race franchise, Race 3.
Reuniting Anil Kapoor and Jacqueline Fernandez, the high-octane movie welcomes some new faces to the franchise.
They include Bobby Deol, Saqib Saleem and Daisy Shah and will replace the previous cast of Deepika Padukone, Saif Ali Khan, and John Abraham.
The franchise also welcomes a new director, with choreographer and director, Remo D'Souza.
Known for ABCD: Any Body Can Dance and hit music videos like 'Deewani Mastani' (Bajirao Mastani) and 'Badtameez Dil' (Yeh Jawaani Hai Deewani), D'Souza will be bringing a fresh new angle to the popular action franchise.
A Race for Life
"Zindagi ki race hai, ki see ka zindagi lai khatm ho gayi. This is a race of life, it will end with taking a life."
From motorbikes to supercars and army helicopters, the trailer packs some serious heat!
Though not much about the plot has been revealed, we are presented with a montage of breathtaking action sequences, not to mention the expensive cars, great locations and lots of eye-candy from the men and women of the film.
Bobby Deol, who makes his return to the big screen, tells media:
"Race 3 is 3 times better than the first 2. There's 3 times of everything in it. Action, family drama, songs. I'm sure people are going to enjoy it because a lot of effort has gone in. It has everything in it like a proper commercial film with songs and drama and action."
Shooting the scenes were very gruelling with many dangerous stunts. Jacqueline Fernandez underwent extensive Mixed Martial Arts training in preparation for her kickass scenes.
In addition, Salman also had to perform a stunt which saw him ride a motorcycle past a falling tree.
Director Remo told Mid-day:
"Since the tree had to crash a few feet behind Salman, we took five days to synchronise it before the shoot. It was being held atop by crew members till Salman rode his bike beneath it. Since one cannot predict how fast a tree will fall, a lot depended on his timing."
The action scenes in Abu Dhabi were choreographed by Tom Struthers who is credited for working on Hollywood blockbusters like Inception (2010), The Dark Knight (2008), and Dunkirk (2017).
This is something to be excited about. These Academy-Award winning films brought us some stunning action sequences. So fans should expect great action from Race 3!
A Fun and Preppy Soundtrack
Of course, numerous musical numbers will take place throughout the film with some electronic club tracks. Salman penned the lyrics for two of the songs in the soundtrack.
Sources tell us, whilst a discussion was taking place on the films' creatives, Salman wrote a few lines and the team agreed to turn it into a song:
"'Selfish' is about the selfishness within the family in question and when music director Vishal Mishra saw Salman's thoughts on paper, he eventually came up with a tune to go with it and that's how the song came into being."
The ever-so-talented Atif Aslam lends his voice again to the franchise, having done so in the first two films. He provides his vocals for the song alongside Romanian singer Iulia Vântur.
A soothing and catchy song, the lyrics discuss telling a lover to be selfish for once and live for themselves.
The second song Salman wrote is 'I Found Love', in which he provides his vocals alongside Veera Saxena.
Fan and Critic Reactions
Fans have already begun to review the film from early screenings taking place in India.
Twitter user, @iArshiSaxena, said: "Superbly Action Packed Movie with suspense & romance. Awesome.. This is REAL ENTERTAINER..SALMAN RULES."
https://twitter.com/iArshiSaxena/status/1007173343064285184
Arbaz Ali gave his followers a one-word review: "BLOCKBUSTER!"
https://twitter.com/ArbazAlii/status/1007168204085649408
Isha Agarwal tweeted halfway in the film, saying: "#Race3 has been superb so far!! @beingsalmankhan entry is the highlight of the first half!!"
Critiquing the technical aspects of the film, Isha adds: "Action scenes have been unbelievably good!! Cinematography and production values are noticeably a notch higher than previous Race films !!! EXCELLENT MASS  ENTERTAINER!"
https://twitter.com/ishaAgrawal786/status/1007282486206840832
Showing support for the Bhai of Bollywood, industry stars attended a special screening of the film prior to its release.
Check out all the stars at the special screening of Race 3 here: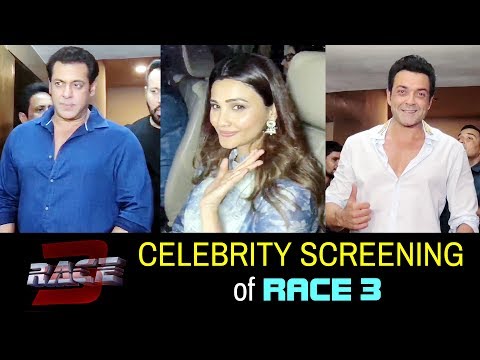 You can watch the trailer for Race 3 here.
With a stellar star cast and oodles of action, DESIblitz predicts this film will be another commercial success and will join its predecessors in the '100 Crore Club'.
Race 3 releases in cinemas on 15th June 2018.