Race 2 continually leaves you shocked right until the very end.
Abbas-Mustan's latest presentation Race 2 [2013] will keep viewers on the edge of their seats throughout the film. Saif Ali Khan and Anil Kapoor both return in this action thriller, while Deepika Padukone and Jacqueline Fernandez are introduced as new characters in the film.
John Abraham plays the sexy villain who you love to hate. Ameesha Patel adds a flare of comedy that will have you chuckling throughout.
Race 2 released on 25th January 2013 and did not fail to impress. The film had everything you would expect from a Race movie; fast cars, fashion, sexy ladies, roller coaster twists, action and more betrayal than you can put into one Star Plus serial. This time around the film was shot in Istanbul [The City of Seven Hills], Turkey.
From the get go Race 2 pulls you straight into the world of the rich and daring. The action in the film will have you sitting with your mouth wide open. The cleverest aspect of the movie is the actual storyline. Though the film is about cars and action, it also touches upon a tale of passion and love – appealing to a wide range audience. The fact that John and Saif show off their abs throughout also helps.
From the very beginning of the film there are many twists and turns, leaving the viewers questioning why? As the film progresses all your questions get answered, before the story unfolds an element of surprise. Race 2 continually leaves you shocked right until the very end.
If you love an adrenaline rush then this movie is for you especially with, John's character Armaan Malik. The ex cage fighter works his way to the top and intends to stay there, using any means necessary; from dangerous fight scenes to crazy unimaginable stunts.
Saif's returning character doesn't let us forget he is just as daring, especially with his breath-taking chases in the film. Hey, even the ladies get involved in the action; Deepika's character gets caught up in some serious driving and Jacqueline's role as Omisha also finds her mixed up in extreme sports.
Deepika speaking to the Times of India explained her character saying: "My character Elena in the film, is a lot more bold, edgy and sexier. I play an intelligent and shrewd businesswoman. I have been styled like that in the film too. It is very glamorous, yet relatable."
This movie marks Deepika's first outing in an action thriller, performing high-octane stunts without the use of a stunt double. Sharing her experience of the movie, she said:
"Abbasji-Mustanji (directors) have mastered this genre. I was a bit nervous during the first couple of days since this is the first time I've attempted an action thriller, but they gave me a lot of confidence and made me feel comfortable."
Ameesha does an amazing job playing RD's [Anil Kapoor] assistant Cherry, a ditzy, bubbly and naive character. Speaking exclusively to the Times Of India she said: "I play a super sexy, glamorous girl. I can't reveal much, but this is definitely one of the most exciting roles I have done."
Post release, Race 2 has done extremely well at the box office, making it the first major hit of 2013. According to official figures, the film has crossed the Rs. 100cr mark at the worldwide box office.
Many critics praised the film on their respective sites. Famous film expert, Taran Adarsh stated that: "Abbas-Mustan, coupled with screenwriter Shiraz Ahmed, have put together a motion picture that's stylish and engaging, with an international look and feel."
Here's the official trailer for Race 2: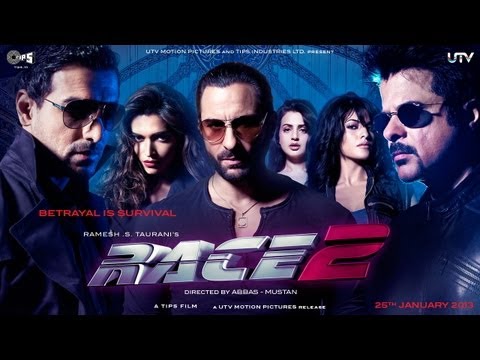 Komal Nahta, Bollywood Business Editor for India's largest film journal, 'Film Information' said:
"The film is made on a big canvas and has been shot beautifully on the breathtaking foreign locations. Aleena, Omeesha and Cherry look sexy and wear stunningly beautiful clothes. The chase and stunt sequences are also eye-filling."
One of the underlining factors behind the success of the movie was the marketing. The Hippodrome Casino in London held a press conference with Saif Ali Khan to promote the film. Saif addressing the media said: "I enjoy interacting with the press here more than anywhere else. There are many benefits of shooting in the UK."
Deepika also had her promotional gear in full throttle. Appearing as a judge on the Star Plus talent show 'Nach Baliye,' Deepika showcased some of her dance moves from the film.
Another major plus for Race 2 is the soundtrack of the movie. Race 2 has delivered some awesome eclectic music that has got us all dancing in different ways. The film's title song 'Allah Duhai Hai' has become a hit, achieving over 1 million views on YouTube. This hip-hop influenced track features the star cast of the film.
The most memorable song from the film is 'Party on My Mind,' which will get most people into the party mood. For those who love an element of romance in your music then 'Be Intehaan' is the one for you , especially when you're thinking of your loved ones.
What is great about Race 2 is the on screen chemistry of Saif Ali Khan and Deepika Padukone who have worked in several films together, including Cocktail [2012], Love Aaj Kal [2009] and Aarakshan [2011].
In Race 2, Saif Ali Khan shows he has not lost his spark in an action role, whilst the ladies in the movie demonstrate that girl power is going strong in Bollywood. John Abraham's role indicates that sometimes it is good to be bad and Anil Kapoor and Ameesha Patel let us in on a naughty joke.
Race 2 is definitely a film worth watching, whether it be with your family, friends or that special person.