"I don't think I have shared such a chemistry with any other actress...I am most comfortable with her."
Are you ready to put on your dancing shoes once again?
Choreographer turned director Remo D'Souza is back with the sequel to his hit 2013 film, ABCD (Any Body Can Dance).
This time Disney's ABCD 2 promises an even bigger and better backdrop.
Joining the talented dancers from the prequel are young superstars, Varun Dhawan and Shraddha Kapoor.
ABCD 2 follows the story of young boy Suresh (played by Varun Dhawan) who works as a waiter in a bar, and just like every other person, he has a keen passion – dancing.
Hoping to make his mother proud, Suresh comes across Vishnu Sir (played by Prabhu Deva) who convinces him to join his dance group.
There, Suresh meets Vinnie (played by Shraddha Kapoor) who is equally crazy about dancing. After uniting over their mutual love for dance, the group decides to take part in the largest hip-hop competition in Las Vegas.
But just as about the group is going to perform, Vishnu Sir decides to leave. Will Suresh and the group be able to perform without their teacher?
As director Remo D'Souza explains, the film is actually inspired by a true story:
"I came across the real-life story of these boys from Nalasopara who went all the way from their home town to win a dance show in Las Vegas, I knew I had to tell their story.
"Four of the boys Pavan, Rohit, Vernon and Suresh are in the cast of ABCD 2. And yes, Varun plays Suresh," says Remo.
Of course with a film about professional dancers, the actors had to mimic true talent on the dancefloor. Both Shraddha and Varun underwent rigorous rehearsals to achieve the finesse of professional dancers.
But this wasn't without its setbacks as Shraddha pulled a muscle during the intense regime and was advised to have two weeks of bed rest.
Reflecting how much effort the actors put into the film, Prabhu Deva said: "Varun and Shraddha have done a terrific job. They have danced their heart out.
"At least once a day I used to talk to Remo about their performance and the hard work put in by them. They have done amazing job."
In response, Varun said: "Prabhu Deva is a legend. He is just extraordinary. He is around 50 years old. Look at the way he dances…. Better than any other young dancers. His discipline, passion, his humbleness… I am truly a fan of his."
Shraddha added: "Prabhu Deva sir would really help and explain how to do it whenever we got kind of stuck on a step. He is very humble, helpful and down to earth."
The main actors also had some very sweet things about each other as well. Varun spoke about his level of ease when working with Shraddha, admitting:
"She is my childhood friend. We knew each other before we became actors. The chemistry with her in ABCD 2 is very different. I don't think I have shared such a chemistry with any other actress because probably I am the most comfortable with her," explains Varun.
From the trailer and video songs of the film so far, Varun has received much praise for his dancing talent. Many have even ranked him on the same level as Hrithik Roshan. But Varun insists:
"I am new. I don't even think my name should be mentioned in the league of Bollywood's best dancers like Mithun Chakraborty, Govinda and Hrithik Roshan."
"In terms of dancing, Hrithik is an inspiration to our generation. He is brilliant at what he does. That's his style. My style is different too. So, we should carry on with our own style and don't compare."
After the bar being set high with the first ABCD soundtrack, ABCD 2 promises even more.
The 10-track album has been composed by the hit musical duo Sachin-Jigar and is already topping the charts.
'Sun Saathiya' is definitely one of the best songs on the album. The soothing ballad between Priya Saraiya and Divya Kumar reflects the growing love between Suresh and Vinnie in the film.
'Chunar' is one of the most emotional tracks on the album; speaking about his mother, the hard-hitting track really touches your heart, with Arijit Singh adding his own soulfulness.
Finally, 'Happy Hour' is a boozy and jazzy number sung by Mika Singh, and it really adds a USP to the film.
Watch the trailer for ABCD 2 here: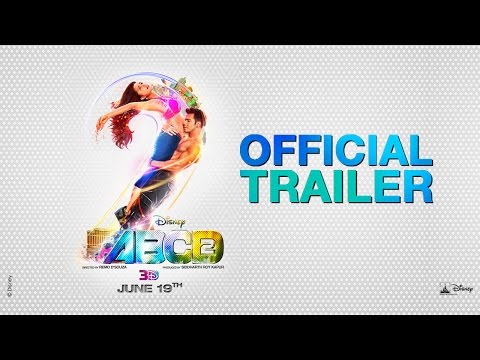 With both the music and dance promising to take audiences to another level, expectations around the film are considerably high.
The buzz has also transferred overseas and the film will be opening to a higher number of screens, from an initial 300 to 411 screens. Predictions see the film enjoying the highest opening day collections in India for 2015.
My personal opinion: ABCD2 is looking magical. UTV, Remo, Varun, Shraddha, Prabhu Dheva will show their kamaal, am sure.

— Komal Nahta (@KomalNahta) June 16, 2015
#ABCD2 will take a fantastic opening..may be biggest of the year..@Varun_dvn is a big star now.. film is super-hit for sure.

— Taran Adarsh (@taran_adaarsh) June 15, 2015
Filmmaker Karan Johar has also lauded the film as a huge success, tweeting:
Just watched #ABCD2…its a Bonafide blockbuster!! The dancing is on another level altogether!!!! The climax had me clapping in my seat!!!

— Karan Johar (@karanjohar) June 16, 2015
The entire dance group of #ABCD2 stuns you with their talent!!And the captain of the super hit ship @remodsouza holds the film like a star!!

— Karan Johar (@karanjohar) June 16, 2015
Need any more reason to join Varun and Shraddha on the dancefloor? ABCD 2 releases from June 19, 2015.