"I don't want people to say that I am better than others"
With action, romance and music, romantic drama Baaghi is an all-round Bollywood entertainer.
Starring the fresh pairing of Shraddha Kapoor and Tiger Shroff, director Sabbir Khan is confident that this intense action story is a must watch for the audiences.
Baaghi follows the story of Ronny (played by Tiger Shroff), a rebellious 23-year-old from Delhi. Fearing his unruly and angry temperament his father sends him to a disciplinary academy set in a sleepy town in Kerala.
While traveling to the academy he meets Sia (played by Shraddha Kapoor) who also carries a rebellious streak but nonetheless spark fly between them.
After his enrolment, Ronny encounters the star student Raghav (played by Sudheer Babu) and things get awry between them when Raghav falls for Sia as well.
Years later, Ronny is informed that Sia has been abducted and is called upon for help to rescue her from the gritty underbelly of Thailand. Lost in the midst of a new city, Ronny comes face to face with his nemesis, Raghav.
They both still love Sia unconditionally and are in a new battle to win her heart. Who will Sia choose; the rebellious Ronny or the furious Raghav?
Last seen in his debut film Heropanti in 2014, Tiger Shroff fans have been eagerly awaiting his second release.
Many critics, however, have noticed a similarity between Baaghi and Heropanti, particularly as both have been made by the same director, and so direct comparisons between the two films have been unavoidable.
When asked about the similarities between the two movies, Tiger cleared the air by explaining the difference between the two movies.
He said: "Heropanti was a love story and a family drama. This is an action film. You can't compare Baaghi with Heropanti. It's a very different film and nothing close to Heropanti."
Tiger also added that he went on a long hiatus between his first movie and second release:
"I don't want people to say that I am better than others. I just want to be known as different from others. I will be extremely choosy about films I do at this point of time."
With 2015 being a great year for women in Bollywood and the roles written for them, 2016 doesn't seem too far behind.
Shraddha Kapoor's role in Baaghi matches Tiger's intense avatar that sees sensational martial arts moves. Shraddha doesn't look the usual damsel in distress but a rebel who can pack a punch or two against the bad guys.
Expressing her time on set and how it felt to be doing so many action scenes, Shraddha said:
"While we were shooting, I was simultaneously prepping for action. We had dedicated some hours each day to prepare for my action sequences. Since it was the first time and I was learning the techniques, I got a couple of injuries on set, but I guess pain is a part of learning anything new.
"It was a mind-blowing experience doing the action, especially along with Tiger Shroff who is so, so good at it!"
Excited to see this new action packed avatar of Shraddha critics and fans are eagerly waiting to see how well she has performed her stunts on screen.
Shraddha told us more about working having Tiger as a co-star:
"He is so high on energy and he hasn't changed one bit. He used to play basketball on the sets and he has a very wicked sense of humour. But what's best about him is that he is very passionate and focused on whatever he does."
Shraddha has also become a bit of a bikini babe of Bollywood. Asked what she thinks of this, Shraddha says:
"[Laughs] I never knew that there is a tag like that. I hope the feedback stays positive. So far, the response to the trailer has been tremendous."
Focusing mainly on the action during the promotion of the film, another USP of the film has been its catchy music.
Already topping the charts with its mix of party and romantic numbers, the short five track album has a number of great composers contributing to the album, such as Amaal Mallik, Meet Bros, Ankit Tiwari, Manj Musik and Julius Packiam.
Shraddha beautifully sings 'Sab Tera', a simple romantic track, the melodious tune is definitely worth many listens.
'Let's Talk About Love' is a fun and jazzy musical number which reminds you of a Shammi Kapoor song fun and upbeat it's definitely one of the best tracks on the album.
'Cham Cham' and 'Girl I Need You' both successfully present a contemporary mix of western and desi music. Finally, 'Agar Tu Hota' is your quintessential heartbreak number, slow and hard hitting, the song will definitely touch your heart.
Watch the trailer for Baaghi here: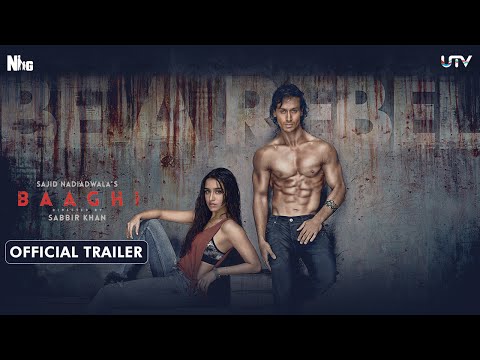 Baaghi has created a right enough buzz between audiences and critics to guarantee a decent opening weekend.
In its first four days, it has already garnered Rs. 45 crores at the Indian Box Office which has the cast and crew on cloud nine. The sizzling chemistry between the two young stars seems to be paying off.
So, are you ready to witness this rebellious love story with Tiger Shroff and Shraddha Kapoor? Baaghi released from April 29, 2016.