"It's one of the purest film's I've ever done."
The trailer for Salman Khan's upcoming blockbuster, Bajrangi Bhaijaan is finally out!
A month before its Eid day release, the most anticipated film of 2015 was unveiled at a special trailer launch on June 18, 2015, in Mumbai.
Attended by man of the moment Salman, his co-stars Kareena Kapoor Khan, Nawazuddin Siddiqui, and director Kabir Khan, spoke about the film in more detail and mingled with scores of fans eager to see the trailer for the first time.
Salman kept fans waiting eagerly as he promised to post the video at 5pm on June 18, India time:
If I forget, remind kardena plz around 4 ya 4.30.

— Salman Khan (@BeingSalmanKhan) June 18, 2015
Oh ho.. No 3G.. No wifi.. Not Internet at all.. So not uploading…

— Salman Khan (@BeingSalmanKhan) June 18, 2015
It's a 30 second long walk!! Will upload when I reach home..

— Salman Khan (@BeingSalmanKhan) June 18, 2015
Finally he tweeted the trailer with the caption: "Aap Bhi kya Yaad rakhoge."
Watch the trailer for Bajrangi Bhaijaan here: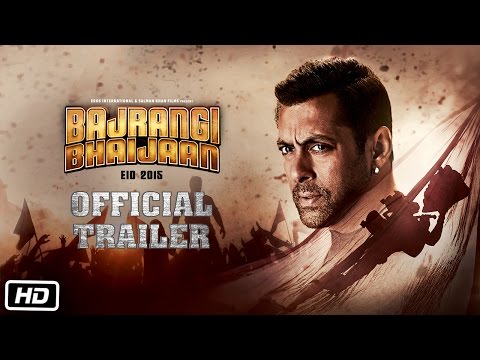 From the trailer, we can see that the film takes a notable turn from Salman's previous loud-and-proud commercial comedies.
The storyline of Bajrangi Bhaijaan draws in audiences, telling a simple story of Pavan (played by Salman) who helps a young stranded Pakistani girl 'Munni' return to her homeland. Unable to get travel documents for her, he decides to take her across the border through Kashmir.
Speaking at the launch, Salman, who plays a very innocent character, admits: "It's one of the purest film's I've ever done."
Kareena Kapoor also plays a pivotal role in the film as Salman's love interest, Rasika.
Earlier, in another interview, Kareena expressed her joy at being selected for Salman's first big Bollywood production under his Salman Khan Films banner:
"I play a school teacher from Chandni Chowk in Bajrangi Bhaijaan. My character helps Salman through his journey as he reaches out to this child who comes to India from Pakistan.
"It's a very different kind of film because usually people are used to seeing Salman in comedies like Kick. However, I think this is a story with way more depth. People love seeing Salman and me together, so it's definitely for the masses."
Kareena is also adamant that Bajrangi Bhaijaan will be the biggest Bollywood hit of 2015:
"Yes, it's not Jurassic Park or Jaws, but it's going to be the biggest hit, whether anybody likes it or not. Firstly, it has Salman, it also has Salman and me together after Bodyguard, Kabir Khan after Tiger and Nawazuddin Siddiqui after Kick.
"There are some films that have this destiny, the dynamics just come together and there's nothing wrong with that.
"I hope people will enjoy this story though because it is not a usual Salman Khan film – it does not have action and comedy. It is a story with song and dance."
Kareena has certainly sold the film for us. Salman Khan's Bajrangi Bhaijaan will release on Eid from July 18, 2015.