"Salman Khan is a very strong crowd puller … I'd say he is like the pied piper."
Having spent only 10 days at the box office, Salman Khan's latest blockbuster has already become India's highest grossing film of 2015.
Bajrangi Bhaijaan (2015), directed by Kabir Khan (Ek Tha Tiger, 2012 and New York, 2009), opened on July 17, 2015 and has taken nearly Rs 241 crores across India.
Not only does it knock out the Aamir Khan's PK (2014) which grossed Rs 236 crores on its second weekend of opening, BB also sees Salman beat his own record.
Film trade analyst, Taran Adarsh, stated: "#BajrangiBhaijaan is now the HIGHEST grosser of Salman Khan, overtaking his previous highest #Kick. Now eyeing ? 300 cr… India biz."
There is no denying the film has done wonders for the studio's pockets and Salman's reputation, especially after his recent escape from jail sentence in the 2002 hit-and-run case.
Exhibitor and Distributor, Akshaye Rathi, said: "The film has been performing phenomenally well. It still has an average occupancy of about 75 per cent across the country and it is maintaining the number of cinemas it is premiering at (about 4,000).
"The film has had a solid word of mouth publicity and many cinemas were house full even on the second Sunday.
"I guess it will sustain well over this week as there wasn't any significant release on this Friday.
"The main challenge will come when Drishyam releases next week. However, I guess Bajrangi Bhaijaan will give PK a run for its money."
The immense success of the film is welcome news to the industry as 2015 has been a slow starter.
Aside from its astounding popularity in India, the box office hit has also fared well with international moviegoers.
BB is currently showing in Europe and the US, and has clocked a total of Rs 425 crore around the globe.
Analyst Adarsh commented: "Salman Khan is a very strong crowd puller … I'd say he is like the pied piper."
"Moreover, in my opinion, Bajrangi Bhaijaan is his best film to-date and I think he has also given the best performance of his career.
"Audiences have emotionally connected with Khan's character and his bond with the little girl who has to be reunited with her family in Pakistan."
With this being the second film after the super hit Ek Tha Tiger, the Jodi of Kabir and Salman are on a roll to break records.
Kabir described the joy of working with Salman: "He is a transparent man, he is what you see and there are no hidden agendas or complexes.
"He wears his heart on his sleeve, he says what he feels and he is an extremely warm & affectionate person.
"Once he is your friend he will go to any length to do things for you. He is a remarkable person."
Bajrangi Bhaijaan follows an emotionally intense story of the free spirited Pawan Kumar Chaturvedi, (Salman Khan). He wants nothing more than to marry Rasika, (Kareena Kapoor Khan), and to have a simple life.
However, there is an unexpected twist where the priorities change for Pawan. He comes across a young, mute Pakistani girl called Munni, who has lost her way in India.
With numerous failed attempts to send her back through different routes, Pawan has no choice but to take her back himself, so that she can return for the celebration of Eid. The film follows their blossoming affection on a simple road trip.
Nonetheless, with no passport and no idea of where Munni lives, Pawan finds himself stumbling across many dangerous scenarios along the way.
The question is, will Pawan be able to get Munni home safely, or will he fail?
Shot across India, Bajrangi Bhaijaan gives the audience a profound insight into the making of a film. You can watch the 'Bajrangi Bhaijaan diaries' – a series of short videos that reveal the real experience on set.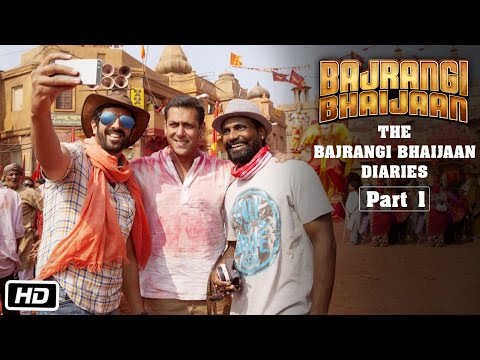 When it's a Salman movie, the music will always be brilliant. In BB, he has once again lived up to the standards of his great musical taste.
Composed by the renowned Pritam, the eleven track album has a range of beats that will get you moving. This modern dance number is a perfect reflection of the film and very uplifting for the audience.
The funky tune even had fans in India arising from their seats and dancing in the cinema. When Salman appeared on screen, dozens of fans took to the aisles and started boogying to their favourite song!
Moments of joy aside, the film has also witnessed a few teary display of emotions from actor Aamir Khan and a young viewer called Suzi, whose endearing weeping video has gone viral on the internet!
Delivering massive hits and entertaining audience continuously throughout his 27-year long career, Salman has truly become one of the most bankable stars in Bollywood!