"My favourite game is Assassin's Creed because it is set in different times in history."
The UK's biggest gaming expo, EGX 2015, landed at the NEC in Birmingham between September 24th-27th September 2015.
Featuring some of the popular names in the gaming industry, this four-day extravaganza was a feast for anyone and everyone with a love for some kind of gaming.
Thousands attended and a sea of gamers and enthusiasts covered the exhibition halls from every area. With lots of gameplay and activity at every stand, stage and chill-out areas.
DESIblitz witnessed the incredible buzz of an amazing lineup of new game releases, vendor stage shows, exhibitors and met up with excited British Asians visiting the show.
Major names with large show areas included Xbox, Playstation, YouTube Gaming, Virgin Media, Gfinity, Ubisoft and Nintendo.
The event was split into zones with each zone offering its speciality in games. The Showfloor zone featured top console games, the Leftfield Collection had its own zone and so did the Rezzed titles. The Indie Megabooth zone showcased independant games.
Games like Call of Duty: Black Ops 3, Star Wars: Battlefront, Halo 5: Guardians, and Guitar Hero Live, had very long queues of visitors eager to play the games.
These games had their own special branded areas with consoles and screens set-up for individuals to play.
Magnificent props and sets were created for some of the top games on show.
The Star Wars: Battlefront area had a life-size TIE fighter, drenched in a blue lighting, showing its controls lit up in red. Also, game play took place on a huge screen encouraging multi-play from the visitors.
The cars from Mad Max and Need for Speed were also great attractions.
Watch our video of the highlights of EGX 2015: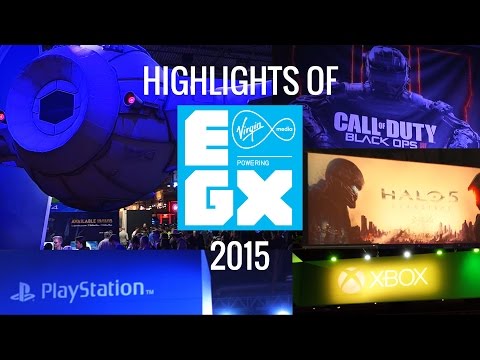 The demand for games like Destiny: The Taken King, FIFA 16, PES 16, Streetfighter V, Need for Speed, Super Mario, Lego Dimensions and Mad Max, all had fans playing and waiting too.
The show had an over 18's area featuring games such as Ubisoft's Tom Clancy's The Division, Rainbow Six Siege and Assassin's Creed Syndicate.
Cosplay at the show had many fascinating visitors attending, wearing popular costumes from games. Including Hitman, Darth Vader, TIE Fighter Pilot, Halo 5 Trooper, Lara Croft, Mad Maxine and many many more.
It was good to see an encouraging number of female visitors at the show and we spoke to some British Asian girl gamers to find out about their gaming preferences.
Kulpreet Virdi came dressed up as the Indian assassin character, Henry Green, from Assassin's Creed: The Syndicate. She told us:
"I don't necessarily like the term female gamers I think everyone should just be a gamer whether they are male or female.
"My favourite game is Assassin's Creed because it is set in different times in history."
Shiv, who is 20, told us she games most of the week. Saying:
"I play range from Grand Theft Auto, to Far Cry, to Batman to Mad Max. All on Playstation 4."
Mr Tariq, 28, from Slough, said it was his first time at EGX and added:
"I like fighting games, Call of Duty and RPG type of games."
Hamza, 21, was at EGX to play the tournament, saying:
"There's a lot of different things to get into. Especially, this year there's a lot of different things to try out."
Avid gamer, Mo, 26, said:
"I do a lot of gaming. Fifa is the main one. I'm playing Arkam Knight at the moment and waiting for 404 to come out."
An emerging trend we noticed at EGX was the presence of virtual reality games. Playstation VR was showing off its VR gaming. Gamers were also seen enjoying playing the VR game Crystal Rift.
We quizzed Baldeep Chahal, a Junior Designer from Ubisoft about getting into gaming. He replied saying:
"Myself I did a course in games design and I did my four years there. Then I did a lot of indie projects and made a lot of mini games."
The gaming industry is booming and with so much diversity in its expansion, the demand for games with a difference and creativity has never been so high.
Speaking to Zafar Qamar, Senior Lecturer and Technical Director of Gamercamp from Birmingham University, we were told about programming for newbies:
"Install a program called Unity, which is a very good development environment for beginners who have done no programming and you can go to online tutorials and follow some of those."
Jon Weinbren, Head of Design and Development from the National School of Film and Television told us about his gaming course to encourage original games development.
Giving advice to younger people about getting into gaming he said:
"Practice your art. Drawings. Digital Art. Photoshop, those sorts of things. Practice photography. Practice creative writing. Do all things that cross the boundaries between arts and sciences. That's a perfect way into having a creative career."
One game featured at EGX which attracted a lot of attention was Tearaway by Media Molecule.
We spoke to Rex Crowle, the Creative Lead on the game. Telling us about the concept he said:
"Tearaway is an adventure in a world made entirely out of paper. It's a very tactile, very responsive game.
"We like to stay very connected with things that inspired us as children. So, paper craft was something we had interests in. Also, I'm an artist myself and most of my life I've been drawing on paper. So, we thought it would be interesting to build a world out of paper."
Not just electronic games were on display. The art of playing Warhammer and board games was also enjoyed by visitors.
In addition to the game play, games companies ran Developer Sessions, which proved to be extremely popular.
EGX definitely provided its visitors with thrills, excitement and lots of opportunity for eager gamers to get their hands on forthcoming releases and a chance to get educated about the times ahead in the gaming industry.
EGX is truly unmissable, if you love the world of gaming.
Invalid Displayed Gallery