"I would love to see more Asians into gaming."
Back to amaze gamers, the four-day EGX 2017 gaming show returned to the NEC, Birmingham. Taking place between 21st and 24th September 2017, the convention showcased various gaming delights.
From AAA to indie games, innovative VR technology and insightful shows, EGX 2017 pulled out all the stops to entertain its visitors.
Throughout the four days, the convention witnessed thousands arriving. Across its many exhibition halls, visitors had the chance to try out incredible games and even chat with developers. Some also donned impressive cosplay for the occasion.
As expected, all the big names showcased their incredible line-up of new and upcoming titles.
PlayStation, Xbox, Nintendo, Ubisoft, EA amongst many others presented large areas where visitors could play a whole line-up of thrilling games.
DESIblitz had the wonderful chance of experiencing EGX 2017 firsthand. From trying out a few games to chatting with both visitors and developers.
Watch our full highlights of EGX 2017 below: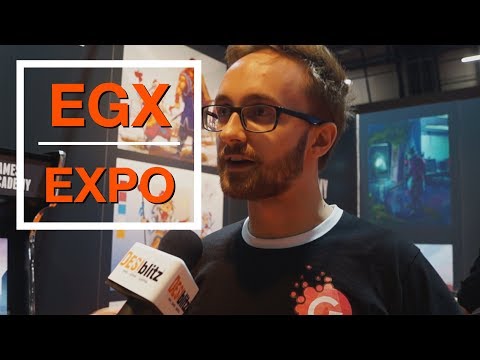 A Closer Look at Exciting Titles
First, let's take a look at the main attraction of EGX 2017; the games! The UK's biggest gaming show delivered a superb showcase of both AAA and indie titles.
Of course, the two games many British Asians felt very tempted to play were FIFA 18 and COD: WW2. Throughout the event, many lined up to get a closer look at these games. After both titles experiencing positive demos, gamers wanted to spend a few more minutes with them.
While both games don't stray far from their winning formulas, they certainly show improvements. FIFA 18 presented sleek gameplay, with improvements in both crossing and heading. In particular, we felt very impressed with COD: WW2's smooth gameplay and successfully depicting the chaos and terror of World War 2 battles.
For Ubisoft fans, they were in for a real treat; the developer presented Assassin's Creed: Origins, Far Cry 5, South Park: The Fractured But Whole and much more!
DESIblitz had the chance to explore both AC: Origins and Far Cry 5. The former didn't show too much of its story, yet revealed a beautiful portrayal of Ancient Egypt; one that certainly intrigued us.
Meanwhile, Far Cry 5 gave us a taste of one of its Liberation missions. While it delivered excellent gameplay, we did notice slight lagging. But with the game due for February 2018, we're sure Ubisoft will perfect this for the final release.
However, some felt this year didn't present an extensive mix, with one visitor saying: "I think [the industry] is getting quite competitive, but it does feel like there's very few franchises coming out."
In addition to thrilling games, the likes of PlayStation offered visitors the chance to experience VR. Exploring titles such as Farpoint and Gran Turismo Sport, they showcased the wonderful capabilities of this innovative tech. But why are we still finding VR so attractive?
"[VR] takes you away from being behind the TV into actually being inside the game. You're more in contact with the game," says Mr Rahman, who worked as one of PlayStation reps at the event.
With many of the public citing VR as the future of gaming, perhaps future EGX shows will feature a heavy presence of VR?
Inspiring Indie Developers
It wasn't just all about the AAA games at EGX 2017; the indie developers also got their chance to shine and present their titles. The convention dedicated a whole section to indie games; an area constantly frequented by the mass crowds.
DESIblitz spoke with a few of these developers to learn more about their exciting games. Salim Hassdu from ZRZStudio, who we first met at the Insomnia 61 event explained more about their latest project, iNops.
In this visually-stunning platformer, the player has to guide all the 'iNops' through each level. Through a variety of puzzles, they need to keep all the iNops alive to advance. Since Insomnia, Salim revealed more on the game's new updates:
"We've added extra enemies, extra functionality, puzzles. At the time we only had 9 levels, now we have 18, including boss levels." With hopes to release the game during the Q1 period of 2018, he revealed gamers responded to iNops positively at the event.
"This year, feedback has been really good. Very positive response and we're really excited to get it out."
Kickstarting a Career in Game Development
EGX also offered visitors the chance to consider game development as a career. In their Careers Fair, many universities, colleges and developers were on hand to speak to prospective students, helping them kickstart their dream.
One such university at the convention was Falmouth University, which offers a range of courses all related to gaming. From animation to programming to art, they ensure students work through various projects, designed to assimilate a real-life studio.
Through the 3 years, the projects grow more complex, with the final year students develop a fully completed game. One that could potentially become published. Alex Turner, a 3rd-year student told us:
"I feel like I can go to an employer and say: 'Hey guys, I've been doing for 3 years what you want me to do and I've got the proof to show you.'"
In addition, Solihull College and University Centre explained how they are developing a new course in VR technology. They explained the importance of teamwork and networking behind the industry, and explained the appeal of such a career:
"You can do a lot of different things while reaching a massive amount of people. Games are on phones, watches, on your console, PC, on the web. It actually has a massive appeal."
A Diverse Community of Gamers?
Over the last few years, the gaming industry has strived to become diverse. Representing everyone regardless of gender and race. While the industry has made huge steps, did British Asian gamers feel it is now diverse?
Arjun* said: "I would love to see more Asians into gaming. Maybe some of this is because they're shy or embarrassed to come forward that they're gamers." Meanwhile, others felt they knew family and friends who, like them, also enjoyed gaming.
Recently graduated student, Govind also thought game development is still a underlooked career path for British Asians: "I know a lot don't get encouraged to go into game development because I know myself, I chose it last minute.
"Even in my classroom, I was one of very few Asians in there."
In terms of female British-Asian gamers, it was encouraging to see a growing number enjoy EGX 2017. However, the convention still contained a heavy male presence. But do many Desi women enjoy gaming? Sarita* answered:
"It depends on what you play. Like in Overwatch, there are a lot of female gamers because [of] the style of the game and most of the characters that you play are attractive to females."
Judging by the attendance of this year's convention, perhaps the industry needs to do more to encourage more British Asian women to game.
Overall, EGX 2017 proved a shining success and lived up to its status as the UK's biggest gaming show. With a huge array of both AAA and indie titles, this is the ideal haven for any gaming fanatic, keen to experience new games.
Now, with the show wrapped up for another year, many will look forward to 2017/18's upcoming releases. And how the evolution of VR technology will continue to thrive.