"I've always enjoyed baking, so I thought, why not start my own company?"
Sweet treats have won the hearts of all in Britain. With the resounding success of TV shows like The Great British Bake Off, the UK has become obsessed with all things cake.
It is no wonder then, that The Cake & Bake Show has been such an incredible success. For 2015, the show has taken to the road with dates in London, Manchester and Edinburgh.
Amateur bakers and foodies alike have flooded in from all corners of the country to learn more about their favourite pastime, baking.
The 3-day Expo held at London's ExCel enjoyed hundreds of market stands of professional businesses and exhibitors for visitors to discover.
One professional baker was Farah Hussain, owner of Farah's Pop Cakes, which specialises in creating homemade cake pops and muffins for all your dessert needs.
Farah is one of the many baking enthusiasts who has transformed her passion into a business.
Speaking to DESIblitz, she says: "I've always enjoyed baking, so I thought, why not start my own company?"
Her speciality is in cake pops, or pop cakes, which look like lollipops but are miniature cakes covered in chocolate. Popular in America, the trend for pop cakes is rapidly picking up in Britain.
See our interviews from The Cake & Bake Show here: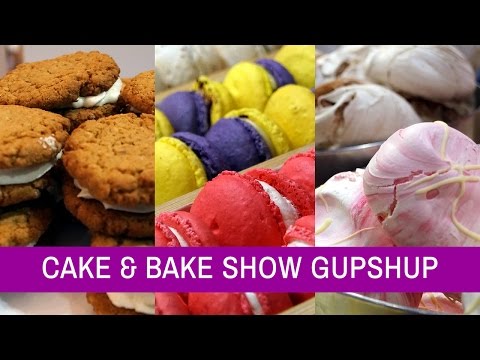 As well as the fantastic stalls filling up the Excel centre, the Cake & Bake Show also offered some insightful classes that enthusiastic home bakers could sign up for.
Led by both professionals and star bakers, the 'Bake Classroom' and the 'Decorating & Finishing Classroom' were full to the trim with hungry students hoping to find out more about cake decorating, sugar sculptures and piping.
TV Chef Aaron Craze, from Saturday Cookbook, and CBBC's Junior Bake Off. He gave a special Masterclass on a Portuguese tart, Pastel du Nata. Telling us about one of the most unusual bakes, he had come across on Junior Bake Off, Aaron said:
"One of the kids made an American cheeseburger [cake]. They got a Victoria sponge and cut out two buns. Then they made a chocolate one for the burger. I was like, mate this is just out of this world. [And] This is like a 9-year-old."
Charlotte White, of Restoration Cake, an expert in Burlesque baking also led a special Masterclass. Charlotte famously made the first ever Klingon wedding cake which was made from red velvet and lots of icing.
Rosie 'Cake Diva' Dummer offered a class on 7-inch Grenadier Guard figures, as toppers for cakes.
"Most of them here are real new starters. They've never done it before so that's great, because you can send them away with all the information they need to be able to do it themselves," Rosie tells us.
Of course, no cake show would be complete without some reference to The Great British Bake Off which had the nation gripped for months. Lucky visitors were treated to the 'Great British Bake Off Live Stage' which welcomed old contestants to bakes some of their favourite treats in front of a live audience.
Former GBBO contestant, Beca Lyne Pirkis showed off her incredible baking prowess on stage. Telling us about her experiences in the tent, Beca said:
"I'm a confident person, but being in that tent, and being given challenges to do in really strict timelines and under that pressure just makes you think that actually, you can try out anything."
"I came out of it living what I do, even more so, if that's at all possible."
Also showing off their incredible culinary skills were prized chefs in the 'Super Cake & Bake Theatre'. Popular chef and cookery teacher, Rosemary Shrager, taught visitors how to bake a perfect rhubarb and apple pie.
While Phil Vickery went both sweet and savoury with a leek parsley and gruyere flan and chocolate peanut butter and fudge cookies.
All in all the Cake & Bake show welcomed some incredible baking talents in one place. As well professional bakers, for the first time ever, the Cake & Bake show also invited home bakers to enter the prestigious 'Bake' competition, whose theme was a children's book character or movie scene.
Entrants varied from some incredible Alice in Wonderland tributes, to the Sorting Hat from Harry Potter, and the whole of Aladdin's Agrabah.
It is evident that the Cake & Bake show was thoroughly enjoyed by all who attended, with many going away with a smile on their face and a few pounds heavier from all the sweet treats on show.
Samina, one British Asian visitor explained why she was thrilled to be at the Cake & Bake Show: "I guess it's because of our love for baking, and just to pick up some new ideas and equipment."
While the London expo has come to an end, the Cake & Bake Show are yet to visit Edinburgh between October 30 and November 1, 2015, before finally arriving in Manchester between November 12 and 15, 2015.
For more details and to book tickets, please visit the Cake & Bake show website.
See more images from the Cake & Bake show in London in our gallery below: