"It is a war between two families about what is right and wrong."
Drishyam (Visual/The Sight) is a gripping crime thriller filled with mesmerising performances that will keep you on the edge of your seat throughout.
This, the Hindi remake of the highest ever grossing Malayalam 2013 original, stars heavyweight actors Ajay Devgn and Tabu in the lead roles.
The story tells of Devgns's character Vijay Salgaonkar who is an orphaned and simple 'uneducated 4th grade dropout' running a cable TV business in Goa.
He dedicates himself to his wife Nandhani, played by Shriya Saran and two daughters, the eldest of which becomes a target of harassment and blackmail by Sam, a college student having secretly filmed her undressing in a changing room.
When Vijay's teenage daughter accidentally kills him, he is left to protect his family by covering up the tracks through any means necessary.
Street smart and self taught from his passion for films he goes about securing a water-tight alibi for himself and his family.
Unknown to the family however, the now missing Sam is the spoilt only son of ruthless Inspector General of Police Meera Deshmukh, played by Tabu.
What follows is a battle of wits between the two to outdo one another for their respective causes; Vijay to protect his family and Meera to unravel the truth about her son.
Director Nishikant Kamat brilliantly keeps the audience gripped throughout the film in this tense crime drama, maintaining a tight narrative and solid character developments.
The first half of the film focuses very much on setting up the battlegrounds for both sides with the showdown between the two families which gets underway early on in the second half.
Speaking about the film in an interview, Kamat said: "The entire base of the film is around visuals that can be deceptive.
"What we see with our eyes is not necessarily the true thing which has happened."
He went on to add: "It is a war between two families about what is right and wrong…and actually nothing is wrong.
"They both are correct in their own perspective; only the situation is wrong."
Whilst Devgn and Tabu bring their A-games to the screen as expected, the film remains strong with great performances from the rest of the cast.
Shriya Saran, a household name in the South-Indian film industry and veteran actor Rajat Kapoor also command compelling screen presence playing Vijay and Meera's respective other halves.
They serve to question the morals of their partners and the extent of their actions as things hot up.
Kamlesh Sawant also adds tension as the cynical corrupt local police officer Gaitonde, relentlessly hellbent on a personal quest to pursue and expose his seemingly squeaky clean nemesis.
The film also subtly touches on the themes of sex in the media and revenge porn.
In a scene where Devgn's character is aroused by watching the raunchy song 'Kabhi Jo Badal Barse' starring Sunny Leone in the film Jackpot, Vijay rushes home early to enjoy a night of passion with his wife.
Straight after and in stark contrast the film moves to Sam showing Vijay's eldest daugher his secret clip of her taking her clothes off and using it to his own perverse means.
Kamat seems to be questioning how sexual provocation in cinema can be interpreted in extreme ways by people of different generations.
Technology increasingly making such material easily accessible is highlighted by Sam constantly using his mobile phone to take pictures of girls early on in the film.
What stands out in this 3rd remake of Drishyam (a 4th remake starring Tamil legend Kamal Hassan is also due to release later in 2015) is the clever narrative which keeps the audience guessing as to how tight the Salgaonkars' alibis are.
Watch the official trailer here: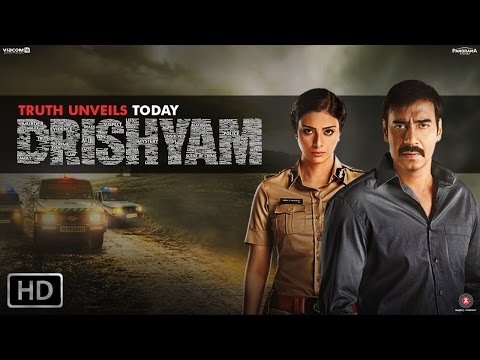 The use of violence and twists in the plot are carefully thought out and not present for the sake of needing to be there to sensationalise the film ~ the Race franchise springs to mind as a prime example.
As Meera continues to scrutinise their story will she, with the full use of the police force, unravel any cracks from this ordinary working-class family?
Devgn was not originally penned to be in the film and only agreed to take the role of Vijay due to his production of Shivaay being delayed.
He only agreed to do the film on the basis it would be shot within the three month period he was available.
Drishyam is a brilliantly polished piece of cinema with a strong cast and storyline to keep you enthralled all the way to its shocking ending.
A stand out film and contender for best Bollywood film of 2015 so far, Drishyam releases from July 31, 2015.