"The universe, his exhibit. Nothing and yet everything. Shiva is in all of us."
Bollywood action hero Ajay Devgn has returned to the big screen, as the trailer of his new movie Shivaay is launched.
This time, our Singham is back and he is angry!
The 3 minute and 51 second long trailer is packed with countless action sequences, as well as several spell-binding shots of the Balkan Mountain.
Apart from seeing the 47-year-old actor perform stunts on the mountain, one also gets to see various shades of Ajay, ranging from happy to furious.
What also impresses is the reference of Lord Shiva through some of the dialogues:
"Eyes closed. He watches. Time at his command. God of gods, loneliest of them all. The universe, his exhibit. Nothing and yet everything. Shiva is in all of us."
Ajay discusses how challenging it has been to work on Shivaay:
"A film of this scale needs a lot of planning and I needed two years off.
"I had so much work committed by that time, I could finish everything, and these many years has passed."
Shivaay also marks the debut of Sayyeshaa Saigal, who is the grand-niece of Bollywood legends, Dilip Kumar and Saira Banu.
In addition, we catch glimpses of Polish actress Erika Kaar in the trailer, who also debuts in the movie.
Ajay talks about what advice he gives to the debutantes:
"I told them to be themselves, to be as real as possible and that's what they did. It's what I wanted for the film."
Watch the trailer for Shivaay here: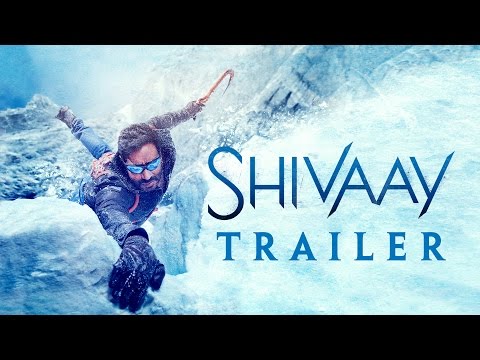 Shivaay, which is this year's Diwali release, faces competition from Karan Johar's Ae Dil Hai Mushkil, which stars Ranbir Kapoor, Aishwarya Rai Bachchan and Anushka Sharma in leading roles.
The actor, who was last seen in Drishyam (2015), responds to the potential box office showdown:
"Clash doesn't matter, though I wished for a solo release. But anyway, I'm more concerned with what I'm doing."
Post U Me Aur Hum starring with his better-half Kajol, Shivaay is Ajay's second directorial venture.
The film is scheduled to release on October 28, 2016.