"Even Iron Man needs a pretty lady, and what is Iron Man without Gwyneth Paltrow?"
Reliance Entertainment along with Ajay Devgn Films and Rohit Shetty Productions join forces with their much awaited film, Singham Returns.
Singham Returns stars Ajay Devgn (in and as Singham) along with Kareena Kapoor Khan, Anupam Kher, Zakir Hussain, Amole Gupte and Dayanand Shetty.
Sequel to the blockbuster hit Singham (2011), the sincere and courageous Bajirao Singham is promoted to Mumbai as DCP Mumbai Police.
He soon finds that a police constable from Singham's squad is charged of being corrupt when he is found dead holding a large sum of money.

The story then untangles with Singham along with the entire law enforcement, on a mission to search the black marketer with immense influence within the political system and destroy him.
Rohit Shetty's style of filmmaking comprising of cars flying, brilliantly shot action scenes and over-the-top drama, will absolutely excite and entertain the audience in Singham Returns.
The story seems comparable to the first film, Singham, a heroic cop fighting for the rights of his people and wiping out the goons.
With a sequel, it seems that Rohit Shetty, as goes his reputation is looking to cash in on the Singham success which had then entered the 100 crore club. Singham Returns too could be one of the highest earners of 2014, and let's not to forget, it has the Ajay-Rohit and Kareena trio returning once again after the hit series of Golmaal.
With Ajay Devgn and Shetty's father, both being stunt directors, one can expect only hard core action when these two come together.
Talking about the action sequences in Singham Returns, Ajay Devgn says: "People are really tired of that same todnewala action. So the action in Singham Returns is very real, the shooting style is also very real.
"The drama is very real. A lot of things have changed but the crux remains hardcore. That you can't change. And that doesn't change anywhere. Only the packaging and the way you present it changes."
If there is action, there has to be romance too in a Bollywood film. For that is the hot Kareena Kapoor Khan. Kareena has worked with Rohit Shetty in the Golmaal series and is now teaming up with Shetty in Singham Returns.
Although the first film featured Kajal Aggarwal, the sequel has the pairing of Kareena and Ajay Devgn. These two have proved to be a hit on-screen pair in almost all their films.
Though her role is not be as grand as Ajay's, all the same, Bebo is a delicacy to watch on the big screen, especially as she is being pretty choosy about the films she is doing post marriage.
The actress who has till now not done many makeover characters is all set to play a Marathi mulgi in the film. Her role is that of a middle-class Maharashtrian mulgi and would require Kareena not just dress up but also speak like a typical Maharashtrian woman.
Kareena clarifying on her role in Singham Returns, amidst crashing cars, guns and high end action, says: "Even Iron Man needs a pretty lady, and what is Iron Man without Gwyneth Paltrow? She adds to the narrative and so do I in this film."
As an action thriller, Singham had a very good music album composed by national award-winners Ajay-Atul and lyrics written by Swanand Kirkire. This time however the music of Singham Returns is given by Ankit Tiwari, Jeet Ganngulli and Meet Bros Anjjaan and the lyrics are penned by Abhendra Kumar Upadhyay, Sandeep Nath and Shabbir Ahmed.
If you are not yet fed up with Yo Yo Honey Singh being in every Bollywood film, then 'Aaja Mata Satakli' which is a typical Yo Yo rap song might seem catchy.
Ankit Tiwari who has given albums like Aashiqui 2 and Ek Villain, gives 'Kuch To Hua Hai', which is a beautiful melody in the voice of misplaced singers.
Jeet Ganguly recycles his rock song from Bengali film Boss with Arjit Singh's powerful voice and Sandeep Nath's well written lyrics and exports the track in Hindi giving us 'Sun Le Zara'.
Meet Bros who recompose the Singham anthem in Mika's voice deliver not a likeable but an audible song. Thus, unlike Singham, Singham Returns fails to make an impact on as a decent album:
"Cop films will exist as long as stories about a war between good and bad will be told. Characters have become more authentic now, storytelling techniques have changed and the issues being taken are different," sums up trade analyst Taran Adarsh.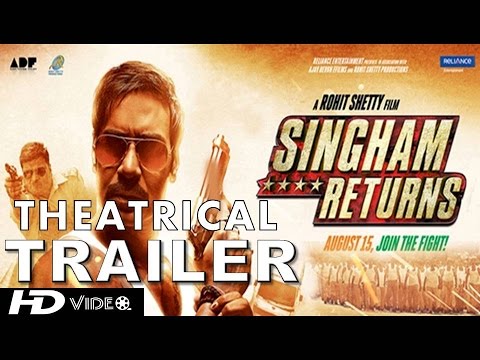 Rohit Shetty and Ajay Devgn are tight buddies and the duo has given us blockbusters out of the Golmaal Franchise and Singham.
It now seems, with Singham Returns, which releases this Independence Day, will do fairly well at the box office as this duo have hardly failed in the past. The king of the jungle, the Singham is ready to roar again!
Singham Returns sequel releases from 15th August.