Salman's iconic haircut in this film began a craze in India
The 'Bhai of Bollywood' Salman Khan is without a doubt one of the Indian film industry's biggest superstars.
This icon is loved not only for his collection of record-breaking blockbuster movies, but he is also renowned for his generosity and enigmatic personality.
Creating his own successful charity clothing line called 'Being Human' and mentoring actors who are now Bollywood superstars, he has rightfully earned the respectful title of 'Salman Bhai' in the film industry.
Lighting up the screen in every frame, Salman Khan is continuously breaking film records throughout his career.
DESIblitz looks at the films that have made Salman Khan an international superstar!
Maine Pyaar Kiya (1989)
This Sooraj Barjatya film is not only a mega blockbuster but it is also Salman's debut film as a lead actor in Bollywood.
The incredible soundtrack to this film and Salman's boyish charm are what makes this film a classic.
Shooting Salman Khan straight into stardom, this film has captured Salman's youthful innocence and superstar potential.
Hum Aapke Hain Kaun (1994)
This record-breaking blockbuster is undoubtedly enshrined in Bollywood's list of must-watch films.
Salman Khan's superstardom has gained new heights from this film due to his effortless acting and his chemistry with his mesmerising co-star, Madhuri Dixit.
This film began Salman's iconic superstar quality which is chart-busting music!
Whether it is 'Joote Do Paise Lo' or 'Di Di Tera Devar Deewana', these songs are what make Salman's performances timeless.
Kuch Kuch Hota Hai (1998)
Stealing the show in the song 'Saajan Ji Ghar Aaye', Salman's small but pivotal character in this film is a part of what makes Kuch Kuch Hota Hai a smash hit.
What most people do not know, is that when big stars rejected this role, Salman himself went to the director Karan Johar and told him he would do the film as he respected Karan's legendary dad/filmmaker, Yash Johar!
Watch the song Saajanji Ghar Aaye with Salman Khan and Kajol in Kuch Kuch Hota Hai: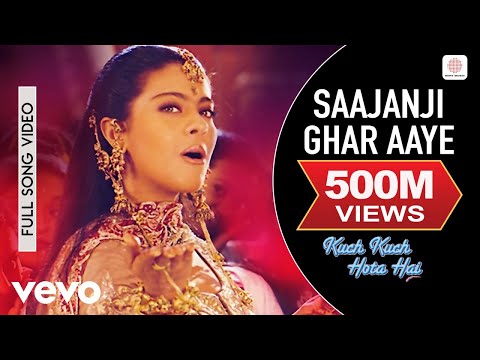 Andaz Apna Apna (1994)
This rib-tickling comedy is a masterpiece of comic timing, hilarious catchphrases and unmatchable pairing between Salman Khan and Aamir Khan.
Though this film didn't smash records at the box office, it has now achieved cult-like status, with everyone mimicking their dialogues.
Hum Dil De Chuke Sanam (1999)
Undeniably one of Sanjay Leela Bhansali's best pieces of work, this epic love triangle between Salman Khan, Aishwarya Rai and Ajay Devgan is heartbreaking.
What makes this film spectacular is the sizzling chemistry between Aishwarya and Salman, which captured the intensity of their onscreen and off-screen romance.
Tere Naam (2003)
Critically acclaimed, this out of the box character of 'Raadhe' displays Salman's versatility.
This gripping and heartfelt performance of a love struck college gangster, is one of Salman's finest performances.
Like a true superstar, Salman's iconic haircut in this film began a craze in India, with boys running to the barber shop demanding a haircut like Salman in the movie.
Mujhse Shaadi Karogi (2004)
This hilarious comedy is one of Bollywood's finest. The star cast of Salman Khan, Priyanka Chopra and Akshay Kumar makes a sizzling trio.
Packed full of laughter, drama and action, Salman's onscreen presence makes this film a smash hit!
Dabangg (2010)
His larger than life portrayal of police officer Chulbul Pandey, his unique belt shaking dance moves and iconic moustache is what has made this film a smash hit franchise with its equally successful sequel, Dabangg 2.
Surprisingly Salman's now iconic style of placing his glasses on the back of his shirt was actually inspired by his own bodyguard.
Kick (2014)
Salman's electrifying performance as both 'Devi' and 'Devil' in this movie is spectacular!
The jaw-dropping action scenes and stunts make this a film packed full of entertainment!
Looking incredible opposite Jacqueline Fernandez, Salman Khan once again had the whole world dancing to the anthem 'Jumme Ki Raat', and lending his own voice to the song 'Hangover' marking his debut as a singer!
Bajrangi Bhaijaan (2015)
Once again, Salman Khan has proved his superstardom with the epic success of this blockbuster.
Smashing all film records, which are mostly his own, this film has become the highest grossing film in Bollywood history.
The true magic of this film is Salman's touching relationship with the angelic Munni played by Harshaali Malhotra!
Salman Khan is undoubtedly one of Bollywood's most successful and most loved actors. From his entrance into Bollywood, Salman created a frenzy with his dreamy good looks and irresistible charm.
Whether is it getting a six pack or simply changing his hairstyle, Salman instantly begins trends.
Sending his fans into a frenzy with his outstanding performances, blockbuster films and his outspoken personality, Salman is undoubtedly adored worldwide.
Delivering hit after hit in a career spanning two decades, he is still striving for more!
We are sure there is a lot more to come, and we hope to see 'bhai' light up the screen for many more years.