"After having seen (Aamir Khan) in Dangal, I was shocked to see him as Shakti Kumar"
The trailer for the Aamir Khan production, Secret Superstar, has released and shows Khan as an eccentric music director!
A coming-of-age drama, the film stars Aamir, Zaira Wasim and Meher Vij in the leading roles. It is directed by Advait Chandan.
Secret Superstar narrates the story of a teenager named Insu (Zaira Wasim) who aspires to be a famous singer. Whilst her mother (Meher Vij) is supportive of this dream, her father is strongly against it.
In an act of rebellion, Insu decides to post videos of her singing online and quickly becomes an Internet sensation. But of course, her identity remains hidden!
At the beginning of the trailer, we see Aamir Khan as Shakti Kumar – who is presenting an award for the "Best Singer – Female".
As he announces the name, the shot changes to a starry-eyed Insu, who aspires to sing on that very stage.
The flashing lights on-stage act as a transition to showcasing the reality. We see Insu look at herself in the mirror and the next minute, she bangs her guitar in sheer frustration.
These editing techniques signify the difference between sweet dreams versus harsh realities.
Going by the glimpses of performances, Zaira Wasim (who played the young Geeta Phogat) has translated that fighter spirit from Dangal into this character in Secret Superstar.
Her character seems quite relatable as every Desi child has faced the crossroads of choosing their own dreams over their parent's desires.
Talking about Zaira, Aamir tells media: "When we were getting a screen test done for Dangal, we met Zaira. I liked her work so I told Advait that he can take her in his film.
"Advait (the film's director) took a test and asked me not to take her in Dangal. But of course, she was in Dangal and did a fab job."
Watch the trailer of Aamir Khan's Secret Superstar here: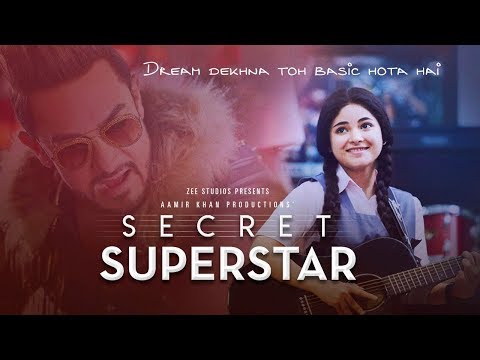 Aamir Khan has played the supportive figure to children in films like Taare Zameen Par before. In this film, it seems like his character also follows a similar pattern.
But what is quite different, is Aamir's quirky and zany outlook, which has left viewers surprised after watching the teaser.
Zaira was also stunned by Khan's look and style for the film, saying: "After having seen him (Aamir Khan) in Dangal, I was shocked to see him as Shakti Kumar."
However, what truly stands out in the trailer are the uplifting dialogues. One in particular where Shakti compares Insu's talent to bubbles in a soda and says:
"Tum jaise talented bacche hai na, Sode mein iss bubbles ki tarah hote hai. Woh aise hi upar aata hai, apne aap. Unhe koi rok nahin sakta."
After hearing snippets of songs like 'Main Kaun Hoon' and 'Main Nachdi Phira' (from the teaser and trailer) – music director Amit Trivedi seems to have composed a soul-stirring soundtrack for Secret Superstar. And we look forward to hearing the music album in full.
Aamir Khan has already seen huge success with his previous release, Dangal. Naturally, expectations for this film will be even higher than before.
Overall, this coming-of-age drama is one to watch out for. Secret Superstar releases on 19th October 2017.