"My dad's screwing the headmistress. That's the only bit of integration going on 'ere!"
Many school based dramas have graced British TV screens over the last decade. However, the first series of Ackley Bridge reflects real life integration in schools across Lancashire and Yorkshire.
Set in a fictional mill town, this first series of Ackley Bridge explores both the unique and familiar situations encountered by its diverse group of pupils, teachers and their families.
After a merger of two different schools, previously segregated British and Asian communities come together. The new school is under the leadership of former EastEnders star, Jo Joyner as head teacher Mandy Carter. Although the charismatic but ambitious school sponsor, Sadiq Nawaz (Adil Ray), holds much power as well.
The first series of Ackley Bridge has maturely handled many difficult story lines.
Now with talks of a second series, DESIblitz rounds up five of the best storylines for you to keep in mind. Hopefully, the wait for the next twelve episodes in 2018 won't feel as long.
Another Conflict of Communities ~ LGBT or Asian?
The first standout storyline has to be that of British Asian school girl, Nasreen Paracha. We see her struggle to accept her sexuality as well as confide this secret to her kind and funny mother (Sunetra Sarker).
Played by Amy-Leigh Hickman, she highlights the challenge of balancing all elements of her identity.
The first series of Ackley Bridge opens a conversation on arranged marriage too. Nasreen considers it to avoid revealing her secret and the writing shows real intelligence in avoiding stereotypical depictions.
Instead, we see Nasreen's love for her parents and the tiring weight of feeling different.
For the Boys, Sport Solves All
Amidst racial tensions, the boys of the previously segregated English and Asian community initially show lots of male posturing and aggression. This may be one of the more simplistic and slightly slapstick storylines.
Nonetheless, with the help of teacher Steve Bell's initiative to start a rugby team, the two sides come together.
In the all important rugby match in the final episode, there is a heartwarming and amusing moment of unity. It's hard not to smile at a bhangra-inspired response to other team's pre-match intimidation.
It will be interesting to see how the show continues to unite the students by blending their respective cultures and traditions.
Poppy Lee Friar's Powerful Performance as Missy Booth
The troubled Missy Booth is accused of favouring skimpier clothing by some of her fellow students. Still, that doesn't mean she doesn't have a serious head on her shoulders.
After taking a year out to look after her ailing nan, younger sister and above all, her troubled mother struggling with a drug addiction, she returns to this new school.
However, her problems don't stop there. We see Missy negotiate conflict with her close friend Nasreen and the heartbreaking loss of her nan. Because of the latter, she also risks the threat of separation from her sister, Hayley.
Her mother Simone's moment of redemption (Samantha Power) to gain custody is a bit too convenient. Although the second series promises to explore this complicated relationship further.
Adil Ray's Sadiq faces the Consequences of his Arrogance
"My dad's screwing the headmistress. That's the only bit of integration going on 'ere!" In the final episode, Sadiq's daughter reveals his affair between with the headmistress in this likely iconic line.
The first series of Ackley Bridge has explored the affair's impact on Mandy's relationship with teacher Steve Bell. Yet we are still to see the full effect on Sadiq's already strained relationship with his children and on his image as 'local lad done well'.
As Sadiq fills the closest role the show has to a villain, we look forward to seeing if he redeems himself in any way. Alternatively, he may continue his entertaining struggle with Mandy and Steve to control the school.
An Authentic Portrait of School, Home and British Asian Life
This isn't strictly a storyline but the show's efforts for authenticity with the actors, backdrop and script shines through.
From snippets of Punjabi to the use of a real school, St Catherine's Catholic High School in Halifax, viewers will love seeing an accurate reflection of their lives on the small screen.
However, the competency of teachers on screen has always been questionable. Unfortunately, the first series of Ackley Bridge follows this trend as the drama occasionally sacrifices accuracy for entertainment.
The lack of disciplinary action for teachers who have punched a student, had private partially nude photos circulated around the school, or struggled with safeguarding for racist behaviour fails believability at times.
Watch the trailer for First Series of Ackley Bridge here: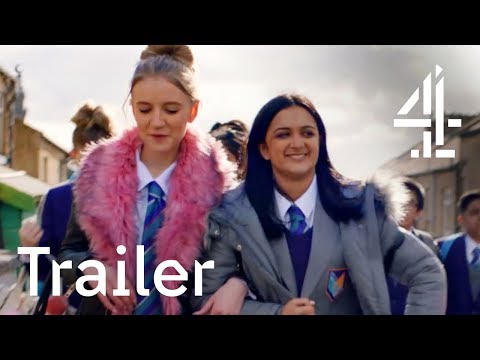 Nevertheless, it's clear that the show has carefully considered how the issues facing young people and the adults in their lives have changed with the times.
Admittedly the plot can sometimes become farcical. But ultimately it emphasises how the timeless and universal values of love, family and compassion can help bridge divides and unite seemingly very different people.
The first series of Ackley Bridge has begun on a stronger footing than the BBC's Waterloo Road with the relevance of its central premise.
It has something unique to offer to the diversity of British viewers today in reflecting their own lives, worries and joys. DESIblitz can't wait to see how it pushes the boundaries in the second series.
SaveSave