"We think there's no prejudice in this day and age but there is still a lot of homophobia that goes on in school"
Ackley Bridge is the latest television drama series to broadcast on Channel 4.
Exploring multicultural communities and integration, the show is a six part series which follows the merger of two schools in a segregated British and Pakistani community.
Directed by Penny Woolcock, the show stars a vibrant and diverse cast, including former EastEnders stars, Jo Joyner and Paul Nicholls.
British Asian television actors Sunetra Sarker, Arsher Ali, and Adil Ray also feature in the drama, alongside young actors Poppy Lee Friar, and Amy-Leigh Hickman, who play the lead female school girls.
The concept of the show is one that has not been attempted before or discussed much on British Television. In a special screening and Q&A, producer Alex Lamb explains:
"We had almost thought we don't have a show that was original and different enough but then we started talking about what it'd be like to be in a mixed school – the White and Asian community. We found that across Lancashire and Yorkshire there were many schools that have merged to mix community together.
"That gave us an opportunity to tell a story about Britain and about who we are. A story that was big hearted, contemporary and funny, which excited all of our writers.
"We wanted to change all the dialogue that was on television about the Asian community in the UK that was focused on extremism and wanted to focus on real life ordinary people and their real stories and do it with integrity and love."
Set in the fictional mill town of Ackley Bridge, the show showcases culture issues in the school environment as well as humour, relationships and conflict between pupils, teachers and parents alike.
Acting from the cast is brilliant, particularly from the school children who bring authenticity in their roles. It is actually very difficult to tell who is from acting school and who is not. The school cast features a lot of first time actors sourced from local towns of Halifax. As director Penny says:
"A lot of street casting was done from schools and boxing clubs. Some of them even had speaking parts."
One of the school cast actors, Zayn Younis openly admits he didn't have any white friends until he started working on this project.
An approach of authenticity was taken throughout not just with the actors, but in terms of the backdrop and cultural research.
Alex Lamb emphasises that it was:
"Really important to get the authenticity in this world. We used Punjabi phrases but we made sure that we knew what the abuses were and that they were suitable for 8pm."
"When we had the screening, some of the children would really gasp when they heard it in their own language because they really recognised something from home. I can't imagine growing up in this country without having our east London slang being represented on television."
The locales of where Ackley Bridge was shot was in a school that had been closed down in Halifax:
"We wanted to feel like we're set in real world so part of it became a college and other part was a costume department and studio – everything was here," says Penny.
Even with external locations, the cobbled street where the school girls live is in a very Asian neighbourhood so actual neighbours are featured walking behind.
Whilst shooting, the cast and crew often used to eat at people's houses which helped to gain a realistic insight into their daily lives. Penny adds: "We wanted to have a dining table first in the Paracha's house but people actually don't eat like that but with the telly all the time and on the sofas."
A merged school in Pendle was also looked at, which became 88 percent Asian over 18 months. They had posters on the wall about LGBT support. LGBT will also be touched upon through British Pakistani school girl, Nasreen.
Amy-Leigh Hickman, who has done a fantastic job playing Nasreen, admits she really enjoyed the experience:
"You see her going through things that normal teenage girls go through but then others that normal 17 year girls know what it's like to go through, such as dealing with sexuality and arranged marriage.
"We think there's no prejudice in this day and age but there is still a lot of homophobia that goes on in school and you don't think about that in your day to day lives."
From watching the first episode, Poppy acts powerfully. Her character Missy, she describes as a "survivor".
"We see Missy being held back a year in school because she has to take time off to look after her mum. She has a lot of responsibilities of being mum, dad and carer for her nan, at the same time but it does not beat her down.
"She shares a very close friendship with her next door neighbour Nasreen and and even knows a few Punjabi words herself."
Seeing the friends for life bond saddens you when you see them fight in the first episode, because the trust and loyalty they share gets tested when the schools are integrated.
Watch the trailer for Channel 4's Ackley Bridge here: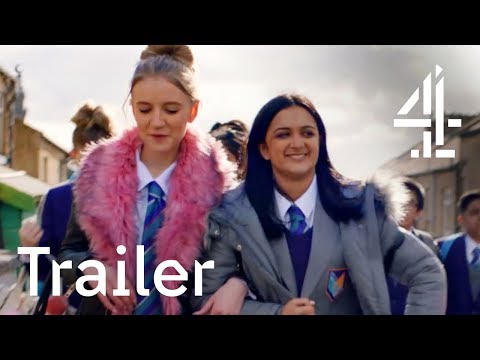 Adil Ray plays the "local lad done well", called Sadiq, who sponsors the school.
"Sadiq is from Ackley Bridge but is very ambitious. He wants more from his career and the women in his life, which is his big character flaw," laughs Adil.
This is interesting because in the first episode we see a lustful romance emerging between Sadiq and Mandy, played by Jo Joyner:
"He chooses to be a sponsor of the school because he cares about the town. This can be relevant to many other men in the British Asian community because they do want to integrate and be part of the society. This can affect their personal lives as well."
Sunetra Sarker, plays the mother of Nasreen and also a dinner lady at the school. She brilliantly grasps the nuances of a Pakistani mother in the first episode:
"I had actually got a lot of advice from the kids and asking them, would your mum say this? There were even conflicts with what different mums would say but I felt quite respected and I could feel their support.
"I have not seen many characters like her but she is also one that would be very relevant to the Asian community. They would be drawn to see an Asian women with substance and personality, at that age, which is not often represented on TV."
The first series of Ackley Bridge was shot in Spring and will be screened on Channel 4 in June 2017. There has already been talk about a potential series 2 being in the pipeline.
With all preparations being made ready for the big 8pm launch on Wednesday 7th June 2017, DESIblitz is excited to see the response the show receives. We hope the rest of the series will follow suit to the incredibly engaging first episode.