"I never thought someday I would be called 'King of Bollywood'."
What happens when one of the biggest stars of Bollywood turns 50? He celebrates like a King, of course!
The Baadshah of Bollywood, Shahrukh Khan, enjoyed his 50th birthday celebrations on November 2, 2015.
Fans flocked to SRK's Mumbai mansion the evening before to countdown to midnight and be the first to wish him 'Happy Birthday'.
The actor who was celebrating with friends and his family cut his birthday cake before going out to his balcony to wave to his fans.
Tweets from all over Bollywood poured in to congratulate the star. Best 'Frenemy' of Bollywood, Salman Khan also visited SRK on his birthday.
Shahrukh later tweeted out a picture of them together in jovial loggerhead.
Despite the big 50 milestone, Khan is adamant that his place as Bollywood's leading hero doesn't vanish overnight.
In a commemorative Vogue shoot, Khan showed off his sexy self with a stunning young model, looking as suave and sophisticated as ever. Watch the video here: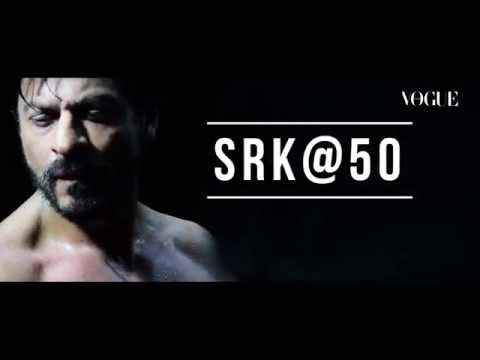 Undoubtedly Khan has left a lasting legacy on the Indian film industry.
Born in 1965, in New Delhi, Khan always aspired to be famous. His parents sadly both died early on in his career and never saw the success their son was destined to have.
SRK first started out in TV with the serial Fauji which aired in 1989. This continued with other TV roles and critics began comparing his acting style to that of Dilip Kumar.
It was only after his mother's death in 1991 that Khan went into cinema, moving to Mumbai where he immediately signed four films.
His Bollywood debut was Deewana which released in 1992 and became a box office success. While his film career was off to a great start, SRK was known for his heavily villainous roles in Darr and Baazigar (1993).
Critics were impressed at his unconventional route into cinema, playing obsessed and psychotic characters.
The anti-hero role certainly suited him and phrases like 'I love you Kkk-kiran' were hugely popular among audiences.
Finally 1995 came and SRK's string of films during that year made him the 'Romantic Hero' that we know him as today.
In Karan-Arjun, SRK teamed up with another Khan, Salman, with whom he would later have an intense rivalry with in the Bollywood fraternity.
Aditya Chopra's Dilwale Dulhaniya Le Jayenge was SRK's goldmine. The film was declared an all-time blockbuster, and bred a new genre of East-meets-West popcorn romance that were big commercial successes:
"The only reason women like me is because I respect them in a way that they fall in love with me. I always show graciousness to every woman I meet in my life."
The 'Romance like SRK' mashup will make you go weak in the knees with awe! https://t.co/OHHMVk8uTL #SRKat50

— Yash Raj Films (@yrf) November 2, 2015
Having redefined Bollywood perceptions of the romantic lover, SRK has enjoyed a string of co-star heroines over the last two decades.
From Madhuri Dixit, Rani Mukerji, Juhi Chawla, Aishwarya Rai and Preity Zinta, it is the Kajol-SRK that continues to sit heavily in the hearts of fans.
After DDLJ, the two starred in Kuch Kuch Hota Hai, Kabhi Khushi Kabhie Gham and the upcoming Dilwale (2015).
Kajol admits that KKHH is her all-time favourite film with Shahrukh: "We had such a great time. I don't have a favourite scene with him because whenever I have worked with him, there has always been such a great level of comfort," she says.
But while SRK continued his reign with more romantic comedies and dramas, he faced a backlash from critics who wished he would change up his 'predictive' and one-dimensional acting.
But SRK knew his trademark arms-spread-open-wide formula was key to his commercial success, so continued on, even starting his own production company with close friend and actress Juhi Chawla, called Dreamz Unlimited.
Amidst spinal injuries and a prolapsed disc in 2001, SRK heavily reduced his film output and began selecting key roles that would define his career.
These included the opportunity to work with his idol, Amitabh Bachchan in Mohabbatein (2000) and Kabhi Khushi Kabhie Gham (2001).
His pairing with Aishwarya Rai in 2002's Devdas was another career highlight. One of the most expensive Bollywood films of the time, it was an international success and even secured a BAFTA nomination for 'Best Foreign Language Film'.
Khan then starred in Karan Johar's Kal Ho Naa Ho, another box office success, which continued the trend of Bollywood catering to its overseas Desi audience.
In 2004, Dreamz Unlimited became Red Chillies Entertainment after a falling out with Juhi's team and Khan made his wife Gauri a producer. Their first big release was Farah Khan's Main Hoon Naa.
Yash Chopra's Veer-Zaara with Preity Zinta was another critically acclaimed drama, as was the social drama Swades. In 2005, Khan remade Amitabh Bachchan's iconic Don under Farhan Akhtar's direction and also launched newbie Deepika in Om Shanti Om (2007).
At the time, Khan also returned to TV, this time as the host of Kaun Banega Crorepati and Kya Aap Paanchvi Pass Se Tez Hain?. Danny Boyle even offered him the TV host role in Slumdog Millionaire, which SRK famously turned down.
In 2008, Khan, Juhi Chawla and her husband Jay Mehta bought Indian Premier League (IPL) team, Kolkata Knight Riders, for approximately £49 million. After a poor start, the team went onto become champions in 2012 and 2014.
Dubbed as one of the richest Indian celebrities, Khan's wealth is estimated between £260 and £390 million.
He is one of the most influential people in the world, and revels in his fame, spending a lot of time in the public eye and being active on social media to his 16 million followers.
The actor passes his time between and Mumbai and London, where his children Aryan and Suhana are currently studying. He and Gauri are also parents to surrogate child, AbRam, who was born in 2013.
Khan continues to test the boundaries of Bollywood, always imagining innovative new ways of creating a different kind of commercial cinema.
A shrewd businessman in all respects, his latest blockbuster Happy New Year enjoyed a US and UK concert tour SLAM! with the main cast in the run up to the film's release.
His upcoming film, Fan, looks back on his own stardom as he plays dual roles of both a superstar and his fan. Shahrukh says:
"I never thought someday I would be called 'King of Bollywood'. This industry has showered me with so much love.
"I have got more than double of what I had in my early phases. If tomorrow I am not remembered, it's okay, but if my work is remembered, that's enough for me."
Hey Shah, many happy returns of the day. May you continue to shine and give us joy. Love. a.

— Aamir Khan (@aamir_khan) November 2, 2015
It is clear that superstardom was always in SRK's blood, and his continual success is simply proof of how influential this man is globally.
Want to know how to be a superstar like SRK? Watch his 5 Top Tips here: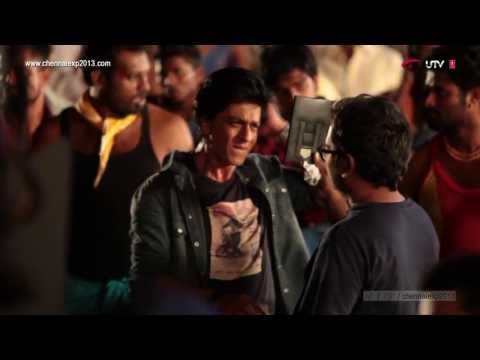 A Bollywood hero through and through, here's to another 50 years King Shahrukh, happy birthday!