"My music is the voice of my soul and all the emotions that have fired up inside me during my search for love."
Only a handful of artists can create harmonious songs of romance, capturing the heart and soul. Arzutraa hails as such an artist with her new single 'Kamli'.
The Midlands-born singer grew up in London and Kent. Her parents came from Africa, in Kenya and Tanzania, with roots going back to Punjab, India on her mother's side.
Yet she found her passion in music, from the soulful melodies of Bollywood. While she initially didn't know any Indian languages, she dedicated her time to studying them.
Now she can sing in Hindi, Urdu and Punjab.
After working with Indian and Pakistani vocal coaches, Arzutraa (aka Tripet Garielle) soon found her first break into the music scene with producer JKD. Together they created the Bollywood-inspired 'Palkaan' (2014) which turned into a massive success.
Her forthcoming debut album will really highlight the skill and passion of Arzutraa. Infusing a mixture of Bollywood romance to dance to acoustic, the singer has created outstanding hits such as 'Woh Pal' (2015) and 'Aa Vee Jaa' (2015).
Now, Arzutraa returns with another romantic hit – 'Kamli'. A track which portrays the powerful emotions of true love, it released on 6th July 2017. With this passionate song, no wonder the singer has earned the nickname of the "Voice of Love".
In an exclusive interview with DESIblitz, Arzutraa explains more about enchanting 'Kamli', her journey into music and Bollywood aspirations.
When did you first realise music is what you wanted to do? How did you get into it?
I had a subtly developing interest in music from the age of 11 when I had a love affair with the song 'Raja Ko Rani Se' from Akele Hum Akele Tum (1995). I used to sing it and record it into my father's tape recorder.
Whenever I would sit and watch Bollywood movies with my father, it was never the movie itself that took my interest but the voices of the playback singers, the melodies and the music. I've grown up in a very traditional family so studying academic subjects was always the priority.
Music was only a hobby until I was asked out for a date by an actor and I remember being nervous in the lead up to it. Not sure what to wear, what to say, how to win him over.
I wanted him to see me as a fun and exciting girl so out of a sudden moment of: "I need to show him I'm exciting", I made a decision to go sign up for singing lessons.
At the time I did it to start a new hobby and never expected to be a singer heading for Bollywood. I always had an interest in exploring my voice but never paid attention to it until that day. I thought I need to find myself an interesting hobby or I risk being a boring date!
My official journey of music started there.
Do you remember singing your first song?
I use to sing 'Raja Ko Rani Se' into a tape recorder. I used to play it back over and over thinking to myself how horrible my voice sounded. So to make my voice sound better I just kept on singing it again and again.
I was obsessed with that song of mine and I will never forget it.
Tell us how 'Kamli' happened.
'Kamli' was originally the last song on the album. I had been recording my album in Dubai for well over four and a half months. Towards the end, I was reaching a breaking point as I was getting exhausted with all the work involved in the album.
I vividly remember saying to my producer Atif Ali: "Please just make me a masterpiece." He nodded and I took a step back by putting all trust into him without getting involved.
Two weeks later he sent me a demo of the song. I remember I sat in a pizza place while listening to the song and instantly fell in love. I immediately got my bill and went back to my hotel to learn the lyrics, translation and start rehearsals.
For me, the masterpiece came not from the music but more from a magical composition and the lyrics which really portrayed the emotions of true love in a heart touching way.
'Kamli' was only possible with a flow of trust that had built up over a period of two years where each of us understood what role we have to play in the music and what message we want to bring out in the song.
This alignment of direction from Atif, Waqqas (lyricist) and I, together we made 'Kamli' happen.
Who inspires you?
My inspiration comes from so many talented icons.
Musically I am inspired by Lata Mangeshkar, Shreya Ghoshal and some western singers such as Mariah Carey and Alicia Keys. I can also relate to Falak as an artist. I tend to keep an eye out for what he has done and how.
Nobody knows this but I am also inspired by Marilyn Monroe's personality. I can relate to a lot of Marilyn's values on life and love in general but particularly the exploration of manhood through her own feminine charisma.
You are called the 'Voice of Love' – tell us why?
In my quest for serving the world with my voice, I aim to show love as a state and not as an object. My music is the voice of my soul and all the emotions that have fired up inside me during my search for love.
When I sing, write or talk, it comes from a place of love and that's why you will see all of my love songs have a theme of love. My core message to my fans is: "Be in love with yourself and spread love like a virus."
My relationship with love has come from knowing what I don't want – coming from a broken family, my aspiration is to have oneness in the world and I truly believe that can only be done through love for one another and creating oneness.
What is different about Arzutraa?
I come across as someone who my fans can relate to. I talk to my fans like they are my own family. They tell me no other singer does that. This isn't because I have time, it's because I make time.
I have invited a number close to 200 fans into my private inner circle and this makes them and I feel like I am just like one of them. They can WhatsApp me, say hi and I will respond. Yes, I believe in keeping myself exclusive but I believe in humbleness and equality too.
I think on a side note, my voice and accent are probably a giveaway that there is something different about this girl. I am involved in so much more than just music.
Currently, I am working to kick start a project with orphans in India and Pakistan. A project called #GirlPower to empower them to build inner confidence to face the outside world.
Why should Bollywood take interest in you?
I believe anything can be had by anyone.
A few years ago I never really dreamed of a career in Bollywood. It's only after I started to get attention from networking with music and film producers in Mumbai that I had words of encouragement which really helped me shape where I am heading musically.
I might not be there yet but that's my final destination. I know Bollywood is always looking for new and different voices. I do believe my voice says it all.
Who would you like to work with in Bollywood?
I would like to work with A. R. Rahman – I really find he has become so experimental as of late and I truly love that.
Clinton Cerejo – I would love to work with him due to his values as a producer. He has no limits and his production and studio mannerisms I can really relate to so in that sense I would love to work him as producer.
What styles of singing would you love to try?
I do really want to try English R&B fused with my Hindi romantic style. I have always loved writing and since I don't write Hindi, I would love to write a few English verses just to let it out.
Listen to Arzutraa's track 'Kamli' here: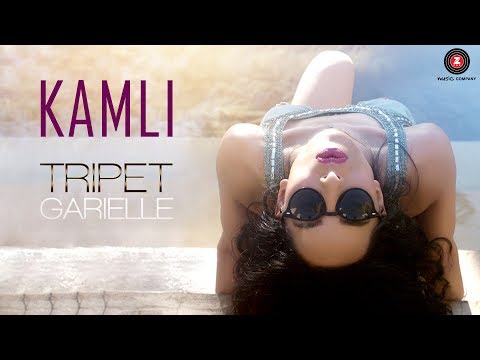 With a harmonious tune and sensual lyrics, the singer's new track oozes romance and passion. Arzutraa's skill as a singer shines through impeccably, making 'Kamli' a sure success.
As she continues her journey in music, Arzutraa would fit well into the Bollywood scene with her heartfelt tracks. And with a strong fan base supporting her, many hope she and her stunning voice will attract producers.
'Kamli' is available now and you can purchase the track on all major digital platforms. Containing a beautiful message of true love, perhaps it could become the romance track of 2017?
And watch this space for her forthcoming debut album!