"My hairstyle might make people see me in different light and they might approach me with modern characters. "
Tevar, starring Arjun Kapoor, Sonakshi Sinha and Manoj Bajpai is the first big Bollywood release of 2015.
The film is a remake of Telugu super hit film Okkadu (2003) which had Mahesh Babu, Bhoomika Chawla and Prakash Raj in the lead and was an instant success.
Okkadu was then remade in Tamil as Ghilli (2004), in Kannada as Ajay (2006) and in Bengali as Jor (2008). Interestingly, Gunasekhar, who directed Okkadu has written the script for the Hindi version, Tevar.
Tevar, is a tale of a local kabaddi champion from Agra, Pintoo Shukla, who finds himself in the middle of a lethal unrequited love.
Pintoo takes it as his responsibility to protect Radhika (played by Sonakshi) from her forced marriage with Gajender Singh (played by Bajpayee), a local Bahubali from Mathura.
The film is produced by Arjun's father Boney Kapoor, his uncle Sanjay Kapoor along with Sunil Lulla, Naresh Agarwal and Sunil Manchanda.
Tevar marks the directorial debut of the ad filmmaker Amit Sharma who has had great success in the television commercial world and various festivals including Cannes.
Arjun Kapoor who was seen in three films in 2014, Gunday, 2 States and Finding Fanny confessed of watching the film Okkadu (2003) much before becoming an actor:
"I watched it much before signing the film and even before becoming an actor. Okkadu released in 2003 and Dad had shown it to me in 2010.
"He has a knack for picking good films, he is somebody who really enjoys remaking films whether it's from Tamil, Telugu or Malayalam for that matter. I loved it."
Arjun further spoke about what he loved about the film: "I found this ordinary boy in an extraordinary situation very interesting as a tale to tell. Ten years down the line, the story still stands the test of time.
"A good guy who takes a chance and helps a girl and how he lands up in trouble doing that is what forms the story. He has no agenda for helping her which I found really fascinating. It was very refreshing from the obsessed love stories you see these days."
While everybody is appreciating Arjun Kapoor in Tevar, Sonakshi Sinha who is playing a damsel in distress yet again, is being criticised for returning to the stereotypical village girl role in almost all her films.
Sonakshi clarified saying: "I did mass entertainers because I love watching these films myself. There was no strategy involved in doing commercial movies.
"People forget that I am still new, it has just been 4 years, though I have done 12 films. There is a lot of time for me to explore myself and do different stuff. In big-budget films too, my performances were appreciated."
Sonakshi, who recently shocked the world with her bob haircut, feels her new style might make people approach her for modern roles: "My hairstyle might make people see me in different light and they might approach me with modern characters. "
Apart from Sonakshi, Shruti Hassan will also be seen in Tevar. Shruti's item song 'Madamiya' from the film is already a chartbuster. While shooting for the song, Shruti had an incident wherein Arjun very heroically saved her.
Apparently, they were dancing with real horses around them, when one of the horses started approaching Shruti, almost to kick her. While Shruti was unaware, Arjun who quickly noticed this, pushed Shruti away and saved her from getting hurt.
Everybody is also really excited to watch Bollywood's respected actor Manoj Bajpai in the role of a goon. His much acclaimed Gangs of Wasseypur is still talked about.
Apart from the star cast, the focal point of the film is its music. The music composed by Sajid-Wajid has caught everybody's attention and promises to be a 'complete masala album'.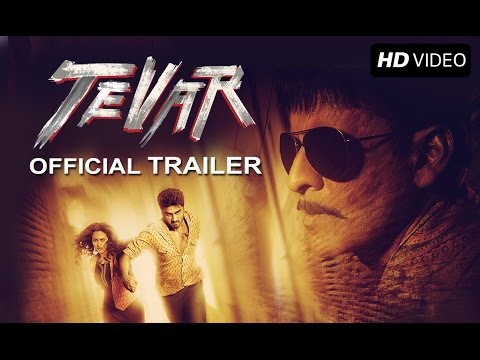 Talking about the super hit song, 'Superman', Wajid says:
"Superman reflects Pintoo's street-smart lingo and his care-a-damn attitude. The line combines two heavyweights – Superman and Salman Khan."
Another hit song is 'Joganiya' for which the actress, Shruti Hassan, who is also a trained vocalist, has lent her voice.
Joining the bandwagon of the actress debuting as singers, Sonakshi Sinha too, has sung the song 'Let's Celebrate' with the 'Amplifier' singer, Imran Khan.
Commenting about the film's music, Sanjay Kapoor said: "We are bringing back the kind of music that used to be popular in the 80s with larger-than-life sets and a hundred dancers. At the same time, each song has a contemporary twist."
Tevar, produced by Eros International and Sanjay Kapoor Entertainment, releases from January 9, 2015.