"What if a boy grew up and wanted to be like his mother?"
A tired wife comes home after a long day of work, to find her lovely husband cooking dinner and cleaning the house. Sounds a bit a different to the stereotypical gender roles, right?
Well, Ki and Ka sees unconventional director R Balki once again give a conventional ideology a twist, and this time it's the urban married couple.
Bringing to life this role reversal, is the fresh pair of Arjun Kapoor and Kareena Kapoor Khan.
Ki and Ka follows the story of the unambitious Kabir Bansal (played by Arjun Kapoor) and the overly ambitious Kia (played by Kareena Kapoor Khan).
Kabir who is in line to inherit his father's multi-crore business conglomerate, has only one wish and that's to become like his mother who was a house wife. However, Kabir's life takes a drastic turn when he meets Kia, an overly ambitious 'cooperate robot'.
As the sparks fly almost instantly, the infatuated couple decide to tie the knot. Living the honeymoon phase to the fullest the newly wed couple have everything up and running smoothly. Kia is the breadwinner, while on the other hand, Kabir happily runs the house.
However, things take a turn for the worst when ego, money, power and jealousy kicks in. Will Kia and Kabir be able to sort their issues? Or will this role reversal cost them their relationship?
Being Arjun and Kareena's first release of 2016, the first quarter of the year has seen great work from Bollywood. But both are confident that their film is different and has a good enough concept to draw in audiences.
Arjun candidly explained as to why he chose to play Kabir, one of his most effeminate characters from his filmography. He said:
"I went to meet Balki sir and he told me I don't have a script but I have these two lines, just give me your reaction. He said every boy wants to grow up and be like his father. But what if a boy grew up and wanted to be like his mother?
"And I instantly wanted to meet a guy like this, because I've never come across anyone like this. So, I just told him sir just let me know when you finish the writing and I'll come and start shooting."
Portraying a strong independent woman in the movie, Ki and Ka can easily be misconstrued for a satiric comedy on the topic of gender equality.
However, clarifying that Ki and Ka is very much an entertaining film, Kareena went on to explain as how Ki and Ka isn't a documentary on women empowerment.
She said: "Films are a medium of entertainment first. This movie is not a documentary on women empowerment or gender equality or is aimed to bring about a change in the society.
"People can see the film and enjoy it and if after watching it they take back some message, that's an add on, but this movie is nowhere a revolution."
After creating a sense of excitement with its fresh concept, Ki and Ka's fresh music is also another talking point for the movie. The music has been composed by Meet Bros Anjjan, Mithoon, and Ilaiyaraaja.
The album has a great mixture of tracks that will definitely be on repeat on your phones.
The most popular track is the new rendition of the Jaz Dhami and Honey Singh hit, 'High Heels'. Giving it a more Bollywood twist, the hit Punjabi song still hasn't lost its essence in being one of the best dance numbers on the album.
'Ji Huzoori' is a beautiful track composed by Mithoon speaking on idea of being your own person in the relationship rather than being dependent on one another. The haunting track is definitely one of the most beautiful tracks of the album.
'Most Wanted Munda' is a fun track by the meet brothers, introducing Kabir's character as the handsome and homely guy the energetic track will definitely get your feet tapping.
'Fool Ishq' is a sweet yet quirky take on the conventional romantic track and 'Pump It' is a track that should definitely be on your gym playlist.
Watch the trailer for Ki and Ka here: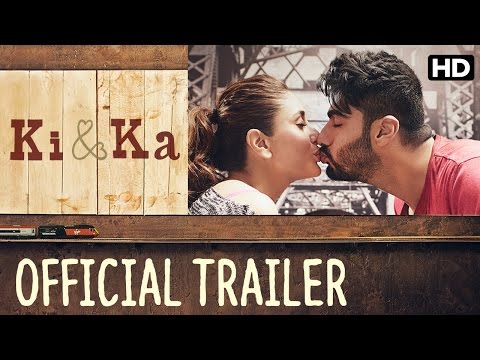 Reaction towards Ki and Ka has been very interesting. Director R Balki and Arjun Kapoor held a private screening of the film for their close industry friends and family, and the likes of Alia Bhatt, Karan Johar and Parineeti Chopra attended.
Responses to the film have been hugely positive. Alia later tweeted: "Full fun, quirky, and such real and organic chemistry between the beautiful & powerful #Kareena and @arjunk26!!! All the best guysss."
Parineeti said: "My sweetest Ka! Girls get ready to fall in love with this one they truly prove streeling and pulling is same thing."
Critics meanwhile have had a mixed response, with Komal Nahta saying: "On the whole, Ki & Ka has a novel premise but the structure built over the new foundation is not half as entertaining as it should've been."
But the Box Office takings prove that the film is a success, having passes the Rs 50 Crore mark worldwide.
So are you ready to witness this fun role reversal with Arjun Kapoor and Kareena Kapoor Khan? Ki and Ka released from April 1, 2016.