"I think it was a beautiful book and I am very proud to be part of this movie."
Abhishek Varman's 2 States revolves around a Punjabi student Krish (played by Arjun Kapoor) and South-Indian Ananya (played by Alia Bhatt).
Students at the same educational institution in Ahmedabad, they both fall in love but only agree to get married once they have their parents blessing. A very simple wish.
However, the South Indian and North Indian way of life are almost like chalk and cheese. To top that Ananya comes from a very traditional Tamilian family. The task they both have is not easy. Will their parents agree?
In an exclusive and very hilarious Gupshup with DESIblitz, Alia explains her character Ananya:
"She's fiery, she's spunky, she's intelligent, she's charming, she's active, she's strong, she's a feminist, she's beautiful."
Arjun Kapoor who starred in Ishaqzaade (2012) had a great role in his last movie, Gunday (2014) where he shared an entertaining bromance with Ranveer Singh. He is seen as a very relaxed character in 2 States, similar to himself maybe?
"Sarcastic – similar tones of sarcasm that are there, deadpan silences that say more than most words can. But [Krish is] silent, resilient, understanding, emotional [and] caring towards his family."
It is believed that Imran Khan was due to star as the main lead but due to clash of dates, Arjun Kapoor was offered the role instead. The film is produced by Karan Johar and Sajid Nadiawala, and is expected to be a full on entertainer.
Amrita Singh appears as Krish's mother. This lead actress of the eighties and early nineties will be seen on the big screen after a long time.
Looking at the trailer, anyone would agree she fits the Punjabi mom's role like a glove and she has definitely added to the expected audience for this film.
Shiv Kumar Subramaniam and Revathy are seen as Ananya's parents and have added some fun to the movie with their uptight attitude. Every member of cast either complicates or helps the couple's volatile love life.
The producers created lot of buzz by inviting the public to the 'engagement ceremony' of the movie which was actually the promo launch. Using innovative marketing techniques, they have managed to create lot of anticipated interest already.
On the music side, the two well-known producers know that a Punjabi based in a song is always a winner. So it is a safe bet to include 'Iski Uski' in the soundtrack. 'Mast Magan' is another song that you will listen to even after the movie hype fades with time.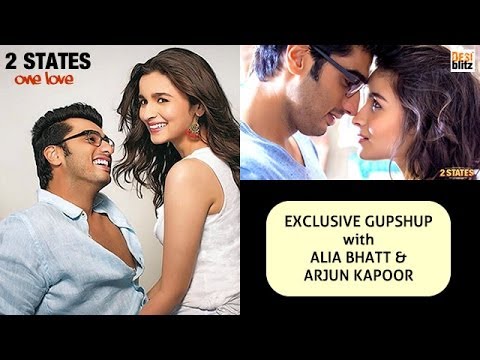 Arjun adds that 2 States is a film which has a lot of relevance today: "Marriages have a lot of importance in our culture, they are the biggest step a man or a woman takes after educating themselves.
"I think they are the two biggest steps; education and marriage, and parents want to be involved in both those processes, they feel left out and disappointed if you don't include them."
"And we as youngsters like to take our own decisions, but those two things we like to include our families and take their blessings for it. So 2 States deals with marriage as a very important aspect of their lives."
Alia Bhatt started her career with Karan Johar's Student of the Year (2012) and was also Highway (2014). She is once again seen in a totally different avatar here.
We can safely say Alia has wisely chosen different characters in her short film career so far – clearly showcasing her versatile acting ability to the Bollywood audience. Smart choice indeed to show off her talent. All three movies have three different facets of personality in each character.
Alia admits: "I was a huge fan of Chetan Bhagat's best selling novel, of the same name, and remember reading it when I was shooting Student of the Year. I thought it was a beautiful book and I am very proud to be part of this movie."
It was rumoured that the two leads are perhaps a real life couple but they have never accepted this in public – yet, their rumoured recent lip lock in public during a promotion has again got the audience questioning. On speaking to DESIblitz, the pair remain as vague as possible, and Arjun cheekily dismisses the marriage card:
"Live-in relationship would be nice, but I don't see myself getting married for a while. I just think live-in relationships have less stress."
Leaving their personal life alone, we have enough chemistry to ogle at on screen. We all want a good laugh once in a while. We Asians have the beautiful quality of laughing at ourselves, and this movie is just reflective of how despite valuing our culture, we can still have a laugh at our own expense. 2 States releases in cinemas from April 18.