"...actually my bikini shot was not supposed to be so elaborate..."
Shahid Kapoor and Alia Bhatt make a 'Shaandaar' Jodi for Vikas Bahl's latest romantic comedy.
Shaandaar is another fresh story from the director of Queen, and the buzz around this cute pairing has been rapidly growing.
The film follows a big fat Shaandaar Indian destination wedding at the most exotic castle in Europe.
Marking the wedding date of Isha Arora (Alia's sister). The rich and prestigious Arora family start preparing for the big day with the help of Jagjinder Joginder (played by Shahid Kapoor) the wedding planner.
While coming across the bride's sister Alia (played by Alia Bhatt) Jaginder and Alia realise they have one thing in common, they are both insomniacs.
Bonding with each other over the sleepless nights, the two eventually fall in love.
However, Alia's father Bipin (played by Pankaj Kapur) believes no one is good enough for his little girl. In this awkward situation, Jagjinder has no choice but to prove Alia's dad wrong.
But stuck between organising the wedding and playing perfect son-in-law material. Will Jagjinger succeed in both his endeavours?
Ever since the first trailer of Shaandar was released, Alia's amazing bikini body has been headlined the most.
Speaking about how it became the memorable shot we see on screen, Alia explains: "We both were on a particular diet, and actually my bikini shot was not supposed to be so much elaborate.
"It was just supposed to be me in a bikini, but I worked so hard at it that Vikas had to take that shot."
Alia also expressed how she was going through anxiety and panic attacks a month prior to the bikini scene. She adds that she maintained her work out regime while on location too.
She explained: "The scenic beauty of the location made me do more jogging, exercising in fresh air. So it eased me a lot for the bikini shoot.
"In Mumbai, we hardly get so much open place and fresh air to exercise. It was a really wonderful experience for me."
With Shahid still on a high after his brilliant performance in Haider, fans will be expecting another award-winning show with Shaandaar.
This film is even more special for Shahid as it turned into a family affair, with both his father, Pankaj Kapur, and his sister, Sanah Kapoor in secondary roles.
Shahid explained how the whole casting came about, saying: "Vikas called me one day and told me that he has a Shaandar (fabulous) surprise for me.
"He said that my sister is playing Alia's sister in the film. I was quite surprised. He then asked me to help him out to get my Dad to play Alia's father in the film.
"I told him Dude, that won't work. He does what he wants to do. I can't ask him to come on board just because I am in it.
"Then Vikas narrated the film to my Dad and he seemed to like it too. Before I knew it, most of my family was in the film."
Speaking about working with her brother, Sanah said:
"He was protective of me and would often give me advice but he never went out of his way. He was like a security blanket that I could use whenever I wanted."
Just like every Dharma film, producer Karan Johar has made sure the music of the film is the U.S.P of the movie.
Composed by the award-winning Amit Trivedi, the soundtrack features five shandaar songs, and is already a hit with fans.
The title track, 'Shaam Shaandaar' is fun and energetic. With a mixture of the dhol, the song gives an authentic modern feel of a Punjabi wedding song.
'Gulabo' features vocals by Vishal Dadlani is a funky jazz tune, and its addictive hook will have you singing it all day long.
'Nazdeekiyan' tones down the energy of the album and is a soothing and soulful romantic song, reflecting the growing romance between Alia and Jagjinger.
'Senti Wali Mental' is a great song for the sangeet ceremony, creating a scene of women and men poking fun at each other.
This modern twist on sangeet songs is one of the most entertaining tracks on the album, and overall Shaandar is arguably one of the best albums of the year.
Watch the trailer for Shaandaar here: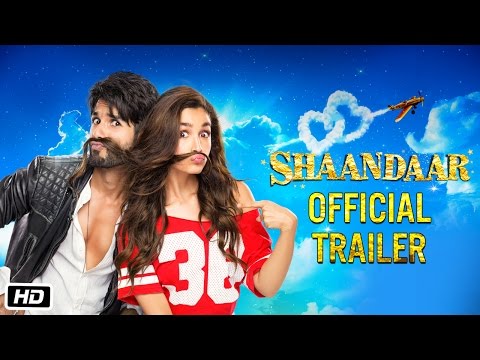 Both Alia and Shahid have been supporting the film like crazy. Alia even had a custom-made dress designed from all the Shaandaar fan mail she received from her followers.
With overall positive reviews for the film, fans of this fun Jodi have high expectations. Popular film critic, Komal Nahta writes:
"Shaandaar is an entertaining film and will be loved by the youth, especially in the cities. It will emerge amply victorious at the box-office on the strength of youth patronage."
And clearly fans have definitely flocked to see the pair, as the opening day Box Office collections boasted Rs. 11 Crores, making it Shahid's biggest opening day film.
Supportive messages have also been pouring in all over for the Shaandaar team:
Mad,funny,quirky,endearing family wedding with a nocturnal luv story,Super entertaining! #Shaandaar kudos @aliaa08 @shahidkapoor #VikasBahl

— Sidharth Malhotra (@S1dharthM) October 22, 2015
But the crown for the biggest supporter of Shaandaar has to go to Mrs. Shahid Kapoor, Mira.
A day before the film released both Shahid and Alia Instagrammed a picture of themselves with Mira, featuring Vikas Bahl's finger!
So, will you be seeing this Shaandaar couple on the big screen? Shaandaar releases from October 22, 2015.