Alia somehow manages to look sexy donning a trendy Tweed suit.
Alia Bhatt and Shahid Kapoor are getting up to plenty of masti in 'Gulaabo', the first official song from their upcoming movie Shaandaar (2015).
The song begins with Shahid tapping on the window from across the road to Alia, who is munching on a banana.
As he calls her over, they move onto the street where the fun filled shenanigans begin.
Alia somehow manages to look sexy, donning a trendy Tweed suit and fake moustache in the gangster themed musical number.
Watch the full video of 'Gulaabo' right here: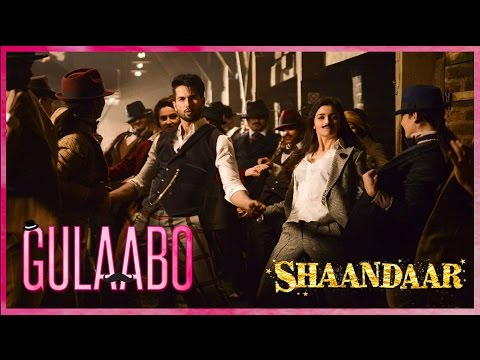 The chorus 'Zara gundh pilado' (give me some of that dirty booze) refers to the theme of bootlegging set to be a key part of the film.
The dance sequences are also rocking with Shahid pulling out the moves with bags of energy.
The tune's fun factor is also due to playback singers Vishal Dadlani and Anusha Mani who help electrify the duo's performances.
If 'Gulaabo' is anything to go by for the rest of the movie, then Bollywood fans are in for a right treat.
Fans are loving the choreography and cute dance moves from the gorgeous pair!
YouTube user Priyanka Kohsseeal exclaims: "Full of madness song. Perfect for the bachelorette's night :D"
At the launch event for the song, Alia and Shahid performed the song live and even shared kind words for each other!
Alia complimented her handsome co-star's top form and dancing skills.
She says: "Gulaabo was the first song that Shahid and I had to do. I was damn nervous dancing with him.
"I had to have at least 10 per cent of his energy. He has 100 per cent. I rehearsed a lot. I did work hard a lot."
The Haider star returned the favour and described how much of a joy it is to work with Alia, whom he has only met a couple of times before.
That certainly explains the incredible chemistry we have seen so far in the trailer, posters and music video!
The title track for the film has also been released. Watch the full video of 'Shaam Shaandaar' here: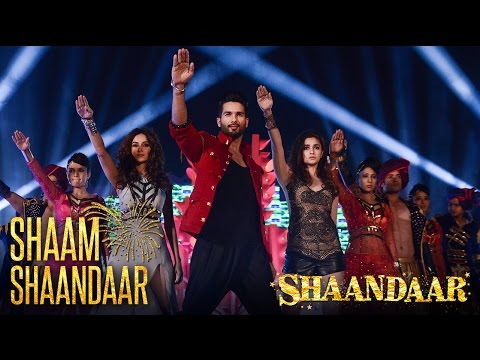 Amit Trivedi performed beautiful vocals for the track, while the two lead actors sport a glamorous party look!
Shaandaar is directed by Vikas Bahl and will be released on October 22, 2015.