"Bollywood to me is very unprofessional. Everything is last minute here."
Welcoming a new wave of talent, Dilliwaali Zaalim Girlfriend promises to be a young and fresh faced film catering to younger generations.
Brought to us by debutant director Japinder Kaur, it stars the quirky and talented actor Divyendu Sharma who has already been in successful films like Pyaar Ka Punchnama and Chashme Baddoor.
Set to have audiences laughing with his new release Dilliwaali Zaalim Girlfriend, Divyendu co-stars with debutant Prachi Mishra, former Miss India Earth 2012 winner.
Dilliwaali Zaalim Girlfriend follows the struggles of fulfilling the materialistic wants of your demanding girlfriend.
When Dhruv (Divyendu Sharma) comes across Sakshi (Prachi Mishra), Dhruv wants to do something that will grab Sakshi's attention and something that will fit into her elite lifestyle.
Being short in the financial department however, Dhruv decides to take a loan from a private lender and buys a car to impress his lady love.
But just as things are going smoothly, Dhurv finds himself unable to repay the loan, which results in his car being seized.
This leaves Dhurv having to deal with the finance company, the system and Punjabi criminal, Minocha (Jackie Shroff). Will Dhruv be able to pay back the money and get Sakshi back?
Making an small appearance on the silver screen is Jackie Shroff – but what made him take on such a role in a small-time film?
"The first reason why I said yes to the film is because Japinder is a friend of my daughter Krishna. The second reason is because the character offered to me was that of a light-hearted Punjabi baddie; something that I have never done before," Jackie explains.
Speaking about the young director, Jackie added: "The good thing about her is that she was as strict as a mother on the set. However after pack up, she was like my daughter. She knows how to get work out of her actors and yet she gives them a lot of respect."
Japinder also spoke about some of the messages behind the romantic comedy – and what made it so relevant to today's audiences. The film does expose Delhi girls as being highly materialistic. However she clarifies this notion by saying:
"According to me, not only Delhi but everywhere, girlfriends can be cruel. The hotter the girls, the more 'zaalim' they appear to guys."
"But we have not shown Delhi girls in a negative light. In fact, we have portrayed them interestingly. They are extremely fashionable and stylish."
Despite the young and fresh cast and crew, no expense has been spared on the musical soundtrack.
The music of Dilliwaali Zaalim Girlfriend has had a lot of attention already due to the mixture of composers that are associated with the album.
With a grand total of nine songs, the album captures the Delhi essence very well. Yo Yo Honey Singh, Meet Bros Anjjan, Tigerstyle and Dr. Zeus have all made significant contributions, and the interesting mix of artists and tracks has been well-received.
The first song from the album that seems to be getting our feet tapping is 'Birthday Bash', offering the typical party and Punjabi vibe. Fans have loved to see Yo Yo Honey Singh back in action after vanishing from the public eye.
Another song that projects the vibe of Delhi in film is 'Zaalim Dilli', sung by Bhangra singers Jazzy B and Hard Kaur. However, with Jazzy B having done very little work in the Hindi cinema, it was interesting to hear the popular singer's voice on a Bollywood track.
The overseas star did create some controversy however as he voiced some cutting opinions about the Bollywood industry overall. At the music launch, the star reportedly said:
"Bollywood to me is very unprofessional. Everything is last minute here. 'Abhi gana chahiye, kal banake doge?' is what people want here. That is not how a song is made."
Dr Zeus's track also features on album, called 'Tipsy Hogai' which has an interesting Latin vibe to it and will definitely be another hit from the UK music producer.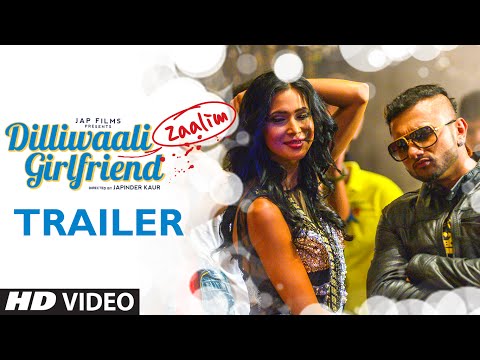 The album also has some romantic tracks, which include 'Janib (Duet Version)' sung by the brilliant Arijit Singh and Sunidhi Chauhan, definitely reflecting the emotional side of the film.
Other tracks include 'Tere Liye Janib (Female Version)', 'Meri Marzi Teri Raza', 'Saddi Dilli' and 'Maa De Dandeya'.
Predictions for the film are looking positive, especially due to the impressive soundtrack. Director Japinder has also received praise from her industry peers.
Director Umesh Shukla said: "Japinder's direction seems amazing for a newcomer. Jackie Shroff is looking different with his new avatar as a Punjabi. Also, the music stands out."
Catering to India's urban youth, Dilliwaali Zaalim Girlfriend is a fun romantic comedy. Will you be falling for this 'Dilliwaali Zaalim Girlfriend'? The film releases from March 20, 2015.