"This is a movie about Indian food and restaurants, it does pull on that cultural background."
Belgrave in Leicester saw its first ever world premiere of Brit Asian flick, Jadoo on September 3, 2013.
A fun food comedy shot on Leicester's Green Mile, the film stars Harish Patel, known for his role in Run Fatboy Run (2007), and of course, Kulvinder Ghir of the much loved Goodness Gracious Me (1998-2000) TV series.
Harish and Kulvinder play rivalling brothers in the movie. The brothers are both top chefs who end up falling out. In their violent dispute, they rip the family recipe book in half. One brother is left with the starters, while the other has to make do with the mains.
Following this hilarious escapade, they each open up competing restaurants on the opposite side of the road and spend the next twenty years trying to outdo each other. Sadly, neither successfully can without the 'other' half of the book.
A daughter's wedding and the threat to the family business brings the two rival brothers together again, but can they finally put their differences aside?
Supporting the two leads are actors Amara Karan, who plays the bride Shalini, Ray Panthaki, Adeel Akhtar, Tom Mison, Paul Bazely and Hardeep Singh Kohli. Plus a special cameo by food extraordinaire herself, Madhur Jaffery.
The opportunity to work on such a light-hearted family comedy was a fun experience for Goodness Gracious Me actor, Kulvinder Gil:
"This is a movie about Indian food and restaurants, and it really does pull on that cultural background. So there were many elements that came into it," Kulvinder says.
"I thought that there was a sense of realness about the film as much as there is a passion about film; the one thing that these two brothers do share is food and the great desire to make it right and perfect.
"Those things really do attract you when you read a script. As an actor, you look for parts, and you want to be stretched, and I just felt that I could do something with this and make it more myself and different from any other job I had done," he adds.
Jadoo is directed by Amit Patel, a home-grown Leicestershire lad from Belgrave. After leaving the shire to pursue his film career, the opportunity to film his first feature film in his own hometown was too good to miss.
Relieving some of his childhood memories, as his family was also in the food and catering business, Jadoo perfectly reflects the importance of community, family fun and masti and Leicester's Green Mile is a perfect location.
Speaking about his choice to shoot the film in Leicester, Amit admits: "I'm just glad I got to make this film in Leicester. The people who came here had a great time, drinking masala chai in my mum's restaurant, relaxing and having fun making a movie."
"I've just tried to make it as pure and personal as possible. Jadoo means magic in Hindi and well, it's a kind of miracle to make movies, when the odds are stacked against you in this industry."
"I just want to carry on making films. I know that doesn't sound very ambitious, but I love what I do. I'm the luckiest guy in the world," Amit admits.
Jadoo initially began as a radio play, which was commissioned by the BBC in 2005 and played on Radio 4. Since then, Amit went to great lengths to secure a budget to shoot the play as a full feature film. He eventually sourced a few million pounds funded by East Midlands Media.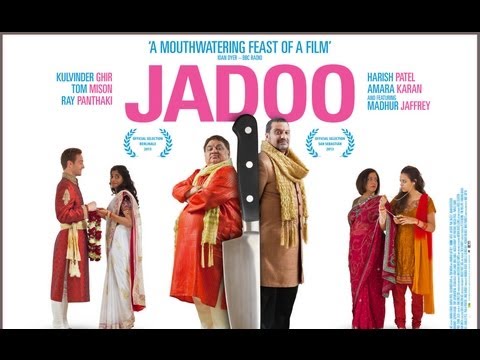 From then Amit was on his way to create a great British Asian cult hit to rival the likes of Bend It Like Beckham (2002) and Anita and Me (2002):
"It would be absolutely amazing if Jadoo received even a slice of the success of Bend It Like Beckham, but I don't have that control. The big movies have so much money to spend on advertising, they will always be noticed," Amit admits.
Jadoo has already had an impressive response on the Film Festival circuit, where it secured a Special Screening at the New York Film Festival 2013, and the Berlin Film Festival in February 2013.
Fans and audiences are also in for a treat with an East meets West remixed musical soundtrack.
The musical score is composed by Oscar winning Stephen Warbeck and features tracks from Basement Jaxx's Felix Buxton as well as some great Bollywood classics from Sholay (1975) and Qurbani (1980).
Amit adds that the soundtrack has also received much praise: "It's up for the Ghent World Soundtrack of the Year public choice award. A little film like ours – that makes me proud."
Hundreds of fans attended the world premiere of the film at Leicester's Highcross on September, 3. Attended by all the cast, Amit explains he was quite overwhelmed by the city's support:
"It's quite a nervous occasion, I hope people like it, and we've got the interesting mix of Indian time keeping and picking up tickets before the show starts."
"Walking through the streets and seeing my posters in the streets I used to play in as child is amazing," he said.
"We wanted to thank some of the businesses for helping out with the film. Loads of people were coming up and shaking my hand – it was great."
Jadoo is a great entertaining comedy for the whole family. With lots of laughs and food, you really can't go wrong. Jadoo releases on September 6, 2013.