"As for the comparisons with the original Zanjeer, I suggest try not to get there!"
Apoorva Lakhia is back in the director's chair with his remake of the 1973 Zanjeer, originally led by Amitabh Bachchan.
Ram Charan makes his debut in Bollywood in the lead role, alongside Priyanka Chopra who plays his love interest. The film released on September 6, 2013 worldwide.
Zanjeer (titled Thoofan in Telugu) sees Ram Charan reprising Amitabh Bachchan's 'angry cop' role as ACP Vijay Khanna. Sanjay Dutt (who is currently undergoing a jail term) plays Sher Khan, whilst Priyanka is Mala, and Mahie Gill is Mona Darling.
Vijay Khanna is a ruthless, honest police officer who is leading the case where the key eyewitness, Mala, has seen a murder by Teja's Gang and refuses to co-operate. Teja (played by Prakash Raj) is the head of an illegal oil mafia operation and doesn't want Ria alive.
When Ria is convinced to give a statement, her enemies come after her. The film revolves around Vijay's struggle against the corrupt system and his chase after Teja.
This film has many action scenes with some death defying stunts, Ram Charan who carried out most of the stunts himself, says:
"The car scene shot in the slums of Dharavi is definitely one to watch out for. We had to drive at a high speed through narrow lanes with blasts happening around us at the same time. It involved a lot of pre-production work to ensure no mishaps took place."
Talking about his character, Charan says: "Vijay Khanna is an honest cop who gets transferred from Andhra Pradesh to Mumbai. The plot has been inspired by real life incidents involving the oil mafia and the assassination of a journalist. Priyanka plays my love interest."
Zanjeer also brings Ram and Priyanka as a new onscreen Jodi and so far their chemistry is on point. Speaking on working with Ram, Priyanka states:
"I didn't know Ram much before Zanjeer. I was not aware of his popularity until we visited Hyderabad for the film's shoot.
"Around 300 fans always used to follow us wherever we would shoot in the city. He is a superstar and has got loyal fans."
There has been some debate about this year's Zanjeer against the original. Many think that the film doesn't hold a candle to the original whilst others feel it is more of a Telugu inspired film.
Priyanka feels that the Amitabh Bachchan starrer cannot be remade because the film is an inspiration for all:
"Our Zanjeer is the re-imagined version of the previous film. One cannot remake the original film. We just took an inspiration from the previous film."
Since the film was simultaneously shot in Telugu, Priyanka had to adapt and switch between the languages. She admits: "I couldn't speak Telugu but I just parroted the Telugu dialogues and since we shot simultaneously I had a rhythm of the speech and I could adjust to it."
The music has been composed by Meet Bros, Chirantan Bhatt and Anand Raj and so far has received mixed reviews.
Priyanka Chopra shot for an item song titled 'Pinky', and is sung by Mamta Sharma, however this fails to live up to the successful item songs such as 'Sheila'/'Munni'.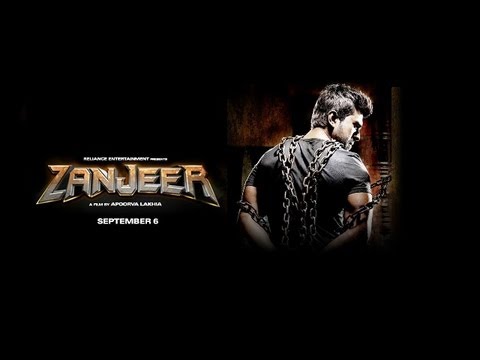 Wajhi Farooki and Palak Muchhal have lent their voices for the romantic number, 'Lamha Tera Mera'. It has a decent beat but doesn't create a strong enough sensation and could have been a lot better.
Sanjay Dutt is seen in a qawwali song after 41 years. 'Khochey Pathan Ki Zubaan' is a joint collaboration between Sukhwinder Singh, Shabab Sabri and Meet Bros Anjjan. Their vocals work splendidly together.
However, for the song to be catchy and to stick in the public's mind it needs to be heard more than once.
Overall, the film has created little buzz. Its competition is Priyanka's cousin sister's film, Shuddh Desi Romance, starring Parineeti Chopra and Sushant Singh Rajput, which seems to be gaining a lot of attention.
However, Priyanka sees no competition and is very happy for Parineeti. She says: "Yes. I am happy about it and hope the audiences like the work of both in the film. I am happy about the progress of Parineeti."
Taran Adarsh's general view of the film was positive. In his review he states: "On the whole, Zanjeer is a triumph for Ram Charan, who gets abundant opportunity to exhibit his talent and scores exceedingly well.
"However, the film comes across as a regular masala fare that caters to the single screen spectator mainly and also for enthusiasts of typical Bollywood entertainers. As for the comparisons with the original Zanjeer, I suggest try not to get there!"
Komal Nahta however had a more neutral opinion: "On the whole, Zanjeer is a dull show which also looks dated. Except for action, that too, mainly for the mass audience, there is not much for the viewers.
"As such, the film's run at the box-office will not be exciting. The Telugu version of the film has also been released simultaneously and its fate at the ticket windows may be better due to the stardom of Telugu films' star, Ram Charan."
Box Office wise, the film has failed to make a big impact in its opening weekend, with Shuddh Desi Romance shooting ahead. In its first three days, Zanjeer collected a total of Rs. 9.74, compared to Chopra number 2's Rs. 23.45.
But, for those in search of new faces in a real, hard-hitting film without comparing to the original then Zanjeer is highly recommended. Zanjeer released worldwide on September 6, 2013.