"It is the finest bhangra track to emerge from Punjab, and is an example of how Punjabi music should sound."
Fourteen years ago, the world tragically lost a musical icon. But DESIblitz are reviving the legend to bring you the 7 top songs by Surjit Bindrakhia.
On November 17, 2003, a sudden heart-attack sadly meant that the bhangra hero passed away, at the age of 41.
However, now in 2017, we are bringing him back to remind you of his powerful voice and incredible music.
Known for his unique pitch and his hekh, which is the continuous singing of a note in one breath, Bindrakhia is undoubtedly a bhangra music legend.
Tarun says: "Still no singer can match his pitches and sweet voice. I'm proud to have grown up listening to his music."
After his birth in 1962, in Rupnagar, Punjab, Surjit's father encouraged his teenage son to go into wrestling and kabaddi.
But despite winning various inter-college tournaments at university, Surjit chose to pursue his own passion for singing. And what a life-changing decision that turned out to be.
So DESIblitz brings you 7 top songs by Surjit Bindrakhia to remember him fondly and proudly by. We also speak exclusively to an independent underground artist who recently released his incredible rap remake of a hit Bindrakhia track.
Tera Yaar Bolda
Where else could we begin but with the epic track 'Tera Yaar Bolda'. Many fans consider the hit to be the greatest ever song by Surjit Bindrakhia.
Speaking exclusively to DESIblitz, Mani says: "This song cannot, and will not ever get old. It's something which you can listen to at any time, and not help but be singing or dancing along to."
And Sukhy agrees. He says: "For me, 'Tera Yaar Bolda' is the best bhangra track of all time, and I'm sure many people will agree. Old is gold."
Being such a legendary track, 'Tera Yaar Bolda' also makes our list of 10 Must Play Bhangra Wedding Songs, which you can check out by following the link.
Be sure to check out our DESIblitz playlist of the 7 top songs by Surjit Bindrakhia below to appreciate this classic tune once again.
Dupatta Tera Sat Rang Da
'Dupatta Tera Sat Rang Da' is the song which changed everything for Surjit.
Released in 1995, while Bindrakhia was still relatively new and making his name in the music scene, this brought him international recognition.
Adil says: "'Dupatta Tera Sat Rang Da' is one of the finest bhangra tracks to ever emerge from the Punjab region. It is a fine example of how Punjabi music should sound."
While bhangra music has undoubtedly evolved, this will always be a cherished classic. But has bhangra turned into music which is all about cars, girls, and alcohol?
Jatt Di Pasand
Coming out for release in 2001, just two years before his tragic death, 'Jatt Di Pasand' is another massive hit by Surjit Bindrakhia.
And speaking about how much the industry is changing, Vineet says:
"This is real Punjabi music, not like what we see and hear on the radio or in films today. 'Jatt Di Pasand' is definitely one of my favourite bhangra songs of all time."
With its later release, 'Jatt Di Pasand' also has a HD music video which you can watch for yourself in our playlist below.
Bas Kar Bas Kar
The way Surjit Bindrakhia sings the words "Bas Kar, Bas Kar" are etched into music history.
Talminder says: "This is the song I always dance to at every wedding or party. I don't care if I'm eating or drinking, I will stop doing whatever and I will get to the dance floor."
It is yet another timeless classic from the Punjabi singer which you can remind yourself of below.
Mukhda Dekh Ke
The music video to 'Mukhda Dekh Ke' will really take you back. Featuring the Indian model, Carol Gracias, who some of you may remember as a contestant in Big Boss 1.
Saurabh says: "This song reminds me my childhood days, listening to the beautiful voice of Surjit Bindrakhia. The music video of 'Mukhda Dekh Ke' is as equally fantastic as the song."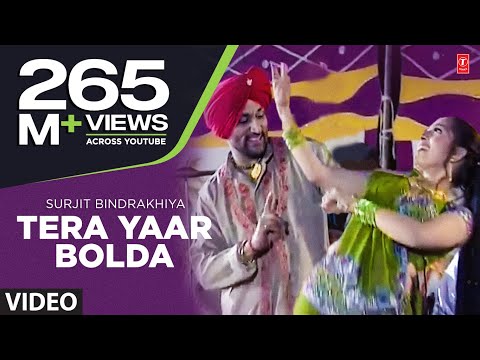 DJ Sanj and Jay Status also reinvented this hit in 2012 with their own track, 'Mukhada'. This helped Jay to win the Best Newcomer Award at the 2012 BritAsia Music Awards.
Be sure to also check out the awesome rap remake of this hit song below, too! Meanwhile, Jaz Dhami and Kanika Kapoor collaborated recently to recreate another Punjabi classic with their hit, 'Kurti Mal Mal Di'.
Peke Hunde Maa De Naal
Another wonderful trait of Surjit's was his ability to sing in ways which touch your emotions.
Much of his music, especially most of these 7 top songs by Surjit Bindrakhia, bring a sense of happiness and joy to us. But speaking about 'Peke Hunde Maa De Naal', from the Billiyan Ankhiyan album, Mani says:
"It is such a heart touching song about a mother-daughter relationship. It truly explains what it's like when the mother passes away, and how the daughter can be treated differently."
Sanu Tedi Tedi Takdi Tu
The final hit to make our DESIblitz list of 7 top songs by Surjit Bindrakhia is 'Sanu Tedi Tedi Takdi Tu'. It just about beats 'Lak Tunnu Tunnu', 'Jogiya', and the 'Bindrakhia Boliyan' to our final spot.
Saahir says: "'Sanu Tedi Tedi Takdi Tu' is a unique duet concept, which is written so beautifully that I enjoy hearing it every time."
And be sure to watch the music video on our playlist, above, to see a remarkable Shahid Kapoor lookalike at 2m: 01s.
Saahir on the Influence of Surjit Bindrakhia
Saahir Banwait is an underground rapper and lyricist from Chandigarh, Punjab, who is inspired by Bindrakhia.
And on November 16, 2017, the independent artist released 'Mukhda', a tribute to the late legend. 'Mukhda' is a modern rap remake of Surjit Bindrakhia's 'Mukhda Dekh Ke'. Be sure to have your bass turned up when you listen to this incredible track.
Speaking exclusively to DESIblitz, this is what Saahir says about his latest release:
Can you tell us about 'Mukhda'?
"My friend, and music producer, Amolak Riar, made a beat using the original 'Mukhda Dekh Ke' song, while I wrote the lyrics.
"It's a rom-com track with a fun music video, which depicts falling in love at first sight. I have an amazing team of passionate and hard-working people who all deserve credit for 'Mukhda'."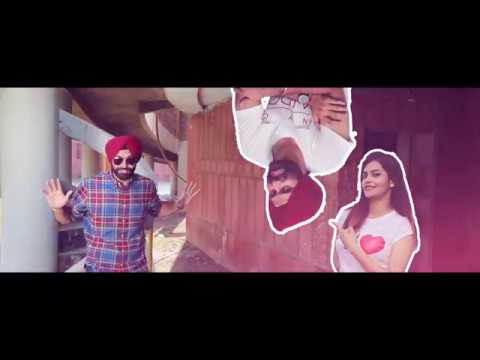 How would you describe your music?
"I make non-commercial, but good music which stays as close to the real essence of hip-hop as possible. My music is a reflection of me and I try to write meaningful stuff.
"Artists like Bindrakhia were able to entertain without using any cheap language. So his influence keeps my lyrics meaningful and prevents me from going astray."
How Has Surjit Bindrakhia Influenced Music?
"Bindrakhia played an important role in modernising Punjabi music as well as the videos. He was one of the few Punjabi singers who used actors and choreographers to help produce high-end videos.
"His lyrics are so catchy and that is what is keeping him on top, even today. Surjit Bindrakhia was so ahead of its time that his music is still fresh now."
The Future of Top Songs by Surjit Bindrakhia
Thankfully, the legacy of Surjit Bindrakhia continues. While musicians like Saahir are creating modern remakes of his classic songs, Bindrakhia will never be forgotten.
Tributes are always being made to the legend. In 2011, DJ Harvey and Nirmal Sidhu released 'Bindrakhia Boliyan', while Babbu Maan also dedicates 'Pind Diyan Juhaan' to him.
Gitaz Bindrakhia is also continuing the legacy of his father through his own music. And thanks to all of this, Surjit Bindrakhia will never be truly away from us.
He will always be inspiring us, as well as our future generations. Sharon says:
"Surjit Bindrakhia makes me proud to be part Punjabi. Even though I don't understand much of the lyrics, I feel a connection to, and pride in my culture when I listen to him singing them."
Top songs by Surjit Bindrakhia also appear in our DESIblitz '10 Must Play Bhangra Wedding Songs' and 'Best Songs for Your Desi Wedding Playlist'.
You can also like the official Facebook pages of Surjit Bindrakhia and his son, Gitaz Bindrakhia, by following these links. Or, if you like the sound of Saahir Banwait's music, you can find him on both Facebook and Twitter.