"Our history and culture goes much deeper, but we get stuck on the few things that just look cool."
Bhangra music in the UK has evolved rapidly since its introduction to the country in the 1980s. Today, it is evolving more than ever, and so are music videos for this genre.
Due to the rise of social media and video-sharing websites such as YouTube, official videos for a bhangra track are now just as important as the song.
To put the significance of music video into context, Imran Khan's 'Amplifier' has over 56 million YouTube views, while Jaz Dhami's and Yo Yo Honey Singh's hit track, 'High Heels', has over 44 million views to date.
However, there is a significant lack of creativity in the industry when it comes to the production of these highly important videos.
There is an emphasis on showing expensive cars, provocatively dressed women, alcohol consumption, and not much else. But is this all that bhangra music is about?
Aman says: "Our history and culture goes much deeper, but we get stuck on the few things that just look cool."
DESIblitz explores some of the latest and most popular music videos to hit bhangra tracks, and also offers you the chance to watch some of the more imaginative ones that we found.
Origins
Bhangra derives from Punjabi folk music from the Punjab region of India and Pakistan. It originated as its own genre in the United Kingdom in the 1970s and 1980s.
Early Punjabi bands experimented with mixing traditional folk music with western styles and instruments. This fusion of western and Punjabi styles of music came to be known as bhangra.
Bhangra allowed Punjabi immigrants to develop a musical identity as it combined their new western lifestyles with native music from 'home'.
However, this delicate balance has changed recently. Modern bhangra is moving closer and closer towards western forms of music, including rap and American hip hop culture.
Ravi says: "The new generations are missing out on the true bhangra vibe. It's not all about hip-hop, slow jams and RnB. Bhangra is about the true Punjab reverberating through your heart."
Transformation
The shift in balance between Punjabi folk and western styles is perhaps best represented by Jazzy B.
The Prince of bhangra had 'Soorma' as the headline track of his Romeo (2005) album. However, his next album, Rambo (2008) was headlined by the track 'Rambo' in all countries apart from India.
'Jawani' was the headline song of the album in India, but got very little airplay in the west. Why was Rambo not universally headlined by one track?
Because Jazzy B was aware of the transformation of bhangra in the west, and also knew that India was not ready to be exposed to that shift at the time.
The official video to 'Rambo' was quite the opposite of the other tracks too.
'Rambo' shows a western city skyline in the background before the camera follows Jazzy B driving a luxurious Bugatti Veyron through the streets of London, UK.
He is then seen in a private jet, a convertible Rolls-Royce, and then a helicopter – where he is with a beautiful woman. Scenes with Jazzy B holding guns and swords are dotted around too.
Towards the end, the two are fine dining with a glass of champagne, before seen doing expensive shopping together. Is this the lifestyle needed to attract someone of the opposite sex?
Since then, more and more music videos have included cars, women and alcohol. Jyoti says:
"When you hear bhangra, you should not think of, or see, flash cars or girls and boys in designer outfits dripping with bling. It's about Punjab."
Taking It Too Far?
Of Jazzy B's 'Rambo' video, Rocky says: "The video is ridiculous. He's trying to act like Snoop Dogg."
So, are bhangra artists taking it too far in attempts to be popular like western rap, hip-hop and RnB artists?
The official music video to Gippy Grewal's 'Patt Lainge' (2016) is seen to take great influence from western rap culture.
'Patt Lainge' shows several girls in figure hugging silver catsuits in a white room with guns on the wall. Gippy is then shown sitting behind the glass table.
Later on in the video, Gippy is shown rapping in front of a car on fire behind him. Interestingly, all of these themes are shown in Rick Ross' 'No Games' (2013).
Geeta Zaildar's 'L.A' (2015) music video also seems to have been influenced by the west. It shows clear similarities to Chris Brown's 'New Flame' (2014) video.
Both tracks include a girl dressed in white on her smartphone, before putting it down next to a white speaker.
The women in both videos are bare legged and reach for the speaker. Seductive clips of the women, now in little more than underwear, are shown.
Zaildar and Chris Brown both appear dressed all in white, with a white umbrella and white hat, surrounded by seated women – also in white.
The greatest similarity is shown in a scene with both artists on a set of white steps. They are dressed in white, while the female is in red and a red trail runs over the pure white steps.
The themes of cars, alcohol and women are prevalent in western culture and media. Why are we trying to incorporate it into ours?
DJ Gurms, of Roar-Sounds DJ's says: "Some modern bhangra music videos seem to have lost their way in terms of morality recently. Videos have become so inappropriate that they are often unsuitable for family viewing."
Top Bhangra Music Videos
This 'blingy' and 'flashy' culture simply does not fit in with Desi music, and often fails to match what the artist is singing about.
Here are some of the most creative and fitting music videos to bhangra hit songs.
A lovely video about friendship, loyalty, and gaining the approval of a woman's father.
Bups Saggu – 'Battle Giddha'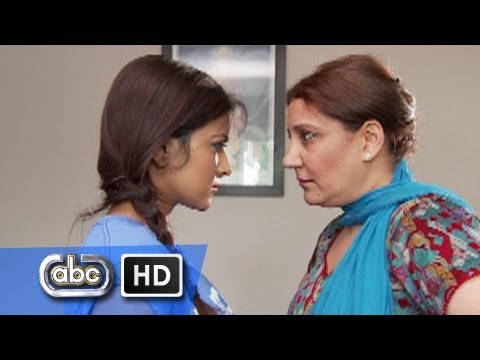 A creative music video depicting a dance-off between younger girls and older women – 'Kudiyan vs Auntiyan'. Everyone is in colourful traditional Punjabi attire too.
An imaginative video based on the popular film franchise, Back to the Future. Shows Foji in various recent British ages.
05/03/2011, Birmingham, UK. 4 weeks of planning, 12 cameras, 1 unsuspecting audience.
Sonya says: "A very nice track, but an amazing video."
Tej adds: "The best flash mob ever."
A good, original video set in Punjab, India.
Param says: "I'm really happy that there's a Punjabi song by a famous male artist that is not about drugs, alcohol or chasing women."
The lack of originality and creativity in the industry is one issue. But some modern Asian music videos may have varied too far away from the delicate mixture of South Asian and Western culture.
Is there a need to include half undressed women, bottles of alcohol or fast and expensive cars? These things are not representative of Punjab.
Punjab is about the colourful outfits, the vast green fields, the saag, and the lassi. Bhangra is simply losing its identity and forgetting its roots.
Popular vocalists such as Ranjit Bawa, Diljit Dosanjh, Kulwinder Billa, Jenny Johal, Ammy Virk, Jassi Gill, Jordan Sandhu and Dilpreet Dhillon are doing their best to revive the native folk style of bhangra.
The industry may therefore have realised its mistake, and is using those artists to correct it. But is it too little too late?
Bhangra music has evolved drastically over the last few decades. With so many other cultures and musical styles influencing this genre, can the true essence of Punjabi music still be preserved?