"I just thought, you know what, I really want to do something with this track"
Jay Kadn formerly known as Junai Kaden has returned to the music scene with an incredible mashup of the eternal love song, 'Tujh Mein Rab Dikhta Hai'.
Paying homage to the stunning vocals of playback singer Roop Kumar Rathod, Jay Kadn has added his own soulful take on this romantic classic with a creative Western twist.
The Hinglish mashup sees Jay's English lyrics perfectly match with Jaideep Sahni's Hindi lyrics.
And they are just as beautiful: "You are my heaven girl, you're the air that I breathe."
'Tujh Mein Rab Dikhta Hai' originally featured in the hit Bollywood film, Rab Ne Bana Di Jodi, which starred Shahrukh Khan and Anushka Sharma.
Without a doubt, the official remix elevates the original track to a whole new level.
In an exclusive Gupshup with DESIblitz, Jay Kadn admits that having loved the original, he wanted to try his own hand at recreating the song:
"I just thought, you know what, I really want to do something with this track," he tells us.
"I was home one night, and I've got a little setup at home, and I put a little guide down and I contacted my producer, I said 'Listen, I have this great idea'.
"He was a bit sceptical at first but I was like, 'Trust me, you have to try this', and he sent it back to me and the project came out absolutely amazing."
It was after producing the record, Jay and his team decided to show it to Bollywood powerhouse, Yash Raj Films (YRF) in India:
"We pitched it to Yash Raj Films via my label here called Kiss Records  and they were really happy to take the project on. They were like, 'We really like the sound of this. We'd like to release it'. I was gobsmacked."
With YRF's backing, the remix became official and Jay went to Pakistan for a week to shoot a stunning music video to go with the brilliant track:
"I've never shot internationally, I've always shot more UK based. But it's the first time I went to Pakistan.
"I shot in the beautiful Katas Raj temple in Chakwal, and that place is absolutely amazing. It's full of mandirs and Hindu temples and stuff like that.
"The shoot went amazingly. [I] finished it, came back, and now I can't wait to show you guys the [final] product."
Watch the music video to 'Tujh Mein Rab Dikhta Hai' Hinglish mashup here: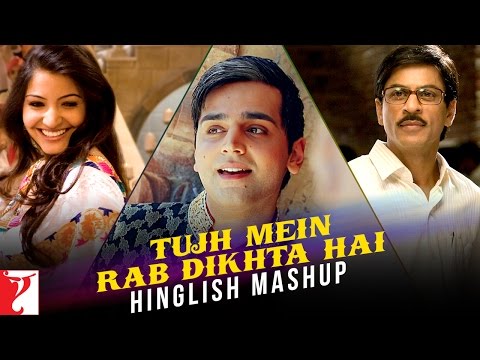 The music video sees a dapper Jay dressed in an embroidered sherwani wooing the girl of his dreams. But it's clear that we are the ones who should be in awe of this Prince Charming who enjoys swathes of female fans.
It was in 2010 when a fresh-faced Jay first wowed audiences with his incredible vocals. Fluent in English, Punjabi and Urdu/Hindi, Jay's song list ranges from British Asian urban beats, Punjabi dance tracks, to Bollywood ballads.
As well as a number one album, some of Jay's biggest hits to date include 'Aaja Mere Naal' and 'Jabbi Teri Yaad'.
The 25-year-old actually makes his return to the music industry after a short break. The Brit Asian has just recently signed with a new label, Kiss Records, and this Hinglish mashup is the first project to emerge.
With new management and a new name, Jay is back to create another musical mark on the British Asian music scene. But the heartthrob isn't stopping just there:
"I would love to go into acting, I would love to go into playback singing. Bollywood's the market, India's the place to be, and I will be going out there in a couple of months."
As Jay Kadn enjoys the success of this Hinglish mashup track with YRF, fans of the British Pakistani crooner can expect a brand new track in July 2016. We cannot wait to hear it!
'Tujh Mein Rab Dikhta Hai' releases on Kiss Records from April 28, 2016 and is available to download legally via iTunes, Amazon and Google Play.