"It's called Indian Magic because of the sincerity of this character."
A true British Asian artist, Balraj Khanna is a prestigious author and seasoned novelist. His latest work of fiction, Indian Magic has been inspired by Balraj's own experiences of being an Indian living in London for the last 40 years.
While not an autobiography, Indian Magic centres around a young impressionable Indian man who migrates to the UK in the 1960s. 23-year-old Ravi Mehra is a fresh faced young adult with a few pounds in his pocket, and a handful of dreams.
But this land of hopes and dreams is not quite what he expects it to be and a disillusioned Ravi is faced with a number of setbacks including homelessness, racial discrimination and no work – until he finds a job at an Indian restaurant as a dishwasher. In an exclusive Gupshup with DESIblitz, Balraj tells us:
"It's called Indian Magic because of the sincerity of this character. The innocence of this character and how he approaches people with great love, respect and so forth – that English people find a very magical thing."
Falling in love with a local English 'rose', Ravi is faced with the ultimate test of all, persuading the girl's racist father that he is a good match for her. An incredible funny and endearing novel, readers will find it hard not to fall for Ravi's honest wit and charm.
As a successful writer, Balraj's biggest achievement is being able to bring the page to life with his wealth of vibrant and colourful descriptions. Publisher Rosemarie Hudson insists that Balraj's novels are full of creative wit and imagination:
"His writing is so funny when you read him you just have to laugh out loud. His writing reflects his paintings I think. The way he describes the scenes around him in his text is wonderful."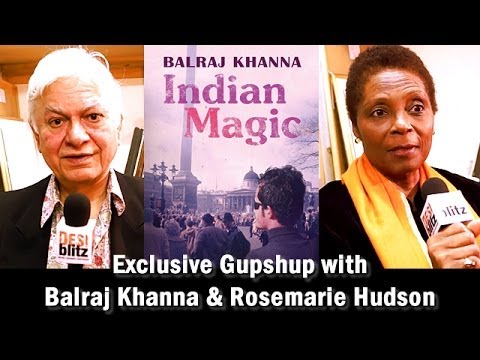 Rosemarie believes that Balraj is a significant contributor to British Asian literature, particularly to non-Asian audiences:
"I just love his style of writing, and for us it's important to have that different, that alternative voice in publishing, and that's why we do what we do. And for someone like Balraj, who has so many stories to tell, it's vital and the readers want it, because they're not getting alternative books, alternative stories, and that's very important for us," Rosemarie adds.
An all-round talent, there is very little that Balraj cannot do. Well-known for his paintings that have been exhibited across London, Balraj's novels have also seen him bestowed with much recognition and critical acclaim.
His first novel, Nation of Fools, published in 1984, was 'adjudged as one of the 200 best novels in English since 1950' and winner of the Winifred Holtby Prize. Since then he has written a variety of books on Indian Art and even a children's book.
Balraj admits that while his creative talents are not limited to one medium, when he does concentrate on one aspect of creative work, he puts his all into it: "When I'm writing I can't think of anything else. Writing a book takes a long time, I've written a few novels," Balraj tells us.
The novel, Indian Magic, has been published under HopeRoad, a publishing house which supports ethnic and multicultural literature. Founded in 2011, HopeRoad also published Balraj's 2012 novel, The Mists of Simla, and has given a platform for many multicultural writers in Britain, including Pakistani author, Qaisra Shahraz.
Balraj has already received much critical applause for Indian Magic, which was initially released as an e-book before being made available in print. Reviewing the book, novelist Paul Pickering says:
"I am absolutely bowled over by this novel…Balraj Khanna has written a novel that is funny, beautiful and heartrending. Ravi Kumar Mehra is a wonderful creation and his adventures are as hilarious as they are fresh, yet always in the shadows.
"Khanna is holding up a mirror which reflects a declining England, a country on the wane, mired in its own history. The prose is spare and sparkles on the page as one might expect from a man included in the hundred top novelists of the 20th century.
"There is the energy of the subcontinent and the new India in this book. Khanna delivers with the wisdom of a Naipaul, the dexterity of Vikram Seth and the honesty and observation of Zadie Smith."
Reginald Massey adds: "The young Mehra's story reminds one of Tom Jones and Lucky Jim. Brilliant!"
Balraj certainly has a magical touch when it comes to writing, and as one can become enraptured with his paintings and art, it is easy to get lost in the world he creates for us on the page. A humorous and thoughtful, Indian Magic is available both as an e-book and in print.