"Khanna's work must establish him as one of the best middle generation painters we have."
Balraj Khanna is an Indian-born artist, author, philosopher and thinker. His perception of his environment and surroundings is truly exceptional.
His 3D exhibition, A Journey of His Own, allows spectators from across the world to view a special selection of life long works. A mix of both old and new, never seen before pieces, from the comfort of their homes.
As an author of a number of acclaimed novels, including The Mists of Simla (2012), which is set in the beautiful landscape of his childhood, we are able to delve a little further into the mind of the man himself. In particular, his thoughts and memories which are forever immortalised in his fiction.
But as Khanna explains, for him, art has no deep inner meaning. It is not a puzzle to be solved. Rather it is simply a form of expression, that is, an expression of life through his open and imaginative eyes.
All of his pieces display a distinctly unique and original perspective of the beauty of life.
In an exclusive Gupshup with DESIblitz, Khanna insists: "I do not try to convey a message. I try to convey a feeling of joy, liberation, calm, harmony."
Art then, depicts life itself. There is a relentless energy, motion and movement in his works. One cannot but lose themselves within its depths. Life, as he sees it, is both vibrant and exciting, through his use of vivid hues. The paintings live and breathe, and expression is truly animated in an unrestricted and free form.
As is evident by the entire collection of 22 masterpieces, Balraj has the rare ability to strip back life to its most minimal and unrepressed form. To portray life using a series of vibrant colours and moving shapes, that enthrals any viewer of his paintings for hours on end.
Watch an Exclusive Interview with Balraj Khanna here: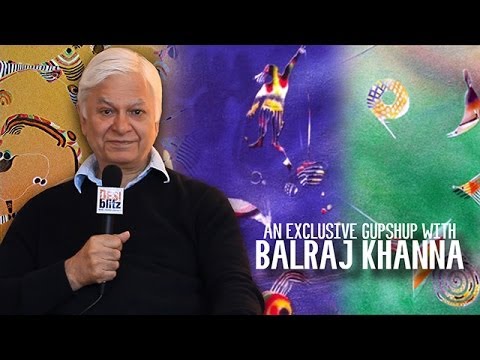 Of course then, Khanna's Indian roots play an enormous significance on all of his works. There is one picturesque setting that Khanna refers back to again and again, and that is the Indian Punjab, and being in the presence of the awe-inspiring Himalayan mountains:
"Living there, surrounded by very lofty mountains and in the background you can see very high Himalayan peaks, snow-covered, blushing in the sunset. Leaving on you an indelible impression of beauty. That was the first seeds of my being an artist," recalls Khanna.
What is evident is that while the depiction of living creatures in his paintings is sometimes vague and obscure, you are still able to make out distinct shapes of fish and animals.
This fluidity that emerges in his artwork has in turn encouraged similarities with the fluidity of music.
Notes which play together in perfect beat and harmony is a theme that is perfectly reflected in his artwork. In essence, life, light and all art bleeds into one; all matter is individual yet the same:
"People have noted that there is a correlation between my work as an artist and music. Without my actually trying consciously to attain this status, this harmony in my work. It has evolved by itself. As if I'm singing in myself all the time," admits Khanna.
Of course the actual transition into becoming an artist was, for Khanna, an ever-evolving one. In particular, he recalls the scenic French countryside, which allowed him to: "see nature in a different light with fresh eyes."
"I started painting nature and landscape, not as it looked but how it appealed to me, to my senses. Not in the way the French impressionists painted the landscape. But my own version of impressionism which was simpler and more linear and I loved it," Khanna says.
"We talk of the 20th century art, a cavalcade of great artists. And again the inspiration doesn't come through their actual work. It is how they conceive the world, how they see the world and how they portray what they believe in and feel. That is inspiration," he adds.
Khanna's work is evolving still to this day as he continues on his artist's journey:
"The artist work, life is a journey, for which there is no full stop. It's an ongoing thing, and along the way, you discover new things, you find new things come to you. And you make the integral to your journey."
Harmony, calm, and beauty in everything tells us that Khanna is an extremely spiritual being. And spirituality is vital to all of his work:
"You see, it [spirituality] is fundamental to our art, and again I have inherited it unconsciously, without making any to effort to present it or to portray it. I think such things must happen intuitively. So I paint intuitively. And intuition is often the best guide for everyone in every sphere, certainly in the arts and literature."
A Journey of His Own was conceived and curated by Lucie Marchelot, Director of The Indian Art Centre.
The impressive London exhibit displayed 22 prominent Khanna pieces inside two distinct settings, giving viewers differing viewpoints of his collection.
The first, a modern contemporary setting of an art gallery, and the other a more familiar atmosphere of a home:
"I first approached Balraj Khanna when I launched my online gallery, The Indian Art Centre, and I was really interested about his work. I thought why not put together a 3D digital exhibition. A very realistic way of how paintings could look in different environments," says Lucie.
The event itself was a huge success, with Lucie insisting: "We are delighted with the outcome of the event. We have received overwhelming interest both from collectors and the press. For a first exhibition of this type and the gallery's first show we are extremely pleased with the result."
As Khanna describes himself, his collection is utterly cohesive. Just consider such paintings as 'Patang' and 'Animals and Friends'. The use of colours and circular brushes of the visceral objects almost fit perfectly side by side:
"Same symbols, same colours and same movement appearing in one way or another in different varieties," explains Khanna.
Alongside scenic beauty, he combines brash and bold colours that he picked up from a single trip to Rajasthan:
"India, our civilisation, our culture is full of colour. I was quite staggered to see how colourful that place [Rajasthan] was. When I came back, I painted a very large painting, 12 ft by 6, capturing the mood of what I had seen, the colours that I had noted. I called it 'Coming From Rajasthan'. That painting is now in the Arts Council collection."
Critical reception towards Khanna has been truly outstanding. Mel Gooding of Art Monthly says: "Khanna's work has over the years reached a brilliancy of achievement that must establish him as one of the best middle generation painters we have."
As an Indian artist, Khanna is truly an inspiration to all. It is fair to say that he lives and breathes his work, and looks to life itself as his biggest inspiration:
"Early morning you wake up, you are fresh. The world looks fresh to you. It seems different from the day before, and you are moved by it. That is inspiration too."
As he happily admits himself, Indian art is truly thriving, and with artists such as Khanna at the forefront, it is perfectly comprehensible to see why.