"In each and every play, I try to give a message, like a social message such as domestic violence."
A successful actor, musician, writer and director all rolled into one, Jeet Chaudhary is a natural star in entertainment.
In an exclusive Gupshup with DESIblitz, Jeet Chaudhary (Jitinder Singh) talks about his Punjabi theatre takeover with the successful comedy play, Naukar Woti Da, and his success on being an actor, writer and singer and his plans for his future.
Initially a Pakistani film of the same name (Naukar Wohti Da, 1974), and later a Bollywood flick called, Naukar Biwi Ka (1983), the story has been now adapted into a Punjabi comedy play.
Acutely relevant to modern society, Naukar Woti Da is the story of a henpecked husband who just can't say no to his wife. The play taps into issues around domestic duties and how the roles of the husband and wife have changed.
Where once married women were termed as 'housewives', now some married men can be called, 'house-husbands'. But sadly in some cases, dominance isn't eliminated. It switches genders. As shown in Naukar Woti Da.
Directed by Jeet and written by his wife Gurdip, their version of the original, Naukar Wothi Da focuses on issues within marriage. Jeet's own comedic performance adds an original magic to the concept.
Interestingly, Jeet doesn't just direct the show; he also acts as the lead character, Fatte Chak Singh. The play is told from his perspective as a subservient and obedient husband, married to a peculiar woman with a fitting name, Hunter Wali. One day his wife's sister comes to stay with them and things take a drastic turn.
In an exclusive Gupshup with DESIblitz, Jeet tells us: "This is play is about a husband and wife, where the man is fed up with his wife and he falls for his sister in law. There's a twist where he even marries his sister in law as well!"
The original film in 1974 was a huge success and remade into a Bollywood movie named, Naukar Biwi Ka, starring Dharmendra and Anita Roy in the lead roles. Both movies were box office hits and interestingly the same is true for this theatre adaptation. Due to its first year's success at The Drum in Birmingham, it was performed again in 2014.
Unlike the movies it is based on, the main protagonist is already married and the show has a love triangle element. It is meant to be taken with a pinch of salt at the expense of your sanity: "In each and every play, I try to give a message, like a social message such as domestic violence," Jeet says.
"Women are not alone in abuse, a lot of men are abused as well. But at the same time this is a comedy play, where a man loves his wife and decides to compromise in order to stay with her."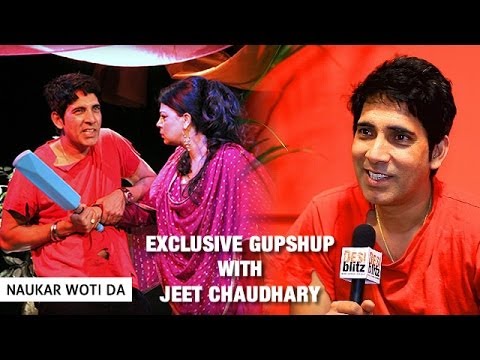 Jeet grew up in Jammu and then moved to Mumbai where he started his acting career. He also met his wife Gurdip in Mumbai. Now they live in London with their children and own their production company, Mathribhoomi. His wife Gurdip writes the scripts and produces them while he directs the show and acts in them.
With a strong passion for theatre and film, Jeet began acting at the age of 17. After joining the Shri Ram Repertory Company as a professional singer and actor, he has gained a lot of experience in performing musical plays. He is also a singer and writes the lyrics for all his songs.
His popular Punjabi album is Vilayti Jugni (2012) and Jeet takes inspiration from traditional Punjabi folk music: "I get influenced very easily by someone who is very intellectual or very creative. I got influenced by many people in my life."
Despite leaving India and his job as an actor, Jeet joined his wife in the UK. As he has pursued his passion and has not given up on his dream of working in theatre, it has proved beneficial to him.
He now works with his wife and has established a mutual partnership that many dream of having with their spouses. He has admitted that his past ambitions have all been achieved and that his wife is his biggest support in encouraging him.
Jeet and his wife Gurdip have also starred in Channel 4's series, The Family where they lived with Jeet's in-laws, Gurdip's family. This has shown him to be a kind and loving house husband who shares a strong bond with his wife.
Jeet has also performed at many British Asian fairs, including events in Swindon and Luton. His talent has earned him a loyal following and growing number of fans. Having his own theatre company also allows him to share his talent with others and provide unforgettable entertainment. Jeet has expressed that he would love to create his own movie one day.
Currently, Jeet is working on his upcoming shows Desi Peo and Pesiyan Di Hera Pheri, both of which will be performed at The Drum. It is evident from Jeet and Gurdip's works that they enjoy focusing on Punjabi comedy and on romance. As a multi-talented artist, Jeet is eager to flourish and grow in the entertainment industry.