"Varun is like a kid on the shoot and I feel like pulling his cheeks most of the times."
With wedding season officially here, Bollywood's most stylish bride Sonam Kapoor has won us over with her bubbly new role in Dolly Ki Doli.
Dolly Ki Dolly is produced by Arbaaz Khan and first time director, Abhishek Dogra. Dogra is all ready for the release of directorial debut and has been welcoming high expectations from his first movie.
The film also stars the supremely talented Rajkummar Rao, the cute Pulkit Samrat and the actor with immense comic timing, Varun Sharma.
Sonam Kapoor who returns in a new quirky avatar gives the runaway bride a whole new meaning.
What would you do if you woke up after the first night of your wedding day to you find your wife and valuables missing?
Dolly Ki Dolly follows the story of con woman Sonam Kapoor. She gets married to different men from different cultures and runs away with their valuables the next morning.
However after conning two out of the three main protagonists, Rajkummar Rao and Varun Sharma, enough is enough and it's time to put a stop to her antics.
Cue Pulkit Samrat, the focused police officer, who is confident and determined to catch her. Will he be able to stop this con woman? You will just have to watch and find out.
For first time director Abhishek Dogra, getting everything perfect was important. With the film revolving around Sonam, Dogra was keen that she got under the skin of her character by working very closely with the writer and director.
Reflecting on the amount of hard work that actually went into developing this character, Abhishek and his assistant director explain:
"Dolly's character is neither all-black nor all-white and maintaining a fine balance is not easy.
"Sonam worked with writer Uma Shankar for her expressions and pronunciations. As she dons different avatars, she also had to ensure that she got the various dialects right."
Sonam admits that she hugely enjoyed the whole film process; she said it was fun being with everyone on the sets and then on promotional travelling.
Speaking about her three male co-stars, she says: "Pulkit pampers everyone a lot on the sets and he is very chilled out. Varun is like a kid on the shoot and I feel like pulling his cheeks most of the times. As for Rajkummar, he's an immensely talented actor."
Rajkummar Rao adds: "Pulkit and I have less screen space together, but all four of us, including Sonam, got along like a fire on the sets. We connected from the very first day and continue to bond since then."
The soundtrack of the light hearted comedy has already garnered a lot of attention from fans. The famous musical duo Sajid-Wajid have created a fun and appealing soundtrack that consists of five songs.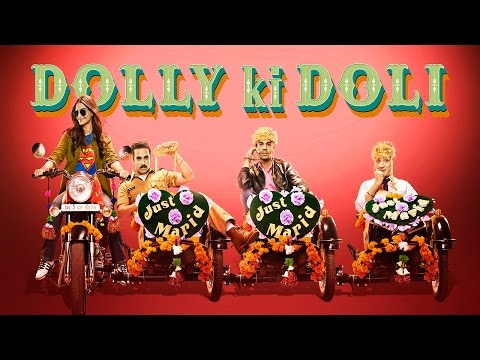 Each song has a nice fresh twist to it, be it the Punjabi wedding song 'Phatte Tak Nachna' or Malaika Arora Khan's sizzling item number, 'Fashion Katham Mujhpe'.
Even the hilarious tune 'Babaji Ka Thullu' which is the famous comical phrase by Kapil Sharma, will have you on your feet.
All of the tracks go really well with the genre and feel of the film and has struck a chord with audiences.
The film has had a slow opening weekend at the Box Office, but has still enjoyed positive reviews from a special screening attended by some of the big Bollywood stars.
Leading actress, Anushka Sharma thought it was an excellent film and immediately tweeted out:
"Thoroughly enjoyed #DollyKiDoli. Filled wid funny uncanny moments. @sonamakapoor U r super cute & spunky.dulhas are hilarious. All d best guys.
Anushka had wonderful things to say about Sonam, and her quirky portrayal of Dolly.
Film critic, Taran Adarsh also tweeted out: "#Dolly Ki Doli is a simple-n-sweet entertainer that promises fun and laughter in those 1.40 hours. Tight screenplay. Competent direction.
"Dolly Ki Doli also works because of wonderful performances by Sonam Kapoor, Rajkummar Rao, Pulkit Samrat and Varun Sharma. Abhishek Dogra impresses a great deal in his directorial debut. Deserves kudos for opting for an unconventional climax too."
It seems that Sonam is on a winning streak with Khoobsurat also doing well at the Box Office. Dolly Ki Doli released from January 23, 2015.