"My aim is to become a playback singer"
Jaz Dhami is a UK singing sensation that has stormed his way into the Bhangra music industry. This vibrant singer does not do anything in halves, having gone through rigorous music and vocal training both in India and the UK, he has shown that the only way to pursue music properly is to learn, practice and always know you need to improve.
Born in Birmingham, Jaz started his singing career at the age of nine being inspired by his father who was a singer in the UK band, Sangam Group and a session musician in the 1980's. His father was very keen for his son to do well as a singer but was critical that he should do things the right way. This meant learning music and vocals from ustads (teachers).
Jaz's first teaching was under Ustad Ajit Singh Mutlashi Ji in Birmingham, who taught him for about six years. He then ventured to Punjab in India, to learn from Professor Hari Dev Ji, a very well-known classical singer. Jaz learned a lot about classical music and developed advanced vocal skills during this training.
Jaz came back to the UK to attend Paul McCartney's School of Music in Liverpool for one year, to attain a Diploma in Popular Music and Sound Technology. Jaz then returned to India to study and complete a degree in Shashtri Sangeet (Indian Classical Music) from Chandigarh University.
Then back in India for about two years, he learned about singing styles for Bollywood from Jayshree Shivram in Mumbai. Subsequently, to complete his education Jaz came back to England and went to the London College of Music and Media, where he studied for a degree in Music and Video Production.
Jaz told DESIblitz that the song that inspired him to become a singer was the Bollywood song, Dil Kyon Dhadakta Da Hai from the movie Jaanam (1992), originally sung by Anuradha Paudwal and Vipin Sachdeva. This was the first song Jaz ever sang.
During his third year of his studies at the London College, Jaz was introduced to Bhangra music producer Aman Hayer, who wanted him to sing 'Sadi Jind Jaan' on the Groundshaker 2 album. This was the first real recording experience for Jaz and gave him the chance to express his vocal style on the track.
Watch our exclusive interview with Jaz Dhami in 2010 and see what else he had to say about his music, singing and choice in girls!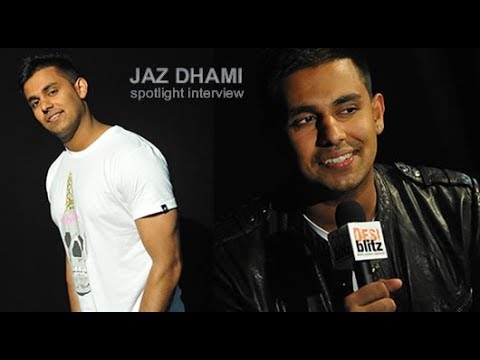 The biggest ambition for Jaz Dhami is to make it in Bollywood as a recognisable singer. He says, "My aim is to become a playback singer." This goal is to fulfil his father's own quest to become a playback singer. "Even one song in Bollywood will be a dream come true for me and my dad," Jaz said, to demonstrate the passion he has to make it in the biggest film industry in the world.
Jaz has a firm belief that without proper training and dedication, you cannot progress in your art. He is critical about the large number of artists in the Brit-Asian music industry that are in it for the 'quick fame' rather than developing themselves in the correct way by following a rigorous training path. He says,
"A lot of people are in this industry for the wrong reasons. A lot of people want to be famous but not singers."
This he feels is leaving a major hole in the UK music industry which is suffering from not enough good vocalists. Despite the technologies available to tweak and auto-tune bad singers in recordings, it does not hide their inability to sing in key when performing live on stage.
Jaz released his hugely successful debut album in 2009, called simply 'JD' which featured hit tracks like 'Theke Wali,' 'Roj Miliye' and 'Tera Mera.' Music producers on the album included Aman Hayer, Kam Frantic and Aman Haldipur. He won many awards on his arrival into the Asian music industry including, Best Newcomer at the UK AMA's in 2009.
In his personal life, Jaz is close to his family and his biggest love is no doubt music but one day he wants to settle down with a simple pretty girl who will respect what he does and his family. He is also a big fan of physical fitness. His favourite sport is football and has been part of many campaigns in the UK to support more Asians into the sport.
Jaz Dhami is a young, level-headed and devoted singer who shows that there is still passion in individuals to do things the right way in order to succeed and not take shortcuts. He demonstrates that despite being in the early years of his career, he realises that quality matters, and that without any effort and hard work, the rewards are very small and usually do not last long.
We know Jaz can easily be a tremendous role model for those wishing to pursue singing as a career because he has attributes that prove themselves through his voice and personality. We hope more artists will take a leaf out of his book and hope to gain the skills and experience he has gained.
DESIblitz.com wishes Jaz Dhami all the very best in his career because we are assured that this is one Brit-Asian artist that will make a mark for himself, his father and the UK music industry.
Check out our photo gallery of Jaz Dhami.