Jaz is showing that he has no boundaries with diverse styles.
Jaz Dhami fans, you are in for a treat! For the first time ever, Jaz Dhami is releasing a single in Punjabi and English!
The single and video for 'Pasina' released worldwide on November 7, 2014. The single contains vocals from Jaz Dhami and features Ikka and Sneakbo.
Jaz Dhami is best known for his super hit 'High Heels' with Indian rapper and singing sensation Yo Yo Honey Singh (2012), and has now introduced a new style of Hip hop and R'n'B to the Asian music scene.
Rumour has it, that for quite some time Jaz Dhami was searching for an urban reflective sound and couldn't find one that could fit what he wanted.
The desire that Jaz Dhami had for a new urban sound was fulfilled when Steel Banglez became his music director for the new single 'Pasina'.
Steel Banglez is a well known music producer and DJ. When he was younger, he was taught various Indian classical instruments such as the harmonium, tabla and the dhol.
He started producing at the age of 17, and is now well-known in the Asian underground music scene and also amongst mainstream Asian artists.
Together Jaz and Steel Banglez have created a tune that contains a mashup of bashment, dancehall and rap.
The lyrics for 'Pasina were created by Badshah, Jaz Dhami, Ikka and Sneakbo.
Will this single be the breakthrough that introduces Hip Hop and R'n'B into the Asian music scene? We think it just might!
Since Jaz Dhami debuted into the music scene in 2008/2009, he has only sung in Punjabi. This is the first time Jaz Dhami has been heard singing in English.
This new track definitely shows that Jaz Dhami can successfully adapt to a diverse range of styles, whatever the language. And Jaz is showing that he has no boundaries when it comes to creating a unique British Asian urban sound.
Popular rappers Sneakbo and Ikka feature on the track, both are big names in their own representative scenes.
Sneakbo is from the UK, and is famous for the Jetski wave, and with his new release EP Certified. Ikka is popular amongst Bollywood producers and celebrities alike; Salman Khan is known to be a big fan.
Their individual verses on 'Pasina' showcase their own representative styles. Together, the three differing sounds and artists on this single fuse together in an unexpected but incredible fit.
The video compliments the style of music, with an underground scene with the generic vehicles and smoke screens that portray the urban street style.
The dancers on the music video are rumoured to be the UK's best hip hop and street dancers, all come together to perform in one place.
On YouTube the music video for 'Pasina' has just reached over 138,000 and is rapidly climbing in viewer numbers. You can watch the incredible music video here: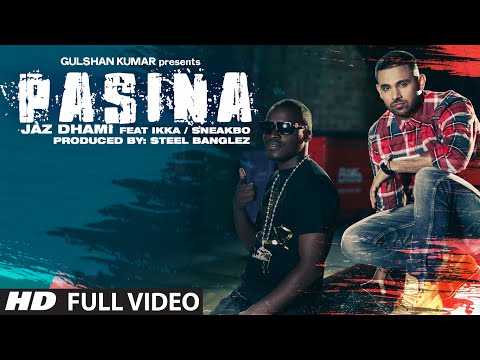 Jaz has received a lot of lot praise on his Twitter from his many fans from around the world as well as radio and TV presenters.
Fellow music maestro, Jassi Sidhu tweeted out: "Congrats to sada @THEJAZDHAMI on the new single 'pasina' changing it up with @ikkasingh @steelbanglez & sneakbo…support folks."
Raj of Tigerstyle added:
"@THEJAZDHAMI yet again you've come through with something that breaks away from the norm, sick tune bro! Respect to you and @steelbanglez."
MANJmusik also tweeted: "Congrats to my brother @THEJAZDHAMI on his launch of his new track Pasina. Great video and sick beat. Waheguru kare its a smash hit."
Although 'Pasina' may be Jaz Dhami's only single for 2014, he has had a pretty eventful year; he was part of BBC's Music's epic collaboration with Pharrell, Stevie Wonder and One Direction, and other amazing artists for a cover of the Beach Boys' 'God Only Knows'.
Jaz Dhami is said to also be making a collaboration with American rapper French Montana in New York. The single is said to be rumoured to release in 2015 as well as some other Bollywood projects.
With 'Pasina' bringing out Jaz's urban side, we can't wait to see what he does next!