"What a tune guys… Killed it."
Jaz Dhami has teamed up with PBN to produce one of the biggest bhangra anthems of 2016.
The artists who are responsible for massive hits such as, 'Theke Wali', 'Jaan Punjabi', and 'Kaun Nee Jandah' have come together to produce the hot new single, 'Bhangra Machine'.
It is sure to have Desi dancefloor's absolutely rocking from now on, so be sure to have a listen to it before your next party.
The unique vocal performance of Dhami, one of the most popular UK Desi artists, is fantastically complemented by PBN's trademark fast-paced party beats.
Dhami says: "The moment I heard the lyrics for 'Bhangra Machine' by Jaggi Jagowal, I knew PBN was the man for it."
The collaboration between these two titans of modern bhangra has generated much excitement on social media, particularly with Desi music fans and current artists.
Jazzy B took to twitter to praise the duo on their production, as did Manj Musik who said: "What a tune guys… Killed it."
If bhangra music was in decline, as many have claimed it to be, the scene has been well and truly reinvigorated by this huge collaboration.
Jaz Dhami says:
"There's been so much talk how the scene in the UK has just fizzled out, and that UK bhangra was dead. We thought it's about time we bought some fire back to it."
What better way to revive the industry than to release a track that is produced by two of the biggest names in bhangra?
Jaz Dhami has earned himself a number of musical awards since beginning his career in 2009 – the year he won Best Newcomer at the UK Asian Music Awards.
The 30 year old, from Birmingham, UK, was last awarded with Best Song (at the Brit Asia Music Awards) for 'Zulfa' in 2014.
He has so far worked with star names such as Aman Hayer, Dr Zeus, and, of course, Yo Yo Honey Singh for one of the biggest bhangra hits of all time, 'High Heels'.
The duo have come together again recently to produce 'High Heels Te Nachche', a song for the upcoming movie starring Arjun and Kareena Kapoor – Ki and Ka.
PBN, meanwhile, is one of the UK's most successful bhangra producers and has, of date, worked with DCS ['Sadi Gal Hor Yah'], H-Dhami ['Tenu Nachdi Vekna'], and Miss Pooja ['Aashiq' and 'Go Crazy'].
Following the release of 'Bhangra Machine', the 'Hitmaker' can finally add Jaz Dhami's name to further enhance that prestigious list of people that he has worked with.
The producer, singer, songwriter from the West Midlands, UK, has won an array of awards during his career. Most recently, in 2015, he won Best Recording for 'Phatte Chuk Di' at the PTC Punjabi Music Awards.
The duo are sure to be in line for yet another award for their production of 'Bhangra Machine', a song which has really freshened up the UK bhangra scene.
Watch the video for 'Bhangra Machine' here: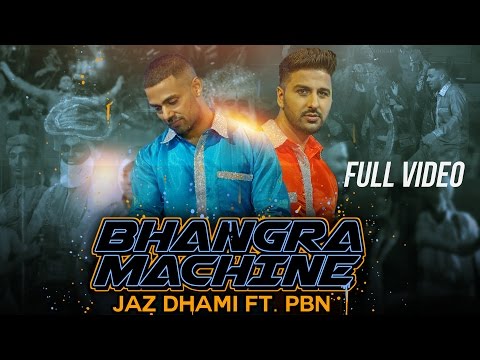 The vibrant music video sees an energetic performance from both artists, and even see PBN in Desi clothing for the very first time too.
Also, despite being in a packed out indoor venue, PBN is still wearing his trademark pair of sunglasses. Thankfully, he is not wearing them with his kurta pyjama.
Jaz and PBN are in matching Desi attire, and for a couple of short seconds, you can see the pair bhangra dancing in sync with each other. However, PBN leaves the dancefloor for Dhami to show off his incredible dancing skills.
'Bhangra Machine' is available now to download legally on iTunes.