"The tabla infuses so naturally with the beat of the song, and it sounds amazing!"
Some talented Asian YouTube artists are producing covers to popular English and Indian songs, but they're not singing.
Rather, they are producing highly satisfying dhol and tabla covers to hits from every genre.
From pop, R&B, funk, deep house, electro house, hip-hop, dancehall, bhangra to Bollywood tracks.
With the original track playing in the background, the artists then begin to play their chosen instrument and the results are always the same. Equally incredible.
DESIblitz presents the top 5 songs by some of the best dhol and tabla covers from Asian YouTube artists.
Sean Paul – 'Temperature' ~ covered by iTabla007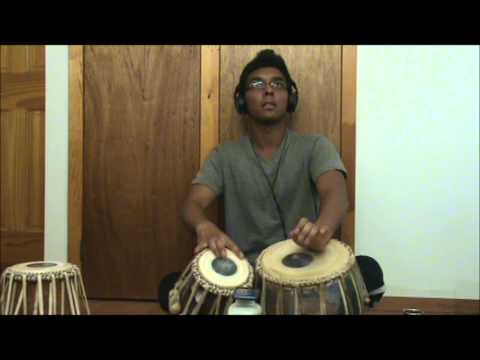 Who would ever think to cover a dancehall smash hit with the tabla? One of our featured Asian YouTube artists did, and the result is incredible.
In 2012, Sanjoy Karmakar – otherwise known as 'iTabla007' – expertly covered Sean Paul's 'Temperature', with many believing that it was as good as, if not better than the original.
Sanjoy has consistently been releasing his new material since 2010, and does so under the stage name of 'iTabla007'.
His YouTube channel currently contains 53 fantastic tabla covers. Karmakar has covered numerous hit artists, including: Eminem, Trey Songz, Beyoncé, Imran Khan, Nelly, Jay Sean, Drake, Chris Brown, and more!
It is one of his early works, however, that Sanjoy considers to be his favourite. In 2010, he covered Jeremih's 'Down On Me', and says: "The tabla infuses so naturally with the beat of the song, and it sounds amazing! I was actually in a club recently with my friends, and all of a sudden, the DJ started playing this cover – we all went crazy!"
DESIblitz especially recommend you listening to his covers of John Legend's 'All of Me', Bruno Mars' 'Uptown Funk', and YoYo Honey Singh's 'Dheere Dheere'.
Maroon 5 – 'Payphone' ~ covered by Harsh Tevar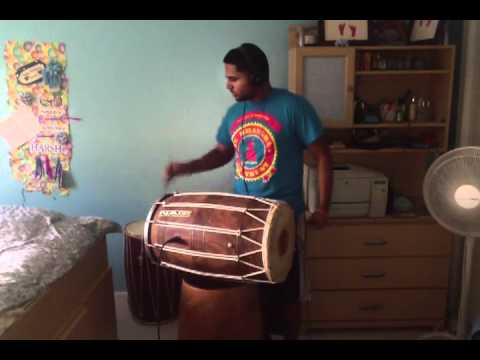 Dhol player, Harsh Tevar, brilliantly varies the speed of his playing throughout the song to continually match the beat.
His 2012 dhol cover to Maroon 5's 'Payphone' has rightfully received positive comments and reviews, and is certainly worth 4 minutes of your time.
From New Jersey, USA, Harsh released the majority of his dhol covers three years ago on YouTube. In 2012/13, he produced over 40 videos whereby he covered various English and Indian songs.
His most popular release is to Yo Yo Honey Singh's 'Brown Rang'; Harsh's dhol cover to it has nearly 170'000 views.
The American dhol player has covered an array of songs from a variety of genres. Macklemore's 'Thrift Shop', Jay-Z's 'N****s In Paris', and Jay Sean's 'Ride It' are just a couple of examples.
However, it is the cover to Dr Dre and Snoop Dogg's 'Still Dre' track that brings the fondest memories to him. Harsh tells us: "My favourite would have to be the 'Still Dre' cover because I got to do it with a few of my friends. I had a blast."
Jason Derulo ft. 2 Chainz – 'Talk Dirty' ~ covered by iTabla007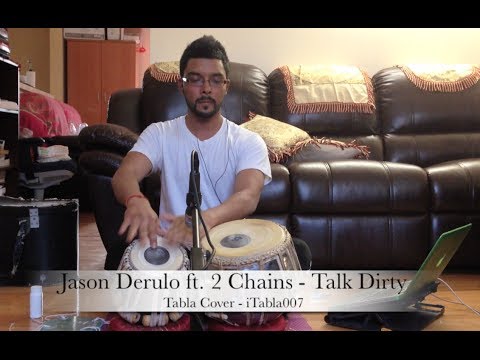 Another one of Karmakar's many fantastic tabla covers is to Jason Derulo's and 2 Chainz' ' Talk Dirty'. He is again, as always, able to naturally infuse his tabla in to the beat.
Look out for his clever innovation at 2:33 of the video until the end of the song.
Karmakar is currently working on several songs for his upcoming releases, but feels that some updates are needed on his early work:
"I'm actually working on a remake of my 'Down On Me' cover to include better audio. This is the one song that I've received numerous requests to remake, and so, will be for my fans out there."
Sanjoy Karmakar, now 26 years old, was born in Bangladesh before moving to the USA in 1996 at the age of five. His mother was a singer at the time, and brought a pair of tabla's with them to America.
He tells us: "Whenever she sang, I used to sit down with her and play what I could on the tabla. Slowly, it built in to a hobby, and I enrolled in a tabla school for a year and a half."
His mother gradually stopped singing, and so, Sanjoy began playing along to the music on the radio. "I used to play on top of the songs that were on the radio. One day I decided to record it, and my friends went nuts.
"My first post was 'Baby' by Justin Bieber, and immediately I was getting some inspirational responses. From then on, it became a dream to incorporate the tabla in to American music and YouTube was my channel to expose this amazing instrument, and my skills, to the world."
Major Lazer & DJ Snake – 'Lean On' ~ covered by Shobhit Banwait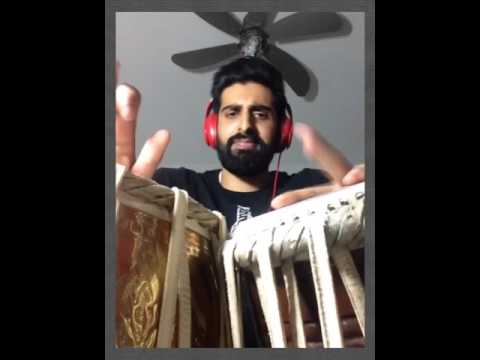 The extremely popular 2015 hit song by Major Lazer, 'Lean On', was covered with a tabla by Canadian Asian, Shobhit Banwait, in February 2016.
His passionate performance is great to view and listen to alike, although it is slightly marred by the fact that the original song overpowers his playing due to its high volume. An amazing cover nevertheless.
Shobhit was born and raised in Toronto, Canada. His devout passion for music stemmed from his father's interest in it, and it is his passion which motivates him to continue. He says: "My passion for music is never ending and it is what inspires me to keep pushing myself."
His journey to becoming a YouTube star began at the tender age of 13. It was then that Shobhit began learning how to play the tabla, dholak, and dholki.
He spent 4 years mastering the different 'bols' (strokes), and then, upon turning 18, Shobhit has played professionally across North America. Banwait has recently worked with star names such as: Roshan Prince and Harjit Harman.
Banwait has released covers using all of the above instruments, and his talent has been evident from the beginning.
Early videos – posted several years ago – displayed his ability to successfully match the sound emitted from his instrument to the beat of various songs.
In 2012, he covered 'Notorious Jatt' with a Dholki, and then covered 'We No Speak Americano' with a dholak two years later.
His skill has not faded over time; in 2016, he is more active and productive than ever. Since the turn of the year, he has released tabla covers to several popular western songs.
Major Lazer's 'Lean On', Ellie Goulding's 'How Deep is Your Love', Fetty Wap's '679', and Shakira's 'Waka Waka' have all been expertly covered by Shobhit Banwait.
Macklemore – 'Thrift Shop' ~ covered by Harsh Tevar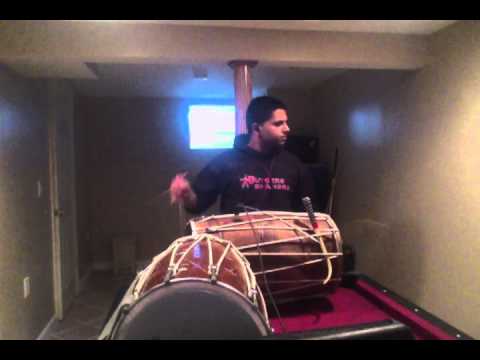 Tevar somehow makes Macklemore's 'Thrift Shop' seem like a song made especially for the dhol. His 2013 cover of the rap song is made superbly.
The beat of the dhol perfectly matches that of the original song. As the song itself says: 'This is f****** awesome'.
Tevar has successfully been able to cover the work of several other big artists such as: Justin Bieber, Maroon 5, Rihanna, and Panjabi MC. For his full collection of 55 videos, check out his YouTube channel.
Posts of his work became less frequent due to work and education commitments, but he intends to release some new material soon. "I went to University, so became a little too busy. However, I do plan on releasing a few videos soon."
Now 22 years old, Harsh is attempting to realise his ambitions: "Becoming a pro dholi wasn't really an option as it's not big enough in the States, but I am still gigging and I've started DJ'ing too.
"I also plan on creating a dhol focused website; all kinds of supplies, all kinds of dhols, all kinds of accessories, all kinds of decorations."
Each of the mentioned artists have their own dedicated YouTube channels containing videos of their work, and are well worth checking out and keeping an eye on in the future.