"Treated is a song that I wrote to my 12-year old self - the insecure girl with low self-esteem"
Young Desi-American singer, Avanti Nagral has released her latest single 'Treated', a catchy pop track that fuses the traditional Indian tabla with an electronic groove.
The song which released on 26th February 2018, has already amassed over 273,000 views and is a big hit amongst Nagral's fans. The music video for the track shows ordinary couples going through difficulties with their relationship, while Avanti croons beautifully in the background.
'Treated' is a track that is very close to Avanti's heart, as the singer-songwriter wrote it to help with her self-esteem as a young girl. Speaking about the single, Avanti tells DESIblitz:
"Treated is a song that I wrote to my 12-year old self – the insecure girl with low self-esteem.
"At its essence, the song is about the golden rule: treat others the way you want to be treated" and emphasises respect as the foundation of any kind of relationship."
For Avanti, the song is special because it promotes how trust, loyalty and consideration are incredibly important for a relationship to be successful. Just being kinder to each other can go a long way.
She adds: "The pre-chorus – "When I say I'm busy, you know it's true, but just because I seem strong, doesn't mean I don't get blue" is a reminder that just because a person in your life might seem strong, that doesn't mean they don't have bad days, and deserve a check-in just as much as anyone else does.
"Just treat someone the way you wish they treated you and you might see a little more kindness and empathy in your relationships."
Nagral hopes the song will be relatable for many people who have found themselves in a similar situation. And we can see why it would be so appealing to both young men and women who may feel insecure at certain points in their life.
The music of the track incorporates elements of Indian music and Church/Gospel music through the use of (Keherwa) and harkats. 'Treated' very much reflects Avanti's dual identity as both a Desi and an American. Much of this singer-songwriter's music is influenced heavily by her different backgrounds.
Currently an undergraduate dual major at Harvard University and Berklee College of Music, Avanti created history by making the first virtual reality music video in South Asia. She did so with her debut single 'I Like', which released in 2017.
Since then, Avanti has been working on creating more music that blends her two heritages, the east and West together.
Her latest single 'Treated' is sure to be just as successful as her debut single. As it further shows off Avanti's amazing vocals.
Watch the Official Music Video of 'Treated' by Avanti Nagral here: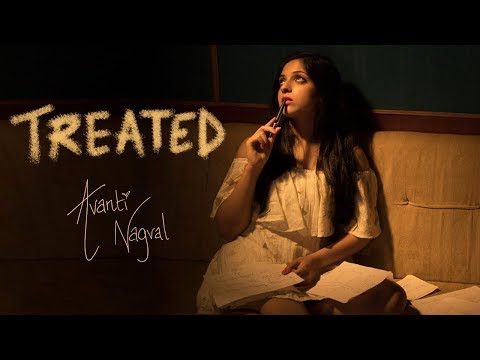 To find out more about Avanti, catch our full interview with her here.