"I sit on harmonium and I make the melody first and then I juxtapose it"
Mercury Prize-winning tabla player, composer and producer Talvin Singh is known for his fusion of Indian classical with Electronic music.
Mastering the percussion instrument tabla, he has taken it around the world, playing with some of the greats and inspiring a whole new generation of musicians and young talent.
His artistry has also crossed over the visual arts and film sectors, collaborating with famous names like Ustad Sultan Khan, Terry Riley, Yoko Ono and Kamal Sethi.
Bjork, Madonna, Duran Duran, Massive Attack, Ustad Tari Khan Saab, Ustad Niladri Kumar, Hariharan are a few other big names he has worked with.
The diverse artist has performed at some of the most distinguished venues in the UK and abroad.
In 2018, celebrating his debut album OK (1998), he toured around the UK.
DESIblitz had a special rendezvous with Talvin prior to his gig at the Warwick Arts Centre on February 14, 2019.
Talvin Singh discusses with us his music and lots more:
Learning and Development
Talvin Singh began learning tabla initially by observing and listening to music, which he continues to do.
Fortunate to learn from some wonderful Ustad's, he says:
"I've been very blessed to learn from some great people.. my Guru Gurudev Acharya Pandit Lachman Singh Ji from the Punjab Gharana.
He learnt from Pandit Ji from the ages of 14 or 15. Earlier when he was around 11 or 12 he learnt from Ustad Tari Khan Saab.
Speaking about Khan Saab, Singh mentions:
"I had some very close times with him and he told me some really beautiful things."
Continuing to learn, Talvin adds:
"I'm still learning and it's a tiny drop in the ocean really for me."
As a tabla player, he was always a good listener. At the age of 17, he played alongside many ghazal singers like Hariharan Ji for the album Vishal.
Over the years he has worked with many music legends including Ustad Bade Fateh Ali Khan Saab of Patiala Gharana.
Raag, Favourites and Taal
Talvin Singh does not single out any particular raag (melodic framework) as he likes quite a few of them.
When asked about, which raag describes him, Singh told us:
"I think darbari, I kind of feel close to that raag. And so I would say darbari. But I would not say that is my favourite raag. My aura probably gives a darbari-esque feeling."
Darbari is a very deep raag, which can touch the soul.
However, all-time favourites that Talvin enjoys listening to time, time and again include:
Shri Raghavendra Bhaaro, Kishori Amonkar (1984), Raag Nat Bhairav, Pandit Nikhil Banerjee (1984), Inside the Kremlin, Ravi Shankar (1988), Photek, Hidden Camera (1997), Martes, Murcof (2002) and Drums of India Volume 2 (2009).
Coming from a Punjabi background, he was always drawn to the taal rupak, which gives a very mellow form of excitement. Taal, which is a musical measure has several beats and divisions.
He states:
"With rupak, the josh is there, but it's very soft. So it's very unique about in that respect and I love…rupak.
Famously known for creating a hybrid sound between Indian classical and electronic music, Singh has taken tabla and injected this very josh.
Instruments, Analogue and Studio
Besides the tabla, Talvin Singh enjoys playing other percussion instruments such as the drum.
For Singh, learning Instruments like the surbahar (bass sitar) has brought a sense of calmness to his soul.
Despite living in the digital age, Talvin feels comfortable with analogue.
For the album OK (1998), he used a lot of analogue recording equipment. With each song having up to seventy-two tracks, editing was a challenge for this album.
Speaking about his studio and being a fan of analogue, Talvin said:
"My studio is pretty much analogue.
"And I love analog for many reasons not only because of the heat… because of the sound…"
Singh has no particular preference when it comes recording songs in the studio or performing on stage.
He enjoys working in the studio as it is a private space to express his creativity. As a percussionist, he equally likes LIVE music.
OK, Fun Times and Fresh Music
Talvin Singh had a successful OK tour in 2018, beginning at the Royal Festival Hall at Southbank Centre, before moving to the Norfolk and Norwich Festival and then The Bath Festival.
With so many musicians having worked on the ground-breaking album OK, Singh was contemplating how he could materialise a tour.
But with the help of some brilliant musicians, he finally got the show on the road.
Talvin had fun making the album OK. He had some great times with Ustad Sultan Saab in London and Mumbai. Despite the intensity when working on something new, Talvin will spare a moment to have a bit of laugh.
Even before doing the film score of Once Again, Singh had some great laughs with Utsad Niladri Kumar.
But as Singh reveals there is a reason behind all this humour:
"I think Indian classical musicians kind of exercise… humour… and one of the reasons is so that you kind of remain quite relaxed before you go on stage."
For Talvin, it is important to be diverse in comparison to producing the same old stuff. Under his new label, Matra Music, he is offering a lot more.
He reveals:
"We're putting out vinyl editions as well as Digital Editions…."
"And also remastering a huge catalogue which has been gifted to us… which is a kind of precious vintage Khazana of Indian classical music…"
Singh is very passionate about his contemporary work, particularly incorporating tabla with modern beats, including grime, dubstep, house drum and bass.
Once Again (2018)
Producing the music for the film Once Again directed by Kamal Sethi gave Talvin Singh a wonderful opportunity to come out of his comfort zone.
He had to produce old melodic music to reflect a more urbanised Mumbai, where the film is set.
Explaining the process of producing music for a film, Singh comments:
"I sit on harmonium and I make the melody first and then I juxtapose it with the production."
Hamsikya Isyer has sung the beautiful song 'Tu He' for this film and is available on Talvin's YouTube Channel, along with releasing under his label.
He composed the music for this song in Delhi, with the youngster Akash Tiwari writing the lyrics. With Singh on the harmonium, he wrote the song in ten minutes.
For this film, he was also lucky to engage with a talented singer from Punjab called Maghar Ali.
Talvin literally had 'goosebumps' when Ali sang for this film.
The director wanted someone of the calibre of the Late Ustad Nusrat Fateh Ali Khan Saab. It seems Maghar was a great find for this film.
Once Again is a Netflix release and stars Shefali Shah and Neeraj Kabi
Events and Roots
Talvin Singh has been lucky to play at a prestigious theatre in Mumbai with Toronto based classical musician and sarod player Arnab Chakrabarty.
After performing at a wonderful concert, Singh received one of the best compliments ever from Chakrabarty who said:
"Talvin Bhai 'you made me play'."
According to Talvin, this is the best compliment he could have had from a classical perspective.
Singh returned to his roots in August 2018. He was commissioned for leading an audio-visual piece to kick start the grand opening of Waltham Forest as the 'Borough of Culture.' The celebrations took place at the town hall.
For this project, Talvin engaged with young people who were involved in a range of elements, including playing different instruments, singing, rapping and much more.
Singh will release the created piece, which represents the beats and sounds of the borough and community.
Waltham Forest is special to Talvin as he was born there. He went to former grammar school turned sixth form college, Sir Georges Monoux.
Warwick Arts Centre and Future Plans
Joined by his band, Talvin Singh performs OK, a tribute to Ravi Shankar, along with some new works and improvisation at the Warwick Arts Centre on February 14, 2019.
Singh explains the notion of improvisation:
"We just played recently at the Bridge Theatre in London for the London jazz festival and I realise how much people really love the improvisation element.
"The audience is really engaged with that because….they are on heat."
"They don't know what's going to really come next. So it's always important for me to have an element of improvisation."
Looking ahead, Talvin has some exciting projects coming up, including a few documentary films he is scoring the music for.
One of the documentaries will focus on the contemporary art scene. It includes interviews with some fantastic artists like Anish Kapoor.
He has finished an album called Narmada, which fans can look forward to.
Watch Exclusive Interview with Talvin Singh here: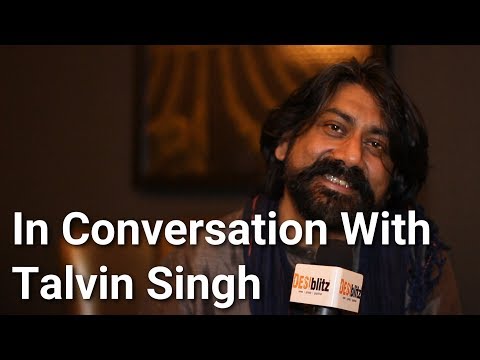 Over the years, Singh has received many accolades. In 1999 he won the Mercury Music Prize for his debut album OK and was honoured an OBE for Services to Music in 2015.
Outside of work he enjoys cooking Indian food, with the Punjabi dish bhindiyan (lady fingers) being his favourite.
As a desi artist who believes in an 'intercultural kind of exchange' there is a lot more exciting things to come from Talvin Singh.