"If you do this for your culture, language and faith then people will remember you after you are gone."
There are a wealth of words to describe the Punjabi Sufi artist, Satinder Sartaaj – those that come instantly to mind are; humble, spiritual and supremely talented.
In an exclusive Gupshup with DESIblitz, Sartaaj speaks about his love of music and his continuing journey for knowledge.
An artist in the true sense of the word, Sartaaj has managed to develop a unique musical and poetical style that combines his Indian Punjabi heritage along with one of his biggest creative influences – Sufi mysticism.
Sartaaj admits that music came to him naturally when he was younger, and he would sing at whatever opportunity he could find:
"It started by chance, it was a childhood passion, I always used to sing everywhere, and any fakirs coming to our village, I used to follow and sing with them. My journey started from there," the musician tells us.
Luckily for Sartaaj, his parents encouraged him to pursue music full-time, first in terms of education and eventually as a career. He was able to freely submerge himself in Sufi theory – and learn to apply it in his own creative work. Sartaaj even achieved a PhD on the topic from Punjab University.
DESIbiltz first met Sartaaj in 2012 (see our special interview) following the huge success of his single 'Cheerey Wali' (2011). At the time it was clear that this humble artist was extremely gifted. But despite this he still maintains a surprising shyness when speaking about his achievements so far:
"I have tried to incorporate spirituality (Sufism) into my music but I haven't able to perfect it yet," he admits modestly.
Whether he believes in his own talent or not, his journey so far has been remarkable; in a short space of several years since the release of his first commercial album in 2009 (Mehfil-E-Sartaaj – Live Concert), he has become one of the most respected musicians of Punjab.
He enjoys a loyal fan base all over the world and in particular, those of the Punjabi diaspora are eager to know his music better, especially within the UK. He also receives a lot of fans in the entertainment industry, including the likes of Gurdas Mann who regularly attends his concerts.
DESIblitz had the pleasure of having an in-depth gupshup with Satinder Sartaaj ji: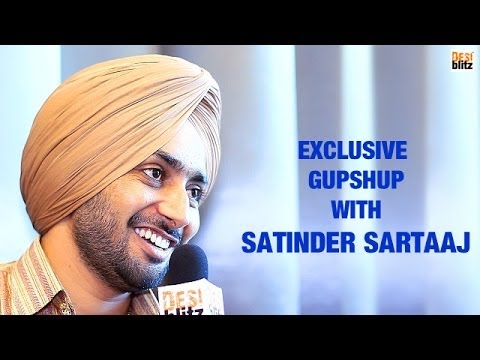 It is safe to say that Sartaaj's gift lies in his unique poetry and lyricism. His ability to combine Punjabi poetry with Sufi themes leaves many who listen to him in complete awe. His music carries themes of friendship, love, spirituality, nature, faith, harmony and an insatiable desire for knowledge and understanding:
"Knowledge is something that comes with blessings and with it an understanding of the world. So I pray that we all have this facility for both rich and poor between both our Punjab's so that we can work together better for both our countries and understand each other more," Sartaaj feels.
Knowledge and learning are what drive him, and he looks to numerous influences of life to guide him on his path, although he admits:
"Life has taught me that it doesn't have a complete philosophy. Every human being's life has its own philosophy, it is your own circumstances and experiences that teach you about life. Life teaches you itself, you can't learn from anybody else's life experiences."
His musical influences can be sourced from the pioneers of Sufi music and poetry:
"I have lots of musical influences, but when it comes to spirituality (Sufism) it has to be Baba Bulleh Shah Saab; in terms of story-writing Syed Waris Shah Saab; and Mian Muhammad Baksh's story Saif ul Malook – these are my favourites," he explains.
From our generation, Sartaaj adds: "I grew up listening to Nusrat Fateh Ali Khan and learning what I could from his style, I was always impressed by him and always wished to meet him, but I am glad to be in a place (UK) where lots of people gave Khan Saab a lot of respect during his lifetime. May it be a place where you continue to give great artists such respect."
The Punjabi singer truly loves his UK fans, telling us: "Whenever I come to the UK, I am given a warm welcome, a lot of appreciation, and a lot of love."
With numerous Number 1 albums already under his belt, Sartaaj honestly believes that his latest ensemble, Rangrez, The Poet of Colours, is his best yet: "I have composed the lyrics, and have used real-life experiences, we have changed the music a lot. [Rangrez] has 10 colours."
Sartaaj genuinely believes that any artist or musician should pursue it for the right reason – that is to promote and develop their culture further:
"Some people only come into this to get famous, that's okay but those who want to continue the traditions, heritage and contribute back to society and take it further, that is even better. If you do this for your culture, language and faith then people will remember you after you are gone."
Sartaaj ji continues to amaze fans with his ability to innovate and incorporate messages of harmony and peace in his music. He has also shown us that he is ready to take up the mantle of great artists and carry it forward for future generations and to grow that seed of Sufism, love, dedication and passion in all of us.