"Thinking back in '99, I only had three of us in Eternal Taal, and now we've got over 40 members."
Eternal Taal are pioneering female dhol players in the UK. Their incredible and versatile talents have made them an established group and trademark of British Asian culture.
Celebrating 15 years, Eternal Taal specialise in many forms of entertainment, by providing the essential Bhangra and Desi entertainment for any social or cultural occasion.
Their diverse talent and services consist of dhol players, significantly female dhol players, dancing, DJ-ing, mehndi artists and Sangeet singers. This British bred group have been providing these diverse services since 1999 and have not stopped, but have continued to grow both as a group and entertainers.
The group consists of over 40 members that consistently perform all around the UK. They are managed and trained by Parv Kaur who is the founder of the group and is a female musician herself.
Parv is no stranger to the Bhangra industry, being the daughter of Balbir Singh lead singer of legendary group Bhujangy Group of the 1960s, who has supported her career and passion for music.
In an exclusive Gupshup with DESIblitz, Parv says: "My journey started with my dad. As soon as I picked up the dhol, the bhajan, the keyboard, that was when I thought I really want to do this, I really want to do music.
"I was around the age of 12 or 13, my dad started taking me to his charity do's or his functions, where I used to just sit at the back and play my little dhol and I loved it."
After years of watching her father perform and being surrounded by Bhangra , Parv continued her passion and interest of music to go on and create Eternal Taal.
Eternal Taal are not only a leading group within the British Asian entertainment industry but notably originated as an all-female dhol group. The group were the first female dhol players in the UK, particularly the West Midlands where Parv began teaching dhol playing and Bhangra.
When thinking about Bhangra music and the industry whether present day or looking back in time, Bhangra bands be it in the UK or abroad have all been fundamentally male dominated. Even UK Bhangra bands such as Bhujangy Group, Apna Sangeet and Achanak, have all consisted of lead male figures.
Not only have Bhangra bands inherited men but across the wider spectrum amongst Bhangra and Punjabi culture, other forms of entertainment such as dhol players have also been male dominated. Despite this, Eternal Taal have successfully managed to overcome this gender stereotype by creating an all-female dhol playing group, tackling the stigmas attached to women as leading Bhangra entertainers.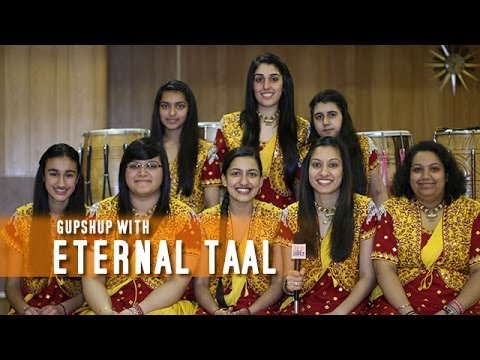 Dhol player, Sangeeta Kolhi tells us: "The stereotype is that women are not as strong as men. When it comes to doing something physical like playing a large instrument or doing any DIY, we're not as good.
"But if you have the determination to do it, you can do anything. So it's not difficult to play the dhol because you're a woman, the weight is not a problem at all. Generally anyone that goes to play the dhol has to get used to the weight regardless of your gender and age."
As women, Eternal Taal have created their own brand and established themselves as rightful, talented entertainers within the Bhangra industry as well as Punjabi culture. As a group, they have portrayed themselves as leading entertainers, dominating every stage they perform on, showing that women can play dhol or be within Bhangra music and achieve just as much as, if not more than men.
Eternal Taal also inspire the youth, particularly girls to not shy away from Bhangra but to engage with the art and showcase their talent by getting involved in competitions or simply starting classes to get going.
Although helping to support and promote women in the Bhangra industry and provide a platform for their talent, they have also recruited men in the group who also vary from dancers to dhol players.
The recognition for their talent has resulted in huge success from performing at some of the most iconic stages in the UK. To name a few, Eternal Taal have performed at the Glastonbury Festival, Sports Relief, House of Commons, the Birmingham opening of Britain's Got Talent and the Graham Norton Show. More recently, they were seen supporting Satinder Sartaaj on his UK tour.
These are only some of the large diverse audiences the group have performed in front of. The group have also gone international for the Bollywood movie Yamla Pagla Deewana 2 (2012) for the hit song 'Suit Tera Laal Rang Da', where they are seen in the actual video. Parv admits that for many in the group, this was one of their biggest highlights.
With the success of the group and their wide range of achievements, we can without a doubt expect only more and greater achievements in the future.
As Parv tells us: "Thinking back in '99, I only had three of us in Eternal Taal, and now we've got over 40 members that come regularly 8 hours a week, train, learn our performances and perform on stage; and that is huge."
Eternal Taal are expanding not only in numbers but also in performances. We can expect to see the group at more festivals and larger venues, bringing more new, diverse and innovative techniques and styles to their performances, and proudly waving the flag for British Asian culture.