"The streets became packed out with people"
The female dhol (drum) players of Eternal Taal dazzled in a new advert for an Indian clothing brand, Siyaram's, featuring Bollywood actor Ranveer Singh.
Dancing to the beats of Eternal Taal, the Bollywood star appears in a scene for the advert. Eternal Taal shared a video of the advert scene on their official YouTube channel
The shooting of the scene for the advert took place in Southall, London, also familiar as "Little India."
Visually, Ranveer was very much at home, surrounding himself amongst everything Indian. This includes Indian confectionary stands and traditional attire. The vibrant presence of Eternal Taal made it all perfect.
The advert focuses on different settings where one can wear Siyaram's clothing.
Eternal Taal had a great experience starring alongside Ranveer Singh, leaving them speechless.
As an all-female dhol drummers team, Eternal Taal, have a proven track record. They are known for providing non-stop entertainment in Birmingham and further afield.
Parvinder 'Parv' Kaur, the first female dhol player in the UK, established Eternal Taal in 1999. Parv belongs to a musical family, with Balbir Bhujangay, a pioneer of Bhangra music in England, being her father.
The Dhol group were the ideal choice for the advert. Eternal Taal has spent more than 20 years supporting Punjabi culture, attracting an international audience.
The team have appeared in 3 Bollywood movie including Yamla Pagla Deewana 2 (2011), Shaandaar (2015) and Ae Dil Hai Mushkil (2016).
They have also performed on fives occasions for the Glastonbury festival, along with some excellent performances catering to high profile clientele.
Despite performing for famous people, the team have always put professionalism first. Eternal Taal manager Parv, sharing her thoughts about filming the advert, exclusively told DESIblitz:
"Having already performed for three mainstream Bollywood films, this was something different."
"Yes one of the biggest stars in Bollywood is doing a suit advert, but doing an advert in Southall was an experience we wouldn't forget.
Not knowing that Ranveer would step into Southall, London, Parv added:
"The streets became packed out with people, roads were blocked, people were climbing over each other to get a glimpse of Ranveer.
"Then there were us 'Eternal Taal', UK's First all-female Dhol drumming team welcoming Ranveer onto the first scene and performing alongside him.
"It was a pleasure to meet the Director Karan Kapadia that day, who introduced us to Ranveer Singh and they decided they wanted to keep our drummers up close to Ranveer."
Besides Parv describing the experience as "crazy" and "wonderful," the whole team have much admiration for the Bollywood heartthrob.
Watch Ranveer Singh joining the team in Southall here: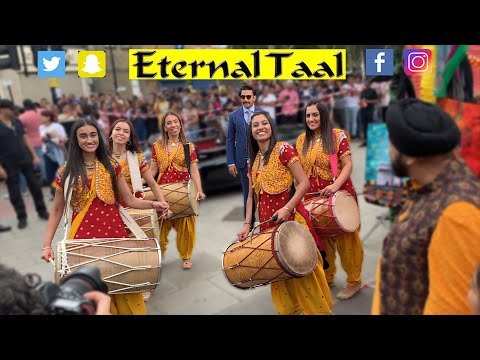 In 2018, Ranveer became a brand ambassador for the stylish textile company Siyaram's. With Ranveer being the face of the brand, Siyaram's will continuously grow globally.
Equally, this was a great opportunity for Eternal Taal to associate themselves with Siyaram's and Ranveer Singh
For more information on Eternal Taal and to keep up to date with them check their website here.