"I was shy around Aishwarya because of her beauty and general awesomeness"
"Tu Safar mera. Tu hi hai meri manzil. Tere bina guzaara, Ae dil hai mushkil."
As profound as these lyrics are, this Karan Johar romantic drama, Ae Dil Hai Mushkil, promises to be a heart-touching film.
For a while now, the buzz about 'who-plays-what' has been doing its rounds in the media.
DESIblitz presents you a list of the main actors in the movie and what you can look forward to!
Ranbir Kapoor
In Ae Dil Hai Mushkil (ADHM), Ranbir essays Ayan – an aspiring musician and the son of an industrialist.
One can see Ranbir in an emotional and amorous avatar. Plus, his dialogue, 'Ek tarfa pyaar ki taakat', already makes us teary-eyed.
In a recent interview, KJo mentioned that Ranbir has to 'play him in some way or another'. Therefore, it seems like the character is inspired by the director himself.
As the film centres on heartbreaks and love, there'll be several intense moments. Kaushal Kapoor (Yeh Hai Mohabbatein) describes an example:
"I play Anushka's [Sharma] father in the film. In one scene, when Ranbir tries to fix Anushka and Fawad's [Khan] marriage, I lose my temper and throw them out of the house. As Ranbir is persistent that I agree to the marriage, I slap him."
There will also be cute quotients between Ranbir and Anushka.
Plus, if you've missed the Rahul-Anjali moment from Kuch Kuch Hota Hai, you may even catch a glimpse of this in ADHM!
Anushka Sharma
After their strong chemistry in Bombay Velvet, Anushka is reunited with Ranbir.
In ADHM, Anushka essays the happy-go-lucky girl, Alizeh, who is the youngest and neglected daughter of an aristocratic family.
Plus, the scenes where Anushka weeps compels the audience to think whether she faces the dilemma of unrequited love!
Interestingly, DesiMartini pointed out how the Sultan actress wears a hat in a few scenes.
As a result, they have predicted that Alizeh may actually suffer from cancer. This, therefore, becomes a huge turning point in the narrative.
The reality currently remains a mystery! However, a special moment for the 28-year-old actress was re-living her Yash Chopra heroine dream, by Wearing a red chiffon sari and on snow-clad mountains. Anushka mentions:
"I was fortunate enough to work in a film with Yashji and Aditya Chopra, who also captured beautiful scenic moments like this in his films.
"But my roles didn't require me to enact scenes like these in any of my films till Ae Dil Hai Mushkil.
"The aesthetics of Karan's films have always influenced me, so having a chance to play a quintessential Yashji heroine in Ae Dil Hai Mushkil in Austria felt amazing."
Fawad Khan
Now this is a big surprise! We haven't seen much of the Khoobsurat actor in the promos of ADHM. But from what we've seen so far, Fawad plays a DJ, who could be Anushka's love interest.
There has been a huge buzz about Fawad's role, but this has been kept under wraps.
Apparently, post-Kapoor and Sons, Karan Johar has extended Fawad's role.
Hence, Mr Johar doesn't want everyone to reveal the character until the release of the film due to the actor's skill to surprise the audience!
There is a scene where Ranbir and Fawad brawl and Anushka tries to hold them back, it seems like things will definitely heat up in the movie. Plus, it's clear that all girls will be 'fida' over his rough-n-tough look!
But, there is some bad news too. Unfortunately, Fawad will not be seen during the promotions since he'll soon be a father and therefore has family commitments.
Aishwarya Rai Bachchan
"Main kisiki zaroorat nahin, khwahish banna chahti hoon."
After watching Aish in the promos, her stunning and sultry avatar will triumph the audience's heart all-over-again!
Aishwarya steps into the shoes of Saba Taliyar Khan – a middle-aged and allegedly divorced woman, who is a poet.
The Sarbjit actress has received much public attention not just because of the steamy scene(s) with Ranbir. But also because ADHM is the first time she is working with good friend Karan Johar. But why after so long?
In conversation with TOI, Karan says:
"At one juncture, I wanted to cast her in Kabhi Alvida Naa Kehna and things didn't work. It's been a hit-and-miss scenario with her, literally. This time we hit it, literally and it's a very special role."
Imran Abbas Naqvi
Imran who debuted earlier with Vikram Bhatt's Creature 3D will also have a special appearance role in the film. There have been speculations of him playing Anushka Sharma's boyfriend or brother.
In response to the conjecture about Anushka's brother, Imran exclaimed:
"Brother???? Not at all. It's a light and funny character."
Due to contractual reasons, he was unable to reveal more about his character.
It seems like Imran gelled well with the cast and crew. During his last shoot, Imran wrote on Facebook:
"Last day of the shoot in Mumbai. Truly thankful to Karan Johar for everything, Anushka Sharma and Lisa Haydon for being wonderful co-actors on set.
"And last but not the least, I must admire Ranbir Kapoor for making things so easier for me and being there like a great friend all throughout."
Now the question is, who portrays Imran Abbas' special someone?
Lisa Haydon
Lisa Haydon may appear in a special cameo in this movie.
As expected, it seems like the Housefull 3 actress got a "real kick" with her character.
Lisa talks about her co-stars:
"I was shy around Aishwarya because of her beauty, poise and general awesomeness. Anushka is completely straight forward, professional and easy to work with. And Ranbir is cool. It was a good laugh doing this character with him."
Whilst her character hasn't been fully confirmed, Lisa could be portraying Ranbir's friend.
Since ADHM depicts one-sided love, the audience wonder if Lisa actually develops feelings for Ranbir too?
Shahrukh Khan
No. It's not Saif Ali Khan, but it is Shahrukh Khan who will be in that special cameo.
Since My Name Is Khan, KJo has not directed SRK. But Karan confirmed the cameo at the Toronto Film Festival:
"He knew exactly what I was expecting of him and I know exactly what he was going to do."
It is believed that SRK might essay Aishwarya's former partner.
If this is the case, we are certain that this Devdas jodi will weave magic on celluloid, again!
Watch the Official Trailer for Ae Dil Hai Mushkil here: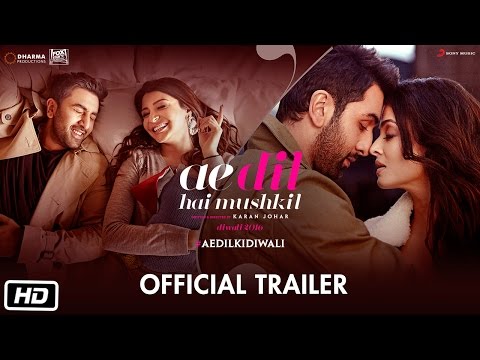 Karan Johar's romantic razzmatazz, Ae Dil Hai Mushkil, releases from October 28, 2016.