It is high on emotions and captures the 'Jab Tak Hai Jaan' sentiment.
Since the impressive teaser trailer, the excitement for Ae Dil Hai Mushkil excels with an official music video release of the title track.
We are exposed to further scenes of passionate relationships between Ranbir Kapoor, Anushka Sharma and Aishwarya Rai Bachchan.
Interestingly, we also get to see more of Fawad Khan in the music video.
Fawad, who is seen fighting with Ranbir, has a rough 'n' tough look and is reportedly Anushka's love interest.
Ae Dil Hai Mushkil's title track is high on emotions and captures the 'Jab Tak Hai Jaan' sentiment.
The intensity of the song is emphasised through Amitabh Bhattacharya's soulful lyrics:
"Tu safar mera, hai tu hi meri manzil. Tere bina guzaara, ae dil hai mushkil."
This translates to: "You're my journey and you are my destination. To live without you, O heart it's tough."
Plus, Arijit Singh's velvety voice enhances the poignant tone of the song.
But what really leaves a mark is Pritam's mellow composition.
The initial piano notes, which are reminiscent of 'Tum Hi Ho', are very tranquilising.
When the song breaks out into different musical arrangements, this is where the magic weaves.
Despite the heart-touching composition, Ranbir's dialogue at the end of the video will give you goosebumps:
"Mohabbat karna hamare bas mein nahin. Uss mohabbat se door jaana, woh hamare bas mein hai."
So who walks away from which love? Only the film can tell us!
Listen to Ae Dil Hai Mushkil title track here: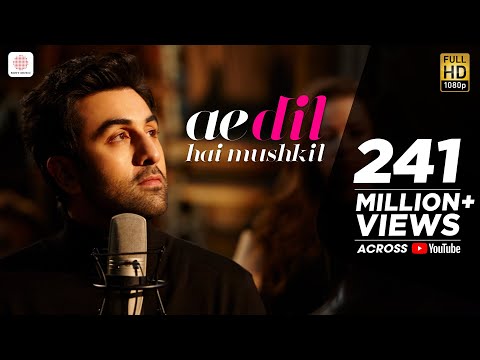 Pritam truly is perfect as the composer of ADHM. In fact, it seems that the Dishoom music director enjoys working with Karan Johar, saying:
"He is such an impromptu, instinctive person. It has been the easiest experience to work with him because he is so instinctive."
The hit-maker also adds: "He says 'No', 'Yes' on the spot. If he likes it or doesn't like it, he will tell why.
"If he half likes it he will tell you, 'I like this, can you change the other part'. So it's very easy to work with people like him."
We certainly look forward to the complete soundtrack of Ae Dil Hai Muskhil!