"Eternal Taal have thoroughly enjoyed and loved promoting Bhangra to a wider audience."
Founder and manager of Eternal Taal, Parvinder (Parv) Kaur performed at the 2015 Glastonbury Festival on Friday 26th June, 2015.
She took her dhol to join Cold Fever on the BBC 'Introducing Stage' for a special collaboration, marking the fifth time that the female dhol players have entertained there.
Bringing a unique sound to the UK's most famous music festival, Eternal Taal is the only group of female Bhangra dancers and drummers to have performed multiple times at Glastonbury.
The group debuted at the festival in 2009, progressing from the 'Blazing Saddle' stage, Silver Hayes' 'Gully' stage, and now the 'BBC Introducing' stage.
Speaking exclusively to DESIblitz, Parv says: "Being the first dhol drummer at Silver Hayes is just something I will not forget."
Performing customised routines that include trademark bhangra 'patting the dog' and 'twisting the light bulbs' moves, the last four years at Glastonbury have seen them give uplifting and rousing concerts.
Prior to the 2015 show, Eternal Taal were noticed by another talented group named Cold Fever, who specialise in Desi Reggae and are based in London.
After seeing the dhol drummers make an impact on the festival crowd in previous years, Cold Fever contacted Kaur, asking her to perform with them on this year's Glastonbury stage.
Parv tells us:
"Performing on the BBC Introducing stage, whilst having the opportunity to merge Bhangra with Cold Fever's Desi Reggae genre, was a unique and amazing experience!
"Eternal Taal have thoroughly enjoyed and loved promoting Bhangra to a wider audience."
Glastonbury has become one of the biggest music festivals worldwide, and the collaboration of Cold Fever and Eternal Taal marks an exciting break for Desi music and dance, propelling Punjabi sound onto the world stage.
Eternal Taal are the largest and longest-running female Bhangra entertainment group from Birmingham, and were founded in 1999 by Parvinder, who is the first female dhol drummer in the UK.
She is also the daughter of acclaimed Punjabi singer, Balbir Bhujhangy, who is a pioneer for Bhangra music in Britain.
Watch our exclusive gupshup with Eternal Taal here: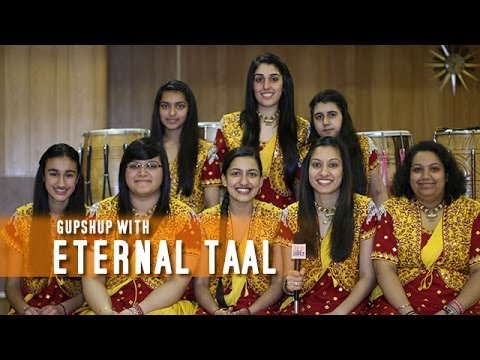 As well as appearing at Glastonbury five times, Eternal Taal have featured in Bollywood films, such as Yamla Pagla Deewana 2, and also performed on Dermot O'Leary's 24 Hour Dance Challenge for Comic Relief.