"A good tabla player understands tempo well and has perfect command over time keeping."
There are very few artists or individuals in the world who are known to have completely perfected whatever art they practice. Whether this be music, painting, sculpting or singing. Ustad Tari Khan is one such rare individual.
Ustad Tari Khan has managed to hone his craft so meticulously as to simply stun his audiences into a complete awed silence or create an appreciative vocal reaction for the timing of his playing fingers.
He is a master tabla player whose undeniable musical talent shines through his every performance. Ustad Tari Khan has the unique capability to create music fluidly, in essence he becomes the music that he plays, and what materialises is an effortlessly musical Nirvana.
DESIblitz had the pleasure of meeting Ustad Tari Khan for some exclusive Gupshup and question him on his immense musical skills.
Ustad Tari Khan was born in 1953, in Lahore, Pakistan. He comes from a long lineage of musicians which explain his incredible talents. His father was a classical vocalist and he taught Tari to sing from a very early age.
At the age of 6 however, Ustad Tari Khan first came across the rhythmic tabla beats of Ustad Shaukat Hussain Khan, and his world changed forever.
He became obsessed with the sounds and music that emanated from the tabla and spent the next 8 years listening to Mian Shaukat Hussain at his concerts and in private mehfils as well as on the radio.
He became an expert of Mian Shaukat Hussain's musical style and technique. When Mian Shaukat Hussain heard Tari play for the first time, he was astonished that a young boy had honed his own technique so faultlessly. He then invited Ustad Tari Khan to become his formal student at the age of 14:
"I was hungry to learn, and Mian Shaukat was a great teacher with a very special sound, so beautiful, so effortless. It went straight to my heart. More than that, he was a genuinely kind and humble man. From him I learned humanity," says Tari.
Over the next three years, Tari underwent training and tutoring to perfect his technique. He began accompanying famous Ghazal singers like Ustad Mehdi Hassan, and revolutionised the sound of live ghazal performances.

During this time, he also developed unique solo tabla styles that are still revered today. These include, 'The Train' and 'World/International Kherwa'. He made his first solo performance on the death anniversary of Mian Qadir Baksh, at the age of 17.
This single performance alone, which took place in front of all the great tabla players of the time, labelled him as one of the greatest tabla players that the world had ever seen. Impressively he played for a total of two and a half hours and even to this day, he has not lost this title.
Ever since, Ustad Tari Khan's talents have grown and grown. He has had the privilege of performing in every corner of the globe and has left huge fan followings in his wake.
He also moved to California for 16 years where he founded an Academy for Tabla Studies. One great skill of Ustad Tari Khan's is his ability to infuse and mimic eclectic sounds from the Punjab, Middle East, Europe, Africa, America and Australia. This is known as his International Kherwa piece.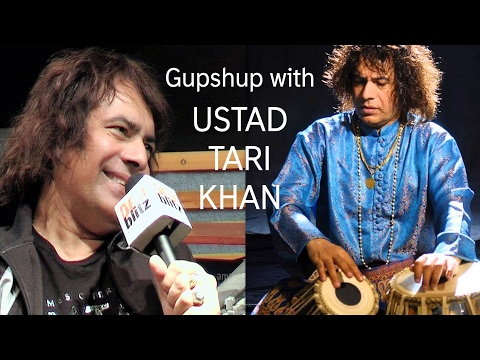 For Ustad Tari Khan, art cannot be tainted by either religion or politics:
"Artist is not a politician, artist is an artist. Artists think about just art, and everybody loves artists, and that's why artists also love everybody. Artists don't have any religion, their religion is humanity. It is love and peace."
Ustad Tari Khan's talents are in his playing, style and technique. He uses his hands to produce what is known as sur (pitch and tone) and ras (essence). These combined, form each bol or phrase that Ustad Tari Khan plays with a noticeable love and sincerity.
His speed and accuracy as well as precision and time-keeping are completely flawless. And it is this unbroken rhythm that has the ability to transport you from your seats to a different dimension entirely:
"A good tabla player understands tempo well and has perfect command over time keeping. He needs to be able to play tabla with vocalists as well as with instrumentalists and he needs to understand the specific requirements of the artist whom he is accompanying. The tabla player should also know how to perform solo.
"The art of solo tabla playing is not easy. One needs to have thorough knowledge, tremendous discipline, good memory and the ability to gradually and systematically build his performance," Tari explains.

His playing always adopts an element surprise and unpredictability. Beginning with traditional rhythmic melodies, he suddenly inserts rapid twists and turns and unusual beats. Through this, he tells audiences a musical story.
It begins with a single musical note, which develops and evolves into a multitude of beats, micro factions and poly-rhythms. Through this, Ustad Tari Khan's story moves through peshkars, qaidas, relas, parans, guts, tihais, and chakardars.
Ustad Tari Khan has been honoured with a number of accolades, including being crowned as the Tabla Prince of India and Pakistan, as well as being presented with Pakistan's highest artistic honour, the President's Pride of Performance.
He has composed music for a number of films including Mira Nair's Mississippi Masala (1991) which stars Denzel Washington. Some of his world famous collaborations include Ustad Medhi Hassan, Ustad Nusrat Fateh Ali Khan, Parvez Mehdi and Shafqat Ali Khan.
Some of this maestro's most famous festivals and performances include the National Festival in Harballah India, the All Pakistan Music Conference in Lahore, The Kennedy Center in Washington DC, a special performance for the First Lady of the United States, the Royal Albert Hall in London, and the Lincoln Center in New York.
There is no doubt that Ustad Tari Khan is a legend in his own right and a master of the tabla. He can be described as a world musician, for him music is a language that is understood by everybody, and for this reason alone, he is able to capture the hearts and attentions of all who listen to him.
Invalid Displayed Gallery