3D designers and engineers have already created a flute, saxophone and banjo.
In recent years, 3D printing technology has really taken off in the consumer world.
You can easily buy 3D printers from various online stores and create anything from a slice of pizza to a supercar.
Even something as delicate as musical instrument is hardly untouched territory.
Musician Laurent Bernadac has collaborated with French printing company, 3Dvarius, to make 'the first fully playable 3D printed violin'.
Designers and engineers have since explored many more possibilities and created a flute, saxophone and banjo.
Their latest adventure leads them to the tabla, a classical Indian musical instrument.
Australian printing company, 3DLI, has recently celebrated their success with printing a set of tabla drums by utilising 3D capabilities.
The company believes this is possibly 'the first ever tabla shells to be 3D printed in Australia'. Perhaps even first in the world!
The percussion instrument is made up of one large (bayan) and one small drum (dayan), popularly used in North Indian music.
Tabla has a very distinct sound and provides great rhythmic support to a variety of tunes.
In fact, it is such a versatile instrument that even contemporary music like Bollywood movie soundtracks often borrow the sound of the drum pair.
Kuljit Singh of 3DLI speaks exclusively with DESIblitz about their 3D printed tabla.
1. What makes you decide to to print the tabla?
"I have always had a very keen interest in music from a young age, and have learned and performed the tabla and dhol for about 20 years combined in Australia.
"I have performed at Federation Square, Etihad Stadium, Melbourne Airport and Palais Theatre to name a few venues.
"Here in Australia, it can be difficult to source good quality musical instruments from overseas.
"Given my Mechatronics engineering background, I always wanted to make my own good quality set of tabla drums."
2. What kind of material is used to replicate its original sound?
"Ideally a wooden filament is required for the right hand side 'Dayan' drum and steel, copper or brass for the left hand side 'Bayan'.
"The tabla set we have 3D printed consists of ABS plastic, which is known for its robustness and high strength but not brilliant for replicating the sound of the drums.
"We are still testing various materials to determine how to better and more closely replicate the tablas special tonal qualities.
"Our next 3D printed tabla will use ceramic material and then maybe even titanium!"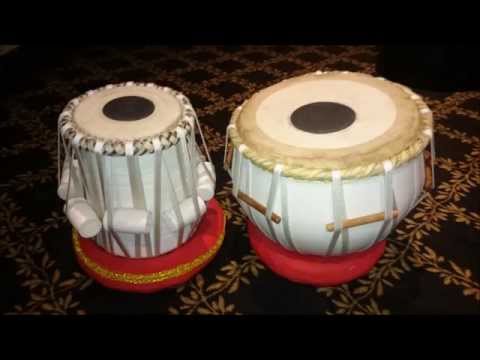 3. What is the feedback so far for the tabla? Has any tabla musicians played on it?
"The feedback from various music band members has been very positive for the distinct look of the 3D printed tabla set.
"These tablas have not yet been used at a concert, but we hope to see them out there soon.
"There is definitely room to improve the sound quality by using different 3D printed materials and we are working on this as we speak."
4. What are the other instruments in the pipeline for 3DLI?
"We look forward to 3D printing a range of different musical instruments including violins and guitars in the future.
"A friend has requested a fully functional 3D printed Indian Sitar! The full size shell has already been 3D printed and the remaining strings, frets and bridge are soon to be fitted. This will be an exciting one!
"Given the interest some of our 3DLI team members have with music, 3DLI will continue to explore this area further and continue developing our 3D printed products."
Considering how good the 3Dvarius' violin sounds and looks, we have faith the digitally-created tabla should receive a warm response, too.
The impact of this innovative technology cannot be underestimated. It can explore new grounds, alter our lifestyle drastically and shake things up for many industries.
Speaking of his 3D printed violin, Bernadac believes 'violinists will create new sounds and new playing techniques, and a new musical repertoire'.
Hence, the same could apply for the tabla, where artists could either replace or incorporate it with the acoustic one in their music to make music that we have never heard before.
3dprint.com's writer, Michelle Matisons, goes as far as to ask: "Will 'The Best Artist Recording Using 3D Printed Musical Instruments' become a new Grammy category someday?"
Undeniably, the possibilities are endless with this mind-blowing technology.