"You make no excuses and you go for it!"
Week 4 of Strictly Come Dancing kicked off with a sizzling salsa from the gorgeous Anita Rani, and her partner, Gleb Savchenko.
But with 13 couples fighting their way to win the glitter ball, has she done enough to survive another week?
After scoring 29 points last week, the duo are hoping to ramp up the judges points this week with their lively performance.
Shakira's 'Hips Don't Lie' is the soundtrack to the show stopping samba, and Anita definitely shakes hers.
The Countryfile star leaps off a set of speakers to start off her performance, into the arms of Gleb, who ends his performance with an unbuttoned shirt.
With plenty of flicks, kicks, and tricks, the presenter gives her everything to impress those at home, and the judging panel.
Len kicks off the critique, stating: "The Samba's a really difficult dance, and I thought you very, very well."
Bruno, however, is slightly disappointed, saying:
"The samba has a carefree feel to it, but it has to have almost a relentless hypnotic outflow of energy, a couple of times there you got a little bit tangled… It was a bit on and off."
Craig too feels that 'it was a little stiff in places'.
But he soon sees the talent in the presenter, and compliments: "Your isolation was excellent. You make no excuses and you go for it!"
Darcey finalises the judges comments by applauding Anita: "It really shows, your determination, your focus."
With the judges scores finally in, it is the moment of truth.
With a 6 from Craig, and 7's all round from Len, Darcey, and Bruno, Anita and Gleb score a total of 27 points, which the duo are visibly happy with.
Here's their Samba performance if you missed it: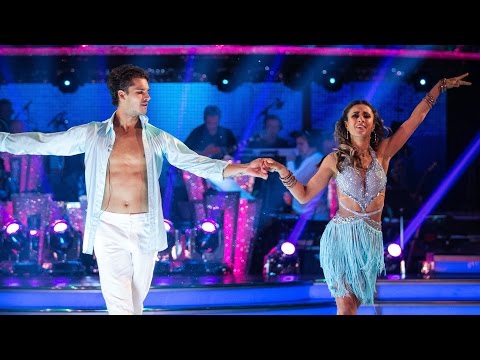 Kellie Bright then takes to the floor with a nostalgic Fox Trot in homage to her grandparents.
Craig simply labels it 'confident, clean, smooth', whilst Darcey thinks there was 'pure clean execution of the steps'.
The couple deservingly receive 32 points.
Georgia May Foote dances a flawless Quick Step to 'Reach For The Stars', and leaves the floor bagging an impressive 31 points, which was the highest of the series so far.
Jeremy Vine, Carol Kirkwood, Daniel O'Donnell, and Kirsty Gallacher all receive low scores, and disappoint the judges with their 'flat' performances.
'Superstar" singer Jamelia then matches Kellie's score with a cheeky Charleston, impressing Craig who feels that she has 'come into [her] own'.
Jay McGuinness dances a Quick Step along to 'My Generation' but makes a vital mistake with his routine. 
Len thinks his stumbling was 'a shame', but Darcey brings his morale back up, stating:
"Don't worry about this…I know you can come back stronger next week."
Regardless of this, he scores an acceptable 25 points.
Ainsley Harriet performs a dreamy Waltz, and is awarded 26 points for his beautiful routine.
The next dance is a Salsa, which Helen George struts her stuff to.
Splits, lifts, and jumps fill the routine, which Craig says is 'phenomenal'.
Helen scores 32 points, placing her at the top of the leader board. 
Peter Andre then dances a tantalising Tango, and leaves Craig adamantly stating: "It had intent, it had purpose, everything we want."
The Aussie singer bags himself 32 points.
Katie Durham brings the show to a close with a Viennese Waltz, and receives a standing ovation from the audience.
Bruno says how she was 'made for ballroom', whilst Craig expresses how she is 'incredible'.
Scoring 33 points, the star smashes her way to the top of the leader board.
All 13 couples fought nail and tooth to stay in the competition, but who do you think should go through to next week?
Find out which couples will live to dance another day on October 18, 2015 at 7.15pm on BBC One.