"Full of drama, you turned the ballroom into a bullring."
Strictly Come Dancing arrives at the Blackpool Tower Ballroom for Week 9, promising the best live episode yet.
Eight celebrities and their dancing professionals are left to battle it out for the Strictly crown, and where better to strut their dance moves than the 'Vegas of the North'!
Blackpool has certainly caused the contestants to step up a gear or two, and the pressure is on.
Jay and Aliona are up first and Jay is worried about slipping up again like last week and scoring badly.
Dancing a hot Salsa to 'Cuba' by The Gibson Brothers , the ex-boyband member lights up the dance floor and the judges are ecstatic.
Len says: "It brought everything. There's no end to your talent."
Bruno adds: "Hips in top gear and loins on fire!"
Darcey adds: "For me you warmed up the ballroom but you also warmed me up! It was fantastic!" The pair get all 9s, giving them an overall score of 36.
Jamelia and Tristan do a Quickstep. Bruno praises the choreography which sees them as dolls dancing in front of a doll house.
Craig has some criticisms, but adds that Jamelia's ballroom has come a 'long way'. Darcey says it's their best ballroom, and Len calls it 'fabulous'. They score 7, 8, 8, and 8.
Next up are Anita and Gleb with an intense Paso Doble to 'Malaguena' by Connie Francis. Dressed in red, Anita oozes sultry sex appeal and with Gleb and three other hunks, we are in for a treat.
It is certainly their best dance – full of dramatic slides, lifts and intensity from Anita. She's in an avatar like never before and looks undeniably fierce.
Unsurprisingly, the judges absolutely love it. Craig says: "Drama. Totally character driven. Total theatre. Right up my strata. Magnificent!"
Darcey adds: "You blew me away. It was forceful and you had the intensity. But it was also beautifully classy. Very difficult to shine with those four large torsos around you. But you did. You shone!"
Len loves it, saying: "Full of drama, you turned the ballroom into a bullring. Your arms were fantastic, it had mood, it had passion, it was fantastic."
Bruno can't contain his excitement, saying:
"I have never seen so much prime beef on such splendid display. And you handled it darling."
"The mistress of the arena, you were commanding the centre of the action. You really embodied the heart and soul of Spain. Ole!"
They score their first 10 of the series, giving them a fantastic 37 points! A great score for a great performance.
Watch Anita and Gleb's sizzling Paso here: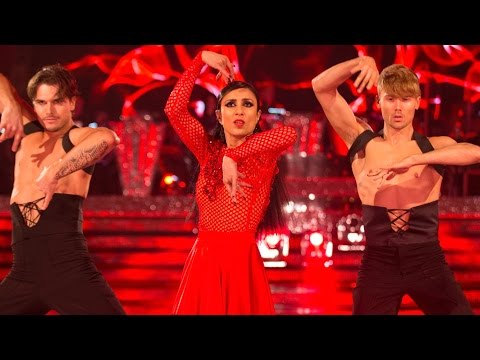 Katie and Anton are next, with an American Smooth full of Hollywood glamour. Darcey calls it 'exquisite' saying to Katie: "You had full film star style from beginning to end. Plenty of wow factor."
Len adds: "You really came out and performed it. Elegant glamour and sophistication." They score a brilliant 35, which also happens to be a high score for professional dancer Anton!
Peter and Janette do a 60s Jive. But despite the high energy and enthusiasm the judges don't think it's their best dance or the best Jive of the series. Sadly, amidst the critical judges, and Peter bringing out too much 'pop style', they score only 29 points.
Georgia and Giovanni perform a moonlit American Smooth. Bruno calls Georgia a 'heavenly creature' and says: "We are all experiencing pure ballroom bliss."
Darcey calls her 'Graceful Georgia' while Len adds it blew him away. They score an incredible 38.
Helen and Aljaz take on the Charleston to 'Anything Goes'. There are four other lookalike Helen's on the dancefloor, and overall it's fun, girly and cute.
Darcey calls it classy. Len says: "As always a polished performance," while Bruno thinks that is was a showstopping number on Broadway. They score 34.
Last couple of the evening are Kellie and Kevin performing a Quickstep to Dolly Parton's 'Nine To Five'.
Darcey says Kellie made the Quickstep look like an 'easy day at work'. The judges are beaming, saying that it was a wonderful dance to finish a wonderful night.
Craig adds: "It was tight, it was clean – I loved it." The pair get their first 10 and a brilliant score of 37.
Unexpectedly, Peter and Janette are at the bottom of the leaderboard. Could they be in trouble for Sunday's elimination?
Find out who will survive to dance another day on Sunday 22 November, 2015 at 7.15pm on BBC One.