Anita's mum even shows Gleb some Bollywood dance moves
Another impressive week of Strictly Come Dancing sees 12 couples dance it out for the viewers' votes.
The evening kicks off brilliantly with Georgia and Giovanni, who sizzle with a sexy disco-inspired Salsa to 'You Make Me Feel (Mighty Real)', setting the dancing bar high early on.
The judges can't get enough of the two, with Bruno exclaiming: "I absolutely loved it," and Darcey admitting: "You have the ability to go far in this competition."
The pair bag a total of 31 points from the judges.
Second to take to the dancefloor are Carol and Pasha with an elegant Viennese Waltz that also goes down well.
Len says: "It had elegance, it had style," and the duo are scored 21 points from the judges.
Third in line, we have the gorgeous Anita and Gleb ready to wow the audience and judges with an intense tango to 'Sweet Disposition' by Temper Trap.
Anita is notably nervous about the complex dance, but Anita's mum is on hand to show her some support.
Classically trained in dance from India, Anta's mum brings a very positive vibe to this week's rehearsals.
She even shows Gleb some Bollywood dance moves that leaves us all imagining a Bollywood version of Strictly!
According to @itsanitarani mum, you are now watching "The Bollywood version of #Strictly!" New series please! pic.twitter.com/AsTunkS5x5

— BBC Strictly (@bbcstrictly) October 24, 2015
And mum's support seems to pay off as Anita looks FIERCE on the dancefloor.
Not only does she stun in a black ensemble with black henna painted around her eyes and eyebrows, her hair slicked back in a pointy tail is gloriously on point.
This is definitely their best dance yet; both dark and aggressive, it's a big hit with the judges.
Craig applauds the choreography, saying: "I loved it."
While he picks up on Anita losing her balance at one point, he congratulates her on a powerful performance.
Darcey says she enjoyed the 'Star Trek contemporary' feel on the dance, commenting that Anita showed real focus throughout: "You've the others fighting for a place in the competition."
Bruno continues the Star Trek analogy with more 'Klingon' imagery:
"Tango Trek the last frontier! I loved the arrogance of it – it's a character that's really necessary with the tango. Withheld aggression. You did very well. Loved it," he says.
Len says: "I know on Countryfile you wear wellies, but you certainly gave that a lot of welly." He adds he also enjoyed the dark and menacing theme of the dance.
The pair get all 8s, making a very well-deserved total score of 32, their highest yet!
Watch Anita and Gleb's incredible performance here: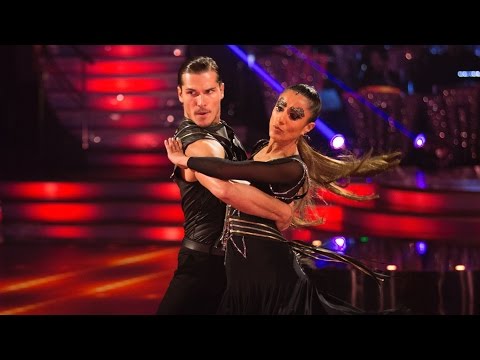 Peter Andre is next up with dancing partner Janette. They are dressed in all in blue, which gives Peter the perfect opportunity to say: "I'm 'Blue Peter' today."
They dance the Rumba to Ed Sheeran's 'Thinking Out Loud'. The routine lacks flow, but the judges are forgiving, and they get a good score of 29.
Kirsty and Brendon were saved from last week's bottom two, and for this week, they are hoping to impress with a Viennese Waltz.
Their performance shows a lot of elegance and grace from Kirsty, although Len tells them off for taking so long to walk down the stairs.
But he admits that it was their best dance, and they receive a score of 29 points.
Ainslee and Natalie take on the Jive which lacks technicality, the judges believe.
Jamelia and Tristan take on a difficult Foxtrot, which sees Jamelia stumble and make an unfortunate mistake.
While Craig says he enjoyed the beginning, he awards them a low 5 points, making their overall score, 26.
Katie and Anton perform a Salsa that lacks a bit of sauce, and Darcey admits that it was a mess in places and needed better finishing overall.
Len adds: "It was good, but you won't get a cigar."
Jeremy and Karan perform a Waltz, which the judges call a bit lifeless, and the pair only manage 18 points.
But the evening soon picks up again with a fantastic performance from Helen and Aljaz.
They take on the Quickstep, which Craig calls 'Fab-u-lous', and gives them a 9, making their overall score an impressive 35 points.
Jay and Aliona also do sublimely well with a Paso that shows a lot of attitude. It is certainly an improvement from last week, when their Quickstep fell apart.
Darcey says Jay has the best male celebrity arms, which is a unique compliment, while Craig says: "Great lines. Great shape. Great dance."
They end up with 33 points.
Finishing off the show are Kellie and Kevin who do a brilliant Jive to 'One Way or Another'. It's entertaining, fun and energetic. Len says: "I want to turn back the clock and watch it again."
The pair also get 35 points which sends them straight to the top of the leaderboard alongside Helen and Aljaz.
Jeremy and Karen have the lowest scores of the evening along with Katie and Anton; could they all be in Sunday's bottom two?
Find out which couples will live to dance another day on October 25, 2015 at 7.15pm on BBC One.